A new report on international education in New Zealand reveals that total international enrolment for the first four months of 2013 declined by 3% against the same period for 2012.
A total of 60,590 international students were registered with New Zealand education providers for the period January to April 2013. This reflects growth in the Institutes of Technology and Polytechnics (ITPs) and Universities sectors – 3% and 2% respectively – that was however offset by a notable 10% decline in the Private Training Establishment (PTE) group. "The PTE sector is tracking at 2010 levels for the first part of 2013," notes the report.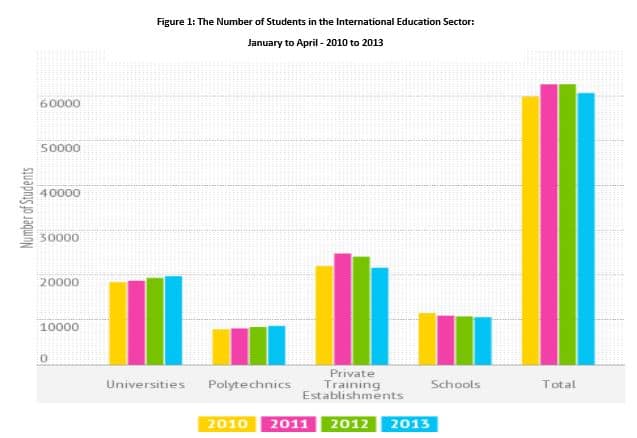 International student enrolment in New Zealand by sector for the period January to April, 2010 to 2013. Source: Education New Zealand
Regionally, Auckland – where a majority of international PTE enrolments are concentrated – experienced the greatest decline followed by Canterbury, a region still recovering from major earthquakes in 2010 and 2011 (and whose institutions, notably the University of Canterbury, are now investing in expanded recruitment efforts as part of an ongoing recovery effort).
"While overall international student numbers in Canterbury continue to be affected by the aftermath of the earthquakes, the rate of decline is slowing," said Tertiary Education, Skills and Employment Minister Steven Joyce. "This is positive for the region and I have confidence that the enrolment numbers will increase as Canterbury tertiary education providers get back on their feet."
Drawing on data from the Export Education Levy, Single Data Return, visa, and tourism statistics, the report attributes the overall decline in enrolment to the relatively high New Zealand dollar, increasing domestic education capacity in key target markets, and increasing competition from other major English-speaking destinations.
New Zealand is also battling broader issues of branding and reputation, especially with respect to the key Chinese market.
Chinese enrolments increased by 5% for the first four months of this year and China is the leading source of international students for New Zealand, accounting for 30% of enrolments for the year to date. However, trade and tourism links between New Zealand and China have been rocked by a series of recent food safety scandals that have badly undermined New Zealand's "100% Pure" brand in China.
"Disillusioned Chinese people are cancelling their plane tickets to this country," reported the Waikato Times recently.
Not every region in the country is suffering, however. Thanks to the efforts of the Education Southland consortium, enrolments of international students in the region increased by 16% last year, against a backdrop of a national fall of 6%. Despite its remote location, New Zealand's southernmost region has a strong track record for offering one of the most successful international education programmes in New Zealand, and shows no signs of slowing down.
Tertiary holding strong
For its part, "Education New Zealand is working to build awareness of New Zealand as a study destination internationally in conjunction with and on behalf of education providers around the country," said Chief Executive Grant McPherson. "This report indicates conditions have been challenging for the first quarter of the year and will remain so in the short term, but the longer term outlook is bright."
As Mr McPherson's comment suggests, Education New Zealand has an optimistic outlook going forward. It notes that the New Zealand Tertiary Education Commission's year-end financial results indicate that fee revenue from international tertiary-level enrolment continues to increase, growing by approximately NZ $25 million to NZ $404 million for the year to June.
The current statistics describe as well an apparent shift to higher-level and longer-term studies by international students in New Zealand, with demand for science, technology, engineering and mathematic (STEM) programmes increasing 4% in Universities and 10% in ITPs and Masters-level and PhD enrolments up by 22% and 6% respectively.
"OECD data indicates that New Zealand has maintained its market share in international tertiary students, and the export of educational services and products has continued to grow steadily," observes the report. "Though growth in the international education sector will need to intensify at a faster rate if the target to increase the value of international education to $5 billion by 2025 is to be achieved."
New Zealand will be supported in its drive to these longer-term goals by increased government funding – NZ $40 million over the next four years – to support the marketing of New Zealand as an international study destination and by a strengthened focus on key regional targets.
It will be supported as well by its continuing appeal as an international travel destination. Tourism statistics for the first six months of the year showed a 10% growth against the first six months of 2012 – a year which also saw record numbers of visitors to New Zealand.
"International students are vital to New Zealand, both in terms of their economic contribution while they are in the country, and as ambassadors for New Zealand when they return home," said Minister Joyce.
"Officials are continuing to review the policy settings for international education to ensure New Zealand retains its competitiveness across the different sectors."