Data shows a downward trend in ELT enrolments in 2019
The five major English Language Teaching (ELT) destinations – the United States, the UK, Australia, Canada, and Ireland – have now reported their enrolment data for 2019, and the picture that emerges is of a pattern of declining or flattening enrolments and decreasing student weeks.
In brief:
In Australia, student numbers were down 5% in 2019, and student weeks fell by 1%;
In Canada, student numbers were down 3.9% and student weeks declined by 8%;
In Ireland, student numbers were down 2.6% and student weeks decreased by 4.4%;
In the UK, student numbers were up 1%, and student weeks were down by 1.5%;
In the US, student numbers were down 3.5% and student weeks decreased by 1.5%.
As such, the 2019 data reflects a continued flattening of demand for ELT training in most destinations over the past several years – an especially concerning trend given that COVID-19 has now also inflicted major damage to the sector, with some destinations reporting or projecting quarterly enrolment declines of up to 80% in 2020.
Year-over-year numbers
Data was made available by English Australia, Languages Canada, English UK, the Institute for International Education in the US and Marketing English in Ireland (MEI) for Ireland.
The following tables show the year-over-year trends in student numbers and weeks for each of the five largest ELT destinations.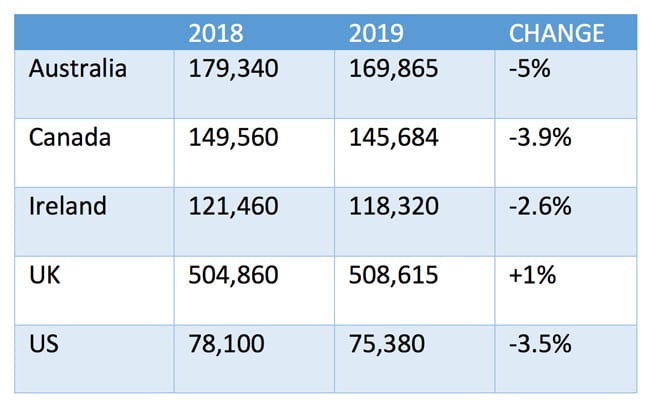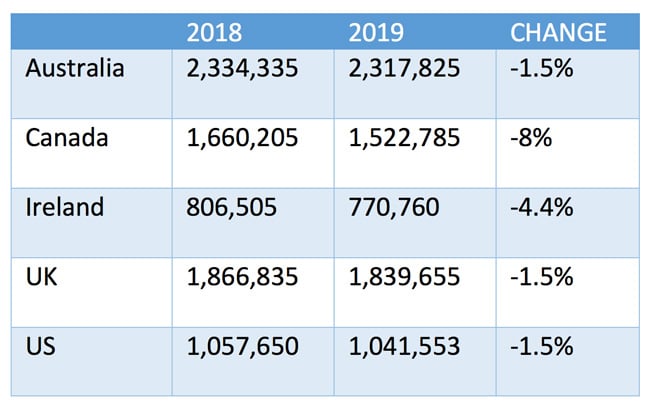 Longer-term trends
In Australia, the declines that occurred in 2019 are a notable change from 2018, where student numbers in ELICOS programmes had risen marginally by 1% and student weeks had fallen slightly by .1% compared with 2017.
The decrease in student numbers for 2019 is the first such decline for Australia since 2012. The drop is largely the result of softening demand in Asia Pacific, with China, Japan, South Korea, and Taiwan sending significantly fewer students in 2019.
In Canada, the substantially lower numbers contrast with the increase of 6% in student enrolments and 2% in student weeks the country had registered in 2018.
Canada's numbers would have softened further had it not been for Canada's continuing appeal for language students from Latin America. Mexican student numbers in particular were up by 20% in 2019 over the year before and their proportion in the overall ELT market for Canada is now almost on par with that of Chinese language students. Mexicans are now the fourth largest student market for Canadian language training providers.
In Ireland, the 2.6% decline in student numbers in 2019 was lower than the falloff in 2018, where numbers had fallen nearly 5% from the year before. But the decrease in student weeks (-4.4% in 2019) is a significant reversal of the trend in 2018, where total student weeks reached 806,503 – a new record high and year-over-year growth of more than 5%.
As has been the case in recent years, the junior segment of the Irish ELT market is driving overall numbers and weeks. Junior numbers remained stable in 2019 compared with 2018, and weeks increased by 25% to 135,400. By contrast, adult numbers fell by 6.5% in 2019 and weeks by 9%.
In the US, 2019 marked the fourth year of declining enrolments and weeks, but the falloff was considerably less severe than in the previous three years. In 2018, for example, ELT student numbers fell by 10% and student weeks by 13.7%. Overall, from a historic high point in 2015, numbers and weeks in the US have now declined by more than 40% .
In the UK, 2019 was a welcome year of stability for the sector. The flat trend in student numbers and only slight decline in student weeks followed a year (2018) in which student numbers were up by nearly 2% overall and in which student weeks had decreased by 1%.
The proportion of enrolment attributed to junior students continues to increase in the UK and reached 54% of total enrolment in 2019, with the strength of the junior segment helping to buoy the sector.
Top sending markets
Centres in Australia, Canada, Ireland, and the US reported significant drops in enrolments from top sending markets. For example, Chinese student numbers fell by 15% in Australia in 2019 compared with 2018. In Canada, Brazilian numbers fell by 10.5%. In Ireland, Italian student numbers fell by 4.3%, and in the US, Chinese student numbers declined by 7.9%.
There were gains, as well: the US and especially the UK saw a nice uptick in Saudi students, Australia received many more Colombian students, Canada saw impressive growth from the Mexican market, and Ireland continued to see increasing numbers from Brazil.
The top sending destinations for the five destination countries are as follows:
US
China (16,305 students, -7.9% from 2018)
Japan (13,040, +6%)
Saudi Arabia (10,660, +10.4%)
Brazil (5,875, -4.5%)
South Korea (5,220, -7%)
Most of the recent-year declines in intensive English programme (IEP) enrolments in the US can be attributed to the winding down of Saudi scholarship funding for language study. However, as the following chart reflects, the further drop from 2018 to 2019 is partly a function of softening Chinese numbers.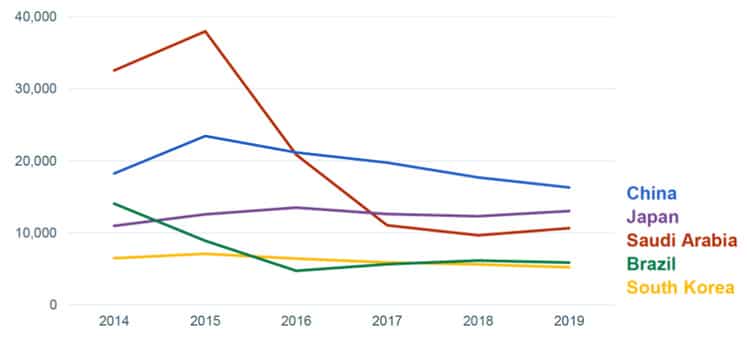 UK:
English UK's private-sector members represent 87% of all reporting centres for 2019. The following values reflect the change for each sending market for private ELT centres from 2017 to 2019:
Italy (+1% in 2019 compared with 2017)
Saudi Arabia (+21%)
Spain (-8%)
China (+4%)
France (-5%)
Australia:
China (36,235 students, -15% in 2019)
Japan (20,935, -19%)
Brazil (14,625, -7%)
Colombia, (14,420, +20%)
South Korea (11,105, -13%)
Canada:
Brazil (24,890 students, -10.5% in 2019)
Japan (20,590, -3.5%)
China (17,165, -7.4%)
Mexico (17,065, +20%)
South Korea (14,090, +1%)
Ireland:
Italy (36,280 students, -4.3% in 2019)
Spain (23,105, -8.4%
Brazil (15,650, +2.4%)
France (7,760, +0.5%)
Austria (7,345, -8.3%)
For additional background, please see: