How much personalisation do today's travel consumers want?
Editor's note: Trends and consumer preferences in international student mobility naturally intermingle with those in the travel sector and so
ICEF Monitor maintains a watching brief on important issues and emerging marketing strategies in global travel. We present a special two-part series on the use of technology in travel marketing - please see part one below and then continue to Part Two. There's no denying that today's consumers are "always on." Having 24-7 access to the web has heightened the average consumer's expectations for service, and these expectations extend through the full life cycle of a consumer's journey. Consumer expectations were a hot topic at this year's Travel Technology Europe (TTE) event, held in London last month and attracting over 4,500 professionals specialised in travel technology. Expert speakers offered insights into the latest trends and innovations, while attendees were abuzz with questions, most of which boiled down to two main issues: how much personalisation do today's consumers want and what kinds of technology is being used to meet or exceed their expectations?
We expect to be connected
To get a feel for what today's travellers require when planning a trip, we turned to a recent survey, conducted by The Bio Agency, of 2000 UK residents who travelled in the last 12 months. Their report shares the expectations of the "always connected/always on" consumer:
"Personalisation – both in targeted, relevant communications and with respect to travel services and products.
Fast feedback from brands when a query is raised or there is a problem.
Needs and wants anticipated.
Seamless cross-device and cross-platform experiences and interactions.
Consistency of brand behaviour across all touchpoints including marketing, pricing, range, and customer service."
The report quotes Steven Seddon, Head of Marketing and Digital at destination management services firm Kuoni, who says that a top priority needs to be "the ability to be able to track customers across devices, an openness of data between third parties when [travel] packages are put together." That sentiment was also shared by panel members during a discussion at TTE on the importance of a seamless customer experience across devices, platforms, and time scales. "Consumers expect to be able to access and amend bookings any place, any time. We must serve that purpose," said Yanik Hoyles, Director of New Distribution Capability at IATA. "That is the burning issue." Eric Hallerberg, Managing Director of Global Accounts for the global booking system Sabre, agreed: "The process must be seamless throughout the booking/customer experience, for example, no glitches should occur if the customer journey started on a mobile and finished on a desktop … What we need is a much more connected customer supply chain." But how does a company achieve this seamless customer experience? Certainly technology can help, but many companies are dealing with legacy systems which aren't set up to adapt to today's innovative digital world. Other companies are juggling too many third-party providers whose systems can't talk to each other.
How well do you know me?
Understanding your customer and tailoring your products or services to suit their needs is surely one way to create that uniform and fluid experience. But first you must learn more about your customer, which requires earning their trust and proving to them that the benefits outweigh the risks or time needed to share information.
And here's where the challenge of personalisation comes in.
Our expectations for better service have gone way up, way beyond privacy concerns. Leaving us to wonder, have our expectations of good service superseded our concerns about privacy? Jim Davidson, President of Farelogix, shared his views on privacy at TTE in explaining,
"The creepy factor of brands knowing too much about me is gone. Now we say, 'Why doesn't this company know more about me? Why are they sending me irrelevant offers? Why can't they service me better?'"
Opinions are divided on the amount of information people are willing to share in exchange for greater levels of personalisation. On the one end, the BioTrends report reveals, "The argument for the data value exchange is still not convincing. When asked about the trade-off of sharing personal information with a brand 'in return for a highly personalised experience,' only 3% of the poll said this was 'highly desirable' while 44% were in the 'not sure' camp. It looks like travel companies need to make a greater case of the benefits of personalisation to move customers over the line for deeper data collection." Whereas at the other end of the privacy spectrum, "almost two thirds' of consumers aged between 18 and 34 'don't care about privacy', with 59% of those aged between 35 and 44 equally unconcerned," according to a 2013 report from research firm Coleman Parkes. Their survey of nearly 4,000 consumers across 13 countries revealed that "consumers in developing markets care less about their personal data; on average around 80% of consumers in the Philippines and Thailand claimed they do not care about their personal data, while consumers in Western Europe, the US and Russia were, in general, more concerned." Their research also found that:
"57% of consumers are willing to share additional personal information, such as their location, their top five Facebook friends' names, and information about family members, in return for financial rewards or better service;
65% of consumers would exchange personal data for better pricing plans;
54% would even allow this data to be passed on to a third party, under the right conditions."
The answer regarding privacy and personalisation most likely lies in striking a delicate balance between the following elements:
Only asking your customers for information you really and truly need, and will use to improve their experience;
Clearly explaining to your customers why they should share this info with you and what benefits they stand to gain by doing so;
Creating a secure environment/path for them to share this information;
Delivering on these promises.
And how well are we doing so far?
An analysis by Alix Arguelles, Vice President for the Online Travel Group at Amadeus North America endeavoured to determine how successful the travel industry has been with personalisation so far, and it appears there is plenty of room for improvement. "Over a third (38%) of travellers admitted today's personalised offers often are not tailored to their specific needs and almost the same amount (39%) like them but continue to shop around. So if a combined 86% consider, like or value personalised offers, more advancement in this area will likely bring more success for travel companies." "Respondents want their future travel search and shopping experience to be more centralised (25%), personalised (24%) and comprehensive (23%)." The author points out that these needs superseded that of being able to search and book trips on mobile devices, suggesting that instead, providers should concentrate on delivering solutions across all platforms.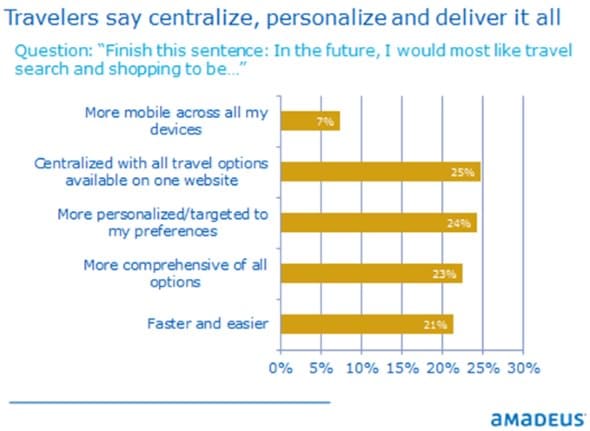 Survey results on what travellers want most in online search and shopping. Source: Tnooz and Amadeus Mr Arguelles concludes, "For travel companies, the key challenge in shaping the future lies in determining how to give consumers what they want when they want it. And understanding what travellers want enables us to focus our resources and dollars in the places where it matters most." Satisfying consumers' preferences throughout each stage of the customer life cycle – acquisition, conversion, and retention – is certainly key. Personalisation and a seamless experience are two ways to achieve this. Another is differentiation. Standing out in a crowded marketplace appears to be one of the biggest challenges for providers today. Ultimately it's all about value. The more value you offer and the better you can promote it, the more you will stand out. Please continue to part two of our series, where we show you some impressive examples of how brands are differentiating themselves through the use of the latest technology.