Editor's note: Trends and consumer preferences in international student mobility naturally intermingle with those in the travel sector and so ICEF Monitor maintains a watching brief on important issues and emerging marketing strategies in global travel. Today's post concludes a special two-part series on the use of technology in travel marketing. Part 1 focuses on personalisation in travel marketing and services. Part 2 below looks at how travel marketers are using new and emerging technologies to create virtual travel experiences for prospective customers.
London's annual Travel Technology Europe (TTE) event is reliably a great place to engage first-hand with some of today's most innovative travel technology providers, and this year's conference didn't disappoint.
Amidst the exhibition floor were four main seminar spaces where speakers could discuss the latest trends in technology systems and software for the travel industry. And one of the important themes this year was technological innovation – that is, how travel providers use new technology to engage and win over prospects.
Virtual reality will be "bigger than we ever expected"
Anthony Ganjou, Co-Founder of Visualise Creative, appeared at TTE to present a virtual reality (VR) headset which, when paired with a smart phone, can simulate a user's physical presence anywhere else.
"Virtual reality is an embryonic industry," he said, and likened its current form to the "brick stage" that we saw in the early days of the mobile phone. "But the hardware will change dramatically… in three to five years, it could be the size of a pair of glasses, or even contact lens in six years' time."
But before we get ahead of ourselves, let's review where we are right now.
Have you heard of Palmer Luckey? Mr Luckey invented the Oculus Rift, a ground-breaking VR headset which cracked the problem that all previous models could not; others made people feel queasy when they used them, but with Oculus Rift, the user experiences nary a trace of nausea.
The product really gained headway in 2012 when it raised US$2.4 million from 9,522 backers via the Kickstarter crowdfunding site. In late March 2014, Mr Luckey sold it to Facebook for over US$2 billion.
Facebook's Mark Zuckerberg spoke of the acquisition in his own social media post: "Imagine enjoying a courtside seat at a game, studying in a classroom of students and teachers all over the world, or consulting with a doctor face-to-face – just by putting on goggles in your home."
Some questioned the logic behind the Facebook acquisition, but Mr Luckey addressed those concerns when he told Wired Magazine, "This isn't about sharing pictures. This is about being able to share experiences."
Although a passionate video gamer, Mr Luckey doesn't want Oculus Rift confined to the gaming world. He envisions the product touching nearly every aspect of our lives, and he's not alone. Wired Magazine declared on their June 2014 cover with (then) 21-year old inventor Mr Luckey:
"This kid is about to change gaming, movies, TV, music, design, medicine, sex, sports, art, travel, social networking, education – and reality. The Oculus Rift is here, and it will blow your mind."
How is virtual reality being used today?
Oculus Rift can also be used for an enhanced teleconferencing conference. It is easy to imagine schools and agents holding meetings in a similar fashion, or an admissions officer conducting an interview with a prospective student. And with virtual reality, students can enter any classroom in the world. Some schools are already getting on board; we found a recent example in France.
It seems there isn't an industry that virtual reality can't change. In October 2014, the first film made exclusively for Oculus Rift came out, concerts and athletic training programmes have already been released, the auto industry is using it, architects as well, the US defense system is using it, and the travel industry is certainly embracing it as well. Marriott Hotels recently went on a world tour with a Rift-powered virtual travel experience, and Mr Ganjou's Visualise has created VR experiences for clients across a variety of industries from South African tourism to Audi to FIFA's World Cup and most recently, Thomas Cook.
Service providers such as Visualise Creative have also made virtual tours based on virtual reality photography and video. Mr Ganjou points out, however, that one of the challenges with VR is that the experience is not shareable in the way that other virtual tour formats can be easily passed along to a friend or business partner. He expects this will change in the next three to five years.
When can I buy one?
With all the possibilities that virtual reality affords, how soon will the average consumer actually be able to use it? Sooner than you think.
Mr Ganjou demonstrated Samsung's £199 (US$300) VR-on-the-go headset developed with Oculus, which pairs with a Galaxy Note 4 smartphone. The device works like the much more flexible – albeit more amateur as well – Google Cardboard, a simple VR viewer (literally made out of cardboard) which is available for less than US$20 and can be used with any smart phone.
Rumour has it that a consumer version of Oculus Rift will be available by the end of this year. But for now, the race is on, with a multitude of other brands stepping into the ring, especially in video gaming. Sony has entered the space with Project Morpheus for PlayStation 4 (see video review below), Microsoft is expected to reveal a device that's compatible with the Xbox One in June, and German optical systems manufacturer Carl Zeiss AG began shipping the Zeiss VR One last December.
Still, even Mr Zuckerburg has cautioned the media that it could take ten years before the product will truly become mainstream and achieve sales of upwards of 50 million units. But make no mistake about it, the day will come when immersive, affordable virtual reality will be readily available, and as Oculus CEO Brendan Iribe mused, "This is going to be bigger than we ever expected."
Ultimately, it's not about the hardware or the brand that puts VR into our hands, it's about the customer experience… which is soon to change, forever.
It's a bird, it's a plane, it's… a drone!
There are two other types of technologies that are in the midst of similar moves to mainstream commercial markets this year: drones and wearables.
Drones are unmanned aerial vehicles, remotely controlled, and (to this point at least) most widely used by consumers and companies for aerial photography and video.
"Wearables," as the term suggests, refers to miniaturised computing devices worn by the user. The latest high-profile examples include the recently suspended Google Glass product and the just-announced Apple Watch – Apple's first major new product release of the post-Steve Jobs era. New product launches are driving innovation even further. For example, a startup called Nixie actually combines wearables and drones; it straps onto your wrist and on command, it can fly up in air to take a picture.
Nicolas Gilbert, CEO of the aerial film provider Aerial Empire, took to the stage at TTE to showcase some of the work his company has done in the travel sector. Drone technology is now being used to give us a bird's eye view of the world, from some of the most stunning locations on Earth (you can see a sample of Aerial's work for travel brand TUI in the video below).
Issues of concern around safety abound. Drones can be a distraction, an invasion of privacy, a security risk, and not to mention that drones have spinning blades, which could cause quite a mess should it collide with something, or someone. As a result of these concerns, a number of regulations exist yet governments are struggling to keep up with this rapidly evolving product category. Current regulations vary by country, but in the UK, for example, drones must be flown at least 50 metres away from people, and a minimum of ten miles away from an airport. In the US, the government has cracked down on drones over open-air stadiums and national parks. Elsewhere, China and the Republic of Macedonia have banned the use of drones up to 500 metres from government buildings, public gatherings and protests, with some students getting caught up in drone regulations as well.
Regulations around ownership also vary. Not any company can go buy one; a firm would need a licence if they want to fly it and invoice someone for their services. A personal consumer, on the other hand, can navigate a drone. And new ways to try piloting a drone are popping up nearly every day, with the peer-to-peer industry placing drones into the hands of more consumers.
Falling prices are one of the sure signs of mainstream technology and drones have come down in price significantly in recent years. Many models are available now within a range of US$100 to US$1,000. However, Mr Gilbert points out that the actual cost of ownership can run much higher with accessories such as a camera, stabiliser, controller, batteries, and insurance upping the final investment, especially for serious hobbyists or commercial operators.
It's time to wear your computer
In 2013, designer Sean Miles explained the emergence of wearables to The Telegraph, "We're moving closer to a point where we want 24-7 access to whatever bit of technology or data we need to get access to, and the most obvious way to do that is to integrate it into an accessory or a piece of clothing. That means taking the technology out of its own environment and putting it into your environment."
The market for wearable computing devices is expected to explode as the technology needed to create them continues to become smaller, more durable, more flexible, and more affordable. A Business Insider report estimates that "the global wearables market will grow at a compound annual rate of 35% over the next five years, reaching 148 million units shipped annually in 2019, up from 33 million units shipped [in 2014]."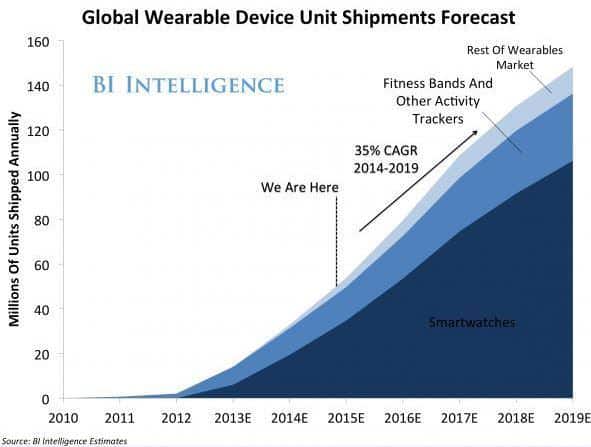 Others have observed that such devices will only ultimately be successful if they meet consumer expectations for comfort and style. In other words, for wearables to really work, we need to enjoy wearing them. This was one of the major challenges encountered by Google's first foray into wearable tech: Google Glass.
Google Glass takes a break
In January 2015, Google announced it had stopped production of Google Glass. The tech giant is now working on new products based on Glass technology under the direction of Tony Fadell, the former Apple designer and chief executive of the home automation company Nest, acquired by Google in 2014 (it is not without notice that both Mr Fadell and the Glass team leader Ivy Ross have a background in design and fashion; we're seeing more and more technology companies pair up with fashion gurus). In its efforts to make Glass more fashionable, it has opened discussions with designer Diane von Furstenberg and also formed a partnership with the world's largest eyeglass maker, Luxottica Group (known for its Ray-Ban and Oakley brands).
Google Glass nevertheless stands out as an early entrant in the smart glasses sector of wearable technology for the consumer market. Joakim Everstin, Innovation Manager at Sabre Travel Network, presented Google Glass last November at the World Travel Market, and again this year at TTE.
He explained a few areas that Google is concentrating on in order to improve Glass before its re-release. In order to enhance Internet speed and battery power, it might be paired up with another wearable, such as a watch. Google Glass will also tweak its location-based services, with a beacon built in or attached that gives you directions, like a compass, which could guide you through an airport or directly to your hotel room door. He also spoke of a company called Innovega, which is currently developing contact lenses to be worn in conjunction with smart glasses, thereby reducing the bulkiness of Google Glass and improving the visual display.
For the moment, the big news in wearables is the official release this week of the Apple Watch. Opinions are mixed as to how the market segment will evolve but observers agree that wearables are becoming a more mainstream technology.
For marketers, the message is clear: the means by which travel experiences can be simulated, shared, and promoted are expanding rapidly – and consumer expectations will no doubt change equally as fast. Even now, we are seeing the early use of wearables in virtual tours and classroom previews. Especially with such examples in mind, it is not hard to imagine a near-future where such virtual experiences are more easily created and shared by educators and students alike, and where we all take some important steps in terms of how international experiences can be sampled, shared, and better understood by prospective students abroad.