Recruiting in the Emirates: Big goals, world-class education, and new scholarships
Short on time? Here are the highlights:
The United Arab Emirates sends about 15,000 students abroad every year
The UAE offers many scholarships to encourage its students to study abroad in programmes tied to its economic goals
The expansion of the UAE's tourism sector is a major priority, and this will translate into high demand for study abroad programmes linked to this industry
There are interesting opportunities for smaller colleges as well as high-profile universities in terms of recruitment in the UAE
The United Arab Emirates (UAE) is a fascinating student source country as well as a major enroller of international students. UAE has one of the world's top education systems and is thus home to a highly talented pool of prospective international students.
The UAE government is committed to diversifying the country's revenues beyond oil, and it wants to draw a more direct line between the education that Emirati students receive and the skills the economy requires (especially for the country's rapidly expanding tourism infrastructure). There is substantial funding allocated to study abroad scholarships for a wide range of programmes and types of institution (the new Khowta scholarship programme, aka RizeUp, is a perfect example).
Today, we'll explore the UAE's economic goals, education system, and scholarships to provide context for educators intent on recruiting in this market.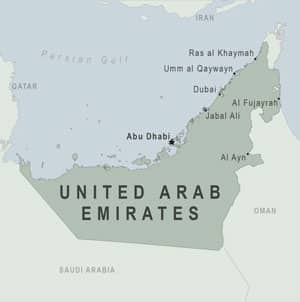 Geography: UAE is in Southwest Asia and is a federation of seven emirates (states) along the eastern coast of the Arabian Peninsula. Neighbouring countries are Oman and Saudi Arabia. The largest emirate is Abu Dhabi, which takes up about three-quarters of the UAE's total land mass. Dubai is also a major centre and education hub. The other emirates are Sharjah, Ajman, Umm al-Quwain, Ras al-Khaimah, and Fujairah. In total, UAE is a bit smaller than Portugal.
Official language: Arabic. The high number of immigrants in the country also means that a number of other languages are spoken among pockets of the population, including English, Hindi, Farsi, Urdu, and Malayalam.
Language of instruction: Arabic in public schools. Students learn English as a second language and sometimes English is used for technical/scientific subjects.
Religion: Islam, though other religions are also practised by different expat groups.
Main cities: Abu Dhabi, Dubai, Sharjah, and Ajman.
Population: 10.2 million, of which 8.9 million are expats, including Indians, Pakistanis, Bangladeshis, Filipinos, Iranians, and Egyptians. There are significantly more men than women in UAE: men represent 69% of the population while women make up 31%. The most populous cities are Dubai, Sharjah, and Abu Dhabi. The demographic aged 15–24 makes up 12.2% of the population. Population growth is expected to peak in 2033 at 10.7 million people. The youth unemployment rate is much lower in UAE than in other MENA countries – generally below 10%.
Economy: UAE's economy grew by 7.6% in 2022, higher than expected. The Central Bank of UAE attributes the higher growth to stronger than anticipated performance of sectors including tourism and hospitality, real estate, transportation, and manufacturing as well as the resumption of major events drawing business people from around the globe. UAE is known for being a very open economy that attracts a wide range of foreign businesses and investment. Like other MENA countries, UAE is attempting to diversify beyond its oil businesses and tourism is a priority sector: the target is for Dubai to be the "world's most visited destination." In the first ten months of 2022, Dubai welcomed 11.4 million international visitors, a 134% increase over the same period the previous year.
One example of just how far the UAE government intends to go in terms of becoming the top choice for the world's tourists is what is now on offer in the Ras Al Khaimah emirate. Raki Phillips, CEO, Ras Al Khaimah Tourism Development Authority, explained to Gulf Business:
"From cultural escapes to eco-tourism and adrenaline-fuelled adventures to beach retreats, Ras Al Khaimah appeals to a wide range of interests. [Its] attractions include the world's first Bear Grylls Explorers Camp, the world's first branded accommodation, as well as the highest restaurant in the UAE – 1484 by Puro. The emirate is also popular for its attractions such as the Jebel Jais Flight: The World's Longest Zipline and Jais Sky Tour with many more attractions to open in 2022, such as Jais Sledder, the region's longest toboggan ride that runs a length of 1,840 meters."
The whole article is worth a read if you're interested in the massive expansion of UAE's tourism industry – it is fascinating.
Primary/secondary education: Primary and high school students attend either public or private schools. In the public school system (where students do not have to pay tuition), boys and girls are separated, and the system is governed by the Ministry of Education (MoE). Because instruction is in Arabic in public schools, and because there are so many expat families in UAE, private schools are a popular option for those who can afford them. The school calendar runs from September to March/ April, with two holiday breaks in the academic year.
In Abu Dhabi and Dubai, the Abu Dhabi Department of Education and Knowledge (ADEK) and Knowledge and Human Development Authority (KHDA), respectively, oversee private schools rather than the Ministry of Education – private schools are not under direct government supervision.
In Abu Dhabi, 15 different curriculums are offered to students: American, British, Canadian, French, Bangladeshi, German, International Bac (IB), Indian, Iranian, Italian, Japanese, MoE (Ministry of Education), Pakistani, Filipino, and Sabis. A list of Abu Dhabi schools, as well as detailed information, can be found here.
Meanwhile in Dubai, there are 216 private schools. These are some of the top private primary/secondary international schools offering various international curriculums:
Repton School
King's School, Al Barsha
King's School, Dubai
Horizon English School Dubai
Dubai College
Dubai English Speaking School
Jumeirah English Speaking School
Dubai British School
GEMS Wellington International School
GEMS Dubai Academy
Many of these schools offer rolling admission to allow expat families and families who are in UAE for short periods of time some flexibility in enrolling their children. Students at various schools graduate at different times (e.g., secondary school may end in Grade 10 but in many international schools, two more years are necessary to graduate as per their international curriculum).
Tertiary education: UAE ranks in the world's top 30 education systems both for primary and higher education, making it a fruitful recruiting ground for foreign educators offering undergraduate, graduate, and post-graduate programmes.
UAE is also a major host of branch campuses and transnational education in general. For example, UAE is the now the top country for British TNE in the Middle East.
The Dubai emirate hosts the University of Dubai as well as 26 international branch campuses of universities from 12 different countries, including the UK, US, Australia, Canada. A list of those universities can be found here.
The CAA is the accreditation agency of the UAE and provides detailed information on top tertiary institutions in the country.
A list of higher education institutions in Abu Dhabi can be found here. For STEM programmes, the Khalifa University of Science and Technology (KU) is a top 200 QS world university with an intensive research focus on applied science and engineering.
UniversityGuru.com provides this handy infographic which universities fare the best in major subject areas according to rankings such as the Shanghai, THE, and QS.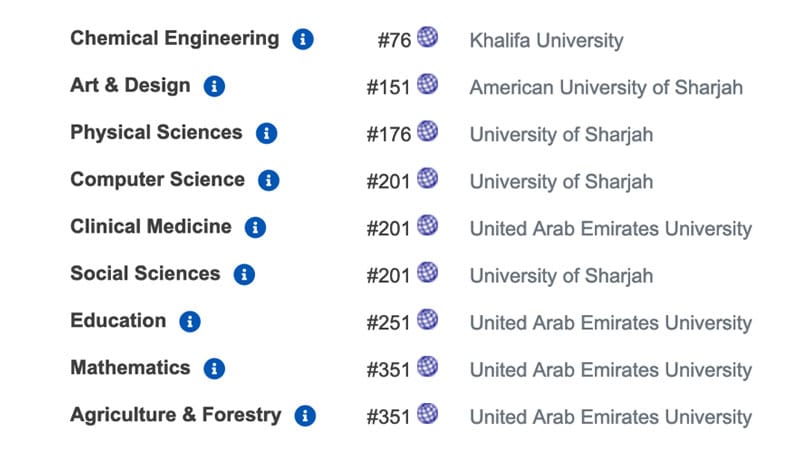 There are also high-quality vocational institutions in UAE. The Centre of Excellence in Applied Research and Training (CERT) is the most notable of these but the following are also worth exploring:
National Institute for Vocational Education (NIVE)
ADNOC Technical Institute (ATI)
Petroleum Institute (PI)
Mohammed bin Rashid School of Government
Emirates Aviation University
Emirates Academy of Hospitality Management
Abu Dhabi Vocational Education and Training Institute (ADVETI)
Study abroad
The high volume of students enrolled at international schools in UAE creates a major market opportunity for foreign universities and colleges. The Gulf News reports: "By some accounts, more than 90% of students at international schools intend to study overseas after graduation, so this trend will most likely accelerate tertiary mobility."
Top destinations for Emirati students are the UK (6,015 in 2019/20), India (2,307 in 2019), and the US (1,737 in 2020/21, with most studying at the undergraduate level).
Canada and European countries are also becoming more popular for students looking for more affordable programmes than they might find in the US or UK. Vandana Mahajan, the founder of educational agency Futures Abroad, explained to UAE's National News that:
"Last year we sent over 200 students to Canada from the UAE and I'm seeing a large increase from last year to this year. The recruitment season is ongoing, but we anticipate to send more than 500 students to Canada this year. The Co-op work programme is very popular and originated from Canadian universities and colleges, which means students do alternate semesters of study and work."
The UK should see its number rise next year, as close to 3,000 UAE students applied to UK universities in 2022.
Programmes for which there will be increasing demand over the next few years will be associated with UAE's target of being the world's top tourist destination. These include:
Hospitality and tourism (including eco-tourism and sports tourism)
Event management
Marketing and business administration
Food-related fields
Construction and engineering
Aviation
Information technology
Digital technologies and social media marketing
Human resource management
And more
Scholarships
Canada and the US can anticipate hosting more UAE students given the new scholarship programme aimed at sending 6,000 students to North America by 2028. The Khotwa (RizeUp) scholarship programme, with funding of US$520 million, pays for students' entire degree programmes, including homestay accommodation and up to a year of English-language study.
Most MENA scholarships tend to send students to top-ranked universities, but the Khowta programme is less exclusive. It relies on a 2+2 model, where students begin their academic studies at a designated community college in either Canada or the US, then transfer to an affiliated university to complete their degrees. The initial set of participating colleges were reportedly selected on the basis that they (a) operate their own English-language programmes, (b) are partnered with degree-granting universities, and (c) offer homestay accommodation for visiting students.
To be eligible for a Khotwa scholarship, Emirati students must have an average of 65% or above in their final year of secondary studies, and an IELTS score of 3.0 or better. The first 170 Khotwa-funded students will begin their studies in the US and Canada in January 2023.
There are a number of other UAE scholarships to fund Emirati students abroad, including those offered by the Ministry of Education, the Ministry of Presidential Affairs, the Department of Education and Knowledge, and the Ministry of Finance (MoF).
The Mohammed Bin Rashid Space Centre (MBRSC) offers scholarships to top Emirati students pursuing engineering or science, while the BETHA scholarship is for students pursuing telecommunications and information technology (e.g., computer engineering, electronic engineering and computer science). More government-funded scholarships can be found here.
Many universities in the UAE offer scholarships for students as well through joint agreements between the UAE government and other countries. Information about these is best obtained by contacting staff at individual institutions.
Inbound students: UAE, especially Dubai, is becoming an education hub specialising in Western-modelled instruction as well as an exporter of students to other countries. In fact, UAE is the top host of Indian students. As many as 219,000 Indian students were enrolled in UAE higher education institutions as of July 2021, making it even more popular than Canada, US, the UK, and other countries. Over the past couple of years, Sheikh Mohammed bin Rashid Al Maktoum, UAE's Vice-President and Prime Minister, has introduced longer-term residence visas for students as well as a permission for students to bring their relatives with them to the country as added incentives for foreign students to choose UAE.
Advice from the experts: Please enjoy this excellent panel discussion about scholarships in the Middle East hosted recently by ICEF. On the panel were guests with immense experience in Middle Eastern markets:
Marie-Claude Svaldi, VP of government relations and recruitment EMEA, ELS Education Services
Craig Hastings, Division Adviser, Abu Dhabi Scholarships, Department of Education and Knowledge (ADEK)
Sarah Crowther, President, Collective Study
For additional background, please see: