Short on time? Here are the highlights:
The number of international students with study permits for Canada declined by 17% in 2020
The major sending markets for Canada — including India and China — also registered the sharpest declines last year
New data from Immigration, Refugees and Citizenship Canada (IRCC) reveals the impact of the pandemic on Canada's foreign enrolment in 2020. IRCC reports that, as of 31 December 2020, there were 530,540 international students holding Canadian study permits.
This represents a nearly 17% decrease from the 638,960 students reported at the same point in 2019. And that in turn represents the first decline in foreign enrolment in Canada in the last 20 years.
In the five years before the pandemic struck last year, the number of international students in Canada had climbed by more than 80%, making the country the fastest-growing among the world's leading study destinations during that period. Even with the year-over-year decline from 2019 to 2020, foreign enrolment grew by 135% overall between 2010 and 2010.
The following illustration maps the leading sources of visiting students in Canada for 2020.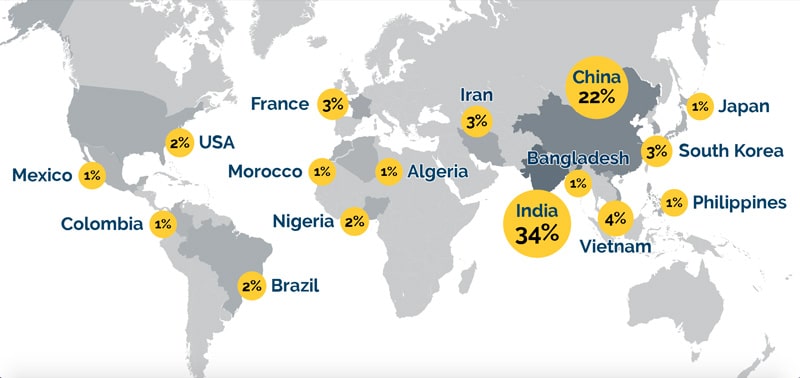 Not surprisingly, most – about 80% – of the year-over-year decline for last year can be traced to those same leading sending markets. The net enrolment decline of roughly 108,000 students is largely accounted for by the leading senders of India (-38,515 fewer students in 2020), China (-23,840), France (-5,595), South Korea (-5,940), Brazil (-3,455), Japan (-3,110), Vietnam (-2,600), and Mexico (-2,255).
Not all study permit-holding students would have been in Canada last year, with some outside the country when national borders were closed in the second quarter of 2020 and others unable to travel as planned for programme starts in the second half of the year. This means in part that the study permit data as reported above is a less reliable indicator of actual enrolment in Canada than it would be in a typical year. At the least, some study permit-holding students would have been prevented from continuing studies due to travel restrictions or other disruptions in their study plans. And we can imagine that other students, while also holding valid study permits, would have deferred studies from 2020 to 2021.
But even so that base of valid study permits represents a strong foundation for recovery and future growth. Canadian institutions and schools can also be encouraged in that respect by the supportive policies of the Canadian government.
The country's borders have reopened to international students as of October 2020, and, over the past several months, a series of government announcements have extended additional flexibility in allowing students to qualify for post-study work permits and to hold work permits under more flexible terms.
At the same time, vaccination efforts within the country are accelerating, with the expectation that the population will be largely immunized against COVID-19 by September, and Canadian institutions and schools are laying plans for a return to in-person learning in September 2021.
For additional background, please see: