Short on time? Here are the highlights:
International enrolment in the UK reached a record high last year, driven largely by growth in non-EU student numbers
Recent agent and student surveys suggest increasing positive perceptions of the UK as a study destination, partly because of the country's response to the pandemic and partly due to improved post-study work options
The latest data release from the UK's Higher Education Statistics Agency (HESA) reveals that international student numbers reached record highs during the 2019/20 academic year, a reporting period that includes the first five months of the COVID-19 pandemic.
Driven largely by continuing growth from China and India, the total number of foreign students in UK higher ed surpassed 500,000 for the first time to reach 556,625. This represents a year-over-year increase of 12.15%. It also marks the first year of double-digit growth for some time and breaks a several-year pattern of more modest or even marginal growth.
Much of those gains were driven by growing numbers of students from outside the European Union. Non-EU enrolments exceeded 400,000 for the first time ever in 2019/20 to reach 408,825. This represents year-over-year growth of nearly 17% in non-EU numbers and compares to essentially flat volumes of EU students (+.83% year-over-year).
That contrast between EU and non-EU numbers is even sharper when it comes to first-year enrolments. As HESA explains, "The number of first-year students from EU countries fell by 2% while the number from non-EU countries rose by 23%." It should be said, however, that EU enrolments have been expected to soften in the wake of the UK's departure from the European Union, and England's decision to end "home fee status" for EU students as of 2021/22.
As the following table reflects, foreign students accounted for roughly one in four (23.66%) of all higher education enrolments in the UK last year.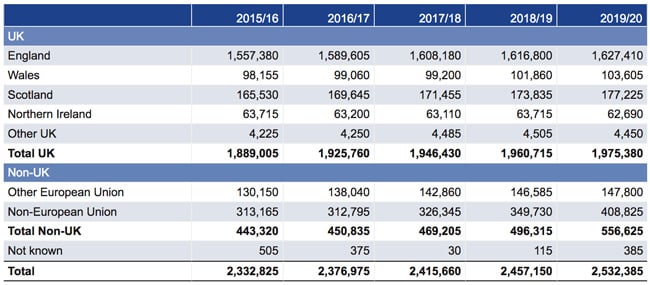 Where do the students come from?
Within the EU, Italy, France, and Germany remain the largest senders for British higher education. The following chart indicates declining five-year trends for Germany, Ireland, and Cyprus, with all other top ten EU senders reflecting steady growth from 2015/16. The net effect of those contrasting trends has been to hold EU enrolment in the UK more or less steady, with average annual growth of less than 3% over the last five years.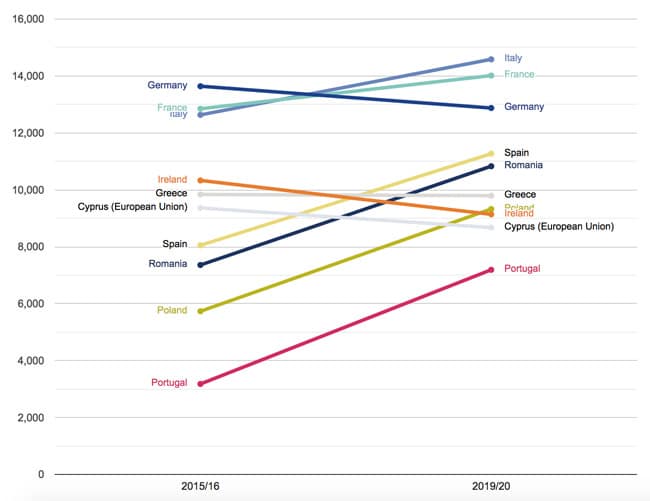 The factors driving enrolment growth in the UK are laid clear in the next chart. It shows the top ten non-EU sending markets, and highlights the continuing growth in Chinese and Indian enrolments, and just how much of a gap there is between those two key source countries and the next tier of sending markets.
China remains, by far, the most important sending market overall and sends roughly ten times the volume of the leading EU sender (Italy). Even so, the big story this year is arguably India. As HESA notes, "The total number of students from India more than doubled from 27,505 in 2018/19 to 55,465 in 2019/20."
Indian enrolment patterns around the world are heavily influenced by post-study work and settlement options. It therefore seems very likely that the UK's restoration of post-study work visas, as announced in September 2019, has played a significant role in the dramatic growth in Indian enrolment reported for 2019/20. Under the new policy, foreign students who graduate from a recognised UK university are eligible to stay on and work in the country for two years.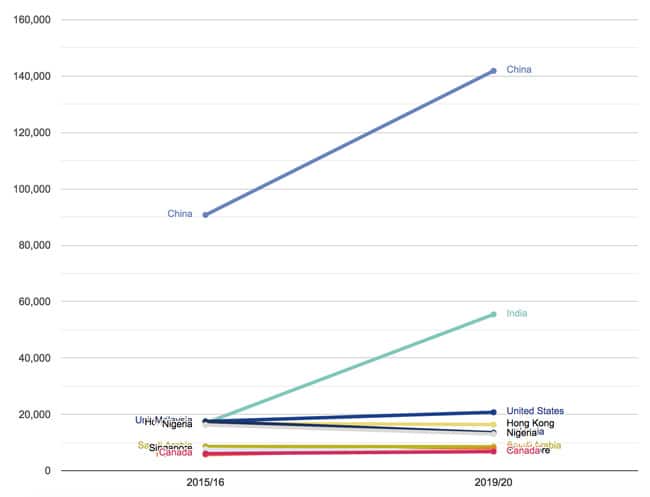 Notable growth in post-grad studies
HESA notes as well that non-EU students accounted for nearly half (49%) of all full-time post-graduate enrolment in 2019/20. "There was a 37,605 or 15% increase in first year masters taught course enrolments from 2018/19 to 2019/20," notes the agency, an increase that it attributes, "mostly due to an increase in non-EU students." Indeed, about 85% of that increase can be attributed to students from outside the EU.
The overall picture provided by the HESA data is one of a new buoyancy in the UK's international competitiveness among leading study destinations – an impression that is backed by recent agent and study surveys that give the UK high marks for attractiveness.
For additional background, please see: