France launches new international recruitment strategy
France is the latest country to set a long-term goal for building its foreign enrolment. A new international recruitment strategy – jointly announced this week by Campus France and the French government – is built around a goal to host 500,000 international students by 2027. In order to reach this target, France will have to maintain an average annual growth rate of roughly 5% over the next decade. This is more than double the average annual growth rate for the country over the last ten years, and those two numbers alone set out the scale of the challenge that the strategy is meant to address. As we noted recently, foreign enrolment in France grew more quickly last year (4.6% growth from 2016), after an extended period of relatively slower growth since 2007. France hosted just under 324,000 foreign students last year, which effectively makes it the seventh-ranked study destination in the world. However, international student markets have also become notably more competitive over that same period, with a number of established and emerging study destinations competing for a greater share of the global student market. As the following charts reflect, France has actually lost market share since the early 2000s, in large part because other destinations have seen their foreign enrolments grow more quickly.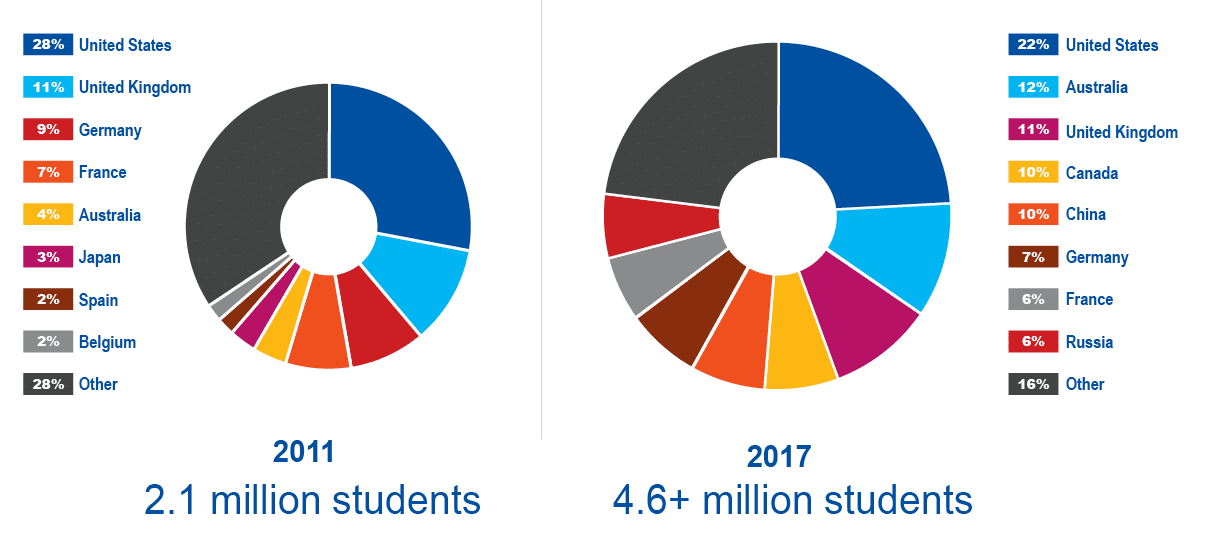 Market share of leading international study destinations, 2011 and 2017. The Total values shown above reflect the global population of internationally mobile students in each year. Source: ICEF
Six pillars
Speaking at the annual Rencontres Universitaires de la Francophonie in Paris this week, French Prime Minister Edouard Philippe introduced the six components of the new "Choose France" strategy. Prime Minister Edouard Philippe launches the Choose France strategy in Paris, November 2018. The strategy anticipates action in a number of related areas in 2019, which will be backed by a new Bienvenue en France support fund with a €10 million investment (US$11.4 million) by the French government. The Choose France strategy sets out that the process of applying for student visas will be simplified, with students given priority in visa processing carried out by French embassies and consulates abroad. This will be further supported by the recent introduction of the France-Visas portal, which expands online services for visa applicants. The process of renewing student visas, and securing long-term visas for the duration of studies, will also be streamlined, with additional service counters set up on French university campuses and in communities across the country. Any progress in smoothing visa processes for foreign students will likely be key to the overall success of the strategy. In surveys, more than half of visiting students (51%) cite the complexity of administrative procedures in France, notably around student visas, as one of the more significant challenges they encountered while studying in the country.
Study in French or English
Campus France reports that the country's language learning centres enrol a combined 150,000 students per year. Choose France aims to double the number of students in these programmes from emerging, non-francophone markets. At the same time, the Choose France strategy aims to double the number of students in English-taught programmes in France. The number of English-medium degrees in France has grown considerably over the last 15 years, from 286 in 2004 to 1,328 as of fall 2018. Of those, 1,015 are currently taught entirely in English, with most of those programmes offered at the master's level.
Earning the Bienvenue en France mark
The strategy will also see a new Bienvenue en France mark introduced, which will be accompanied by targeted funding and awarded to institutions that meet new standards of student services for foreign students. In order to earn the mark, French institutions will have to take concrete steps to coordinate and strengthen support services, particularly in matters of student housing.
Fees and scholarships to increase
Visiting students in France currently pay very low tuition fees for higher education: €170 per year for undergraduate studies, €243 for master's degrees, and €380 for doctoral programmes. Starting in 2019, the French government will now differentiate tuition fees for students coming from outside the European Union. Annual fees for non-EU students will rise to €2,770 for undergraduates and €3,770 for advanced degrees. These increased fees will be used in part to fund a tripling in the number of scholarships offered to foreign students. The French Ministry of Europe and Foreign Affairs currently offers 7,000 such scholarships and, from 2019 onward, that number will increase to 15,000 awards per year.
Reaching out globally
Choose France anticipates as well an expansion of French transnational education initiatives, including the number of campuses and schools abroad (and especially so in major sending markets for French educators). The strategy will be further supported by a global marketing campaign that will roll out in 2019, with an emphasis on digital marketing designed to boost student awareness and engagement with French education. For additional background, please see: