Following its initial trend report earlier this year, Education New Zealand (ENZ) has released an updated International Education Snapshot with enrolment data for the first eight months of the year.
Covering the period January – August 2013, the snapshot reflects the same overall trends earlier reported by ENZ for this year. Most notably:
International student enrolment declined 3% year-to-date (YTD). There were 84,150 international students enrolled in New Zealand as of 31 August 2013, reflecting a drop of roughly 2,400 students from the same period in 2012.
Hidden within this overall drop is steady growth in post-secondary, where institutes of technology (ITP) and universities each grew by 4% YTD, and also in secondary enrolments, which grew by 2% YTD.
However, those gains were offset by more severe drops in other sectors, notably in private training establishments (PTEs) and primary schools, which were down 14% and 9% respectively YTD.
The bulk of the PTE decline has been accounted for by falling enrolments for English language providers. Those schools registered a 15% decline YTD for 2013 (equivalent to a drop of 2,020 students). The falloff in primary enrolments was driven by a decline in South Korean students in New Zealand schools.
Declining Korean enrolments accounted for 60% of the total YTD drop for New Zealand as a whole, and 145% of the total primary school decline in 2013 – once again overshadowing growth in primary school registrations from markets such as China and Thailand.
ENZ observes of the declines in the PTE and primary sectors:
"This is largely due to issues around the South Korea market and work rights for language schools. This latter problem has been addressed by recent policy announcements. Increased promotion is planned for South Korea and efforts to have New Zealand qualifications recognised by the South Korean government are being intensified."
On the question of work rights for students enrolled in language schools, ENZ notes: "Commentators expect that the decline in the English language sector will stabilise with recent Cabinet decisions to extend full-time work rights…Providers are already reporting a positive impact on student interest."
The policy changes referred to here were announced by New Zealand's Tertiary Education, Skills and Employment Minister Steven Joyce and Immigration Minister Michael Woodhouse in October and will soon take effect in December 2013. A government backgrounder provides some additional detail on the changes to international student work rights:
Students enrolled with any tertiary education provider in a programme of study of at least an academic year will be allowed to work full-time during all scheduled holidays;
There will be unlimited work rights for PhD and Masters students; and
All English language students who are studying at a University or a Category 1 provider, in a programme of study of at least 14 weeks, will be allowed to work part-time while studying.
Aside from the issue of South Korean recognition of New Zealand credentials, ENZ notes that other macro trends are having a profound impact on student mobility in Korea. These include broad demographic trends that are reducing the pool of school-age students, increased efforts on the part of the Korean government to encourage Korean students to pursue more of their studies at home, and a relatively sluggish Korean economy that has registered only marginal growth since 2006.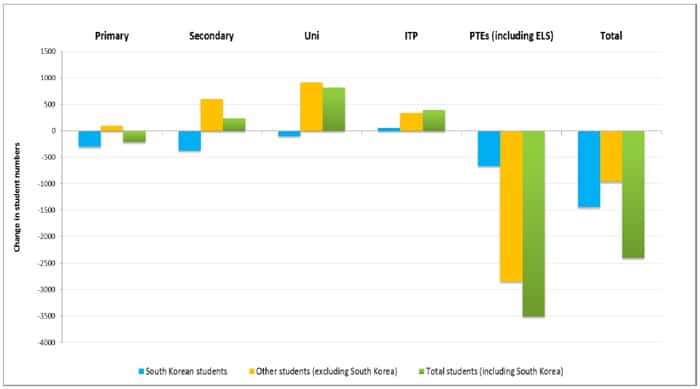 Comparing the change in South Korean and total student numbers by sector, January–August 2012 and 2013. Source: Education New Zealand
Even so, Education New Zealand notes that the overall commercial value of the sector remains steady, in relation to its 2012/13 valuation of NZ$2.6 billion and as a leading export sector for New Zealand.
Further, the New Zealand government remains committed to its goal of doubling the sector's value to NZ$5 billion by 2025.
Earlier this month, Minister Joyce launched a new brand programme – "New Zealand Education Story" – to provide a "clear, consistent view of New Zealand's international education industry for prospective students and their families."
The New Zealand Education Story is based on a broader branding programme for New Zealand – the "New Zealand Story" – also launched this month.
"The New Zealand Story profiles our innovation, our warmth and friendliness, and our place in the world with the 'Open places, open hearts and open minds' theme. The New Zealand Education story builds on these attributes with a specific focus on our growing international education sector," said Minister Joyce.
The "New Zealand Education Story" is reflected in a special launch video, and is supported by a marketing toolkit containing photographs, logos, branded templates and presentations for the use of New Zealand education providers and other stakeholders.
The brand launch occurs against the backdrop of a broader government investment in building the sector. While the latest report from ENZ strikes a cautionary tone –  "International education commentators are still forecasting an increase in demand for international education globally, however at lower levels than previously predicted" – the overall outlook remains optimistic.
In the medium-to-long term, the following indicate a positive outlook for New Zealand's international education sector:
"ongoing work on policy settings to support international education growth;
opportunities for the sector to link industry growth funding with planned marketing and promotion activities in key markets;
an anticipated increase in scholarship students;
global forecasts of increasing demand for high quality international education."