Global satisfaction survey shows US leading Australia, Canada, and UK
Short on time? Here are the highlights:
A new global student satisfaction report shows that of the Big Four destinations, the US is shining
Hungary, Germany, and Portugal are also notable competitors
Canada has improved since the last survey in 2021, but trails the global average in all dimensions and compared with Australia, the UK, and US
A return to in-person learning on campus has dramatically improved the experience of both domestic and international students, according to a survey of 126,000 students in top study destinations. The research comes from Studyportals, UniBuddy, and the British Council IELTS.
Students responding to the survey came from more 200 countries. The higher education institutions they reviewed are spread across 126 countries, including the "Big Four": Australia, Canada, UK, and US.
The survey report points out that documenting and making public student satisfaction scores is helpful for prospective students considering where in the world, and at which university, they want to study.
What was measured
Students reviewed institutions according to:
Admission process
Student-teacher interaction
Student diversity
Quality of student life
Online classroom experience
Career development
Of the categories, online classroom experience was ranked lowest but improved the most since the previous survey in 2021 (up 7.2%). Another area of great improvement was quality of student life (up 6.4%). Improvements in these two categories suggest a much better learning experience for students now than in the pandemic.
Underwhelming results for three of the Big Four
Of Australia, Canada, the UK, and the US, only the latter received an overall satisfaction score above the global average. The US performed especially well in terms of admissions processing, student-teacher interaction, and career development.
Edwin van Rest, co-founder and CEO of Studyportals says: "There is a different political climate in the US now compared to 2021. The State Department has done a lot of work to make international students a priority and the climate is more welcoming."
Canada trailed the average in all categories despite overall improvement since 2021, while Australia came in below the average except in career development. The UK was more balanced, losing ground in the categories of admission process, student-teacher interaction and student diversity but performing well in terms of online classroom experience, quality of student life, and career development. Still, Ireland – a smaller but significant competitor outside of the Big Four – outperformed UK in all dimensions other than online classroom experience.
Universities in European destinations did particularly well, with Hungary leading the pack, as depicted in the table below. The top institution overall was the University of Navarra in Spain.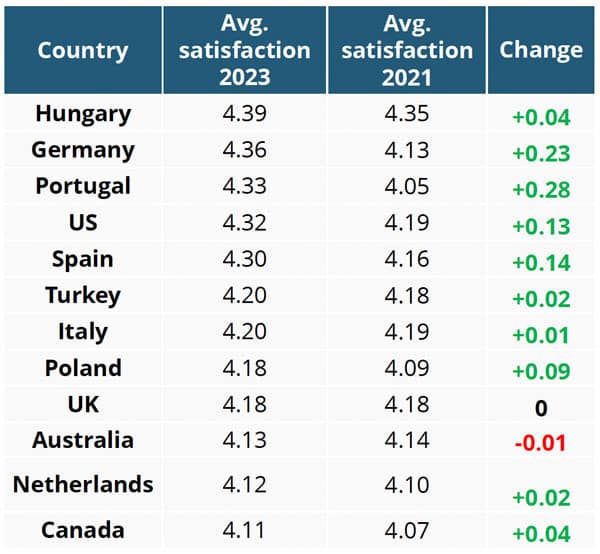 In terms of excellence in specific categories, Europe dominated in all areas save for online classroom experience and student-teacher interaction, where the US achieved the highest scores.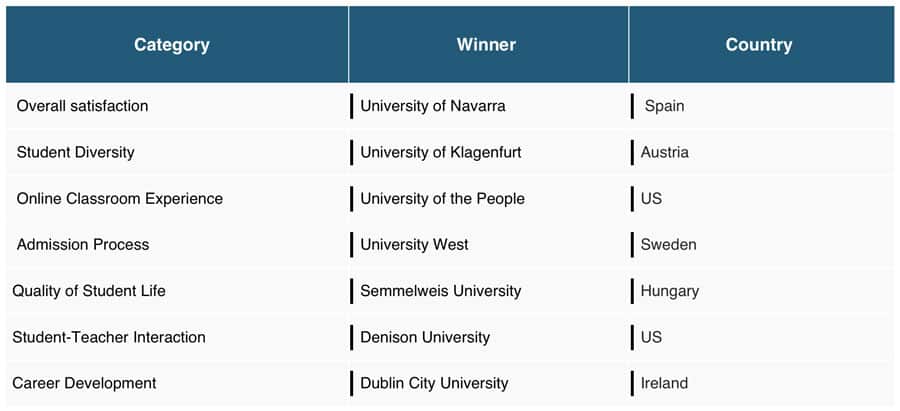 Regional notes
The report notes the following in terms of regional comparisons:
Western Europe: Germany outpaced competitors such as France and the Netherlands in most dimensions;
Northern Europe (e.g., Denmark, Finland, Sweden): No country led the others by a wide margin – the region is characterised by institutions performing especially well in discrete areas;
South Europe: Portugal and Spain are in close competition in many dimensions;
North and South Asia: China does better than India in general except in the area of career development;
Southeast Asia: Thailand ranks first in satisfaction for most dimensions compared with countries such as Malaysia and Philippines;
Middle East/North Africa: Turkey and Egypt are close competitors;
Africa: South Africa leads except in terms of student-teacher interaction, where it trails Nigeria.
Americas improve the most
Despite Canada's below-average performance, overall satisfaction with studying in North America has improved markedly since 2021 compared with other regions.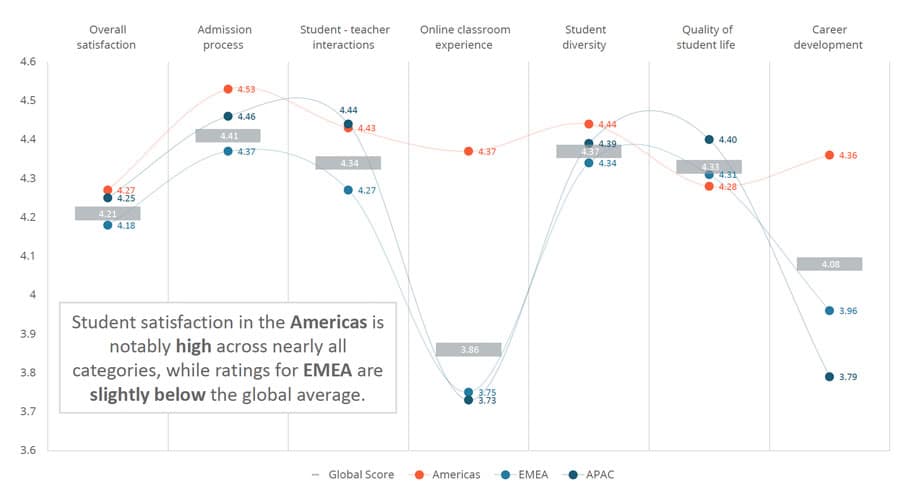 Focus on admissions
Students' experience with admissions processes and staff improved by 4.5% to 4.4 on a scale of 5. The category of admissions is an important one to explore closely, given that when students encounter poor communications or processing when applying, they become more likely to lose interest in an institution.
Highlights from the report around admissions include:
"Many students spoke about their experiences with admissions staff – either praising their helpfulness and friendliness or mentioning a lack of communication."
"Lots of students mentioned problems with delayed decision-making, requiring students to constantly check for updates. Students also commented on the complexity and duration of application processes, particularly for international students. Students commented on the outdated nature of some university websites and the usefulness and user-friendliness of online platforms."
"Some students reported having inadequate information about visa and immigration procedures general admissions requirements and how to secure student accommodation."
"Some reviews touched on the high expenses associated with application fees and assessment test fees. Many students touched on the difficulty of securing scholarships or financial aid, and the anxiety they felt around financial instability."
The report includes a few student verbatims, and these are instructive as well.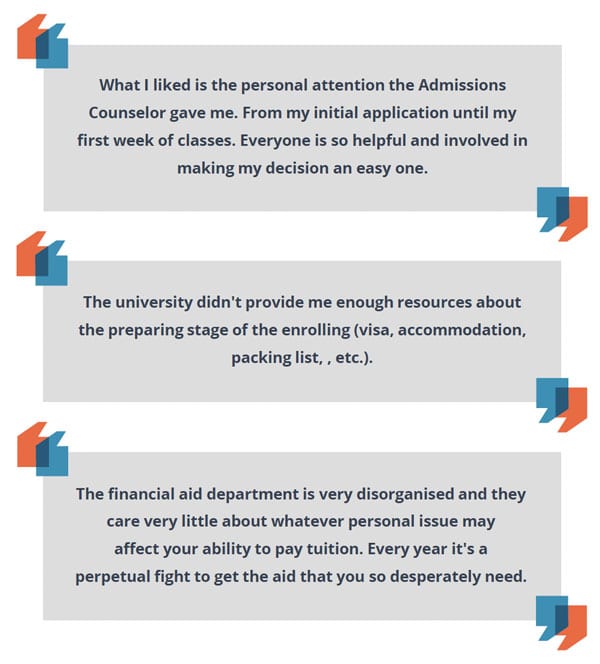 The results in context
Studyportals CEO and Co-founder Edwin van Rest adds:
"The Global Student Satisfaction Awards is the only global programme which recognises the best universities from the perspective of students. Student satisfaction is higher across all categories, and this is a fantastic compliment to the higher education sector. However, we are seeing issues with the performance of the Big Four which they need to address, and with one in five English-taught programmes delivered outside the Big Four, there is more competition for students in more destinations."
For additional background, please see: