International student visa holders up 98% in New Zealand since the border reopening
Short on time? Here are the highlights:
In March 2023, the number of student visa holders in New Zealand were up by 98% compared with August 2022
As in all other leading destinations, the Chinese market remains slower to recover
Website traffic on the Study with New Zealand website jumped by 293% between November 2022 and February 2023
Post-pandemic recovery is underway for New Zealand's international education sector. The sector was battered for longer than those in most competitor destinations due to a prolonged border closure that lasted from the onset of the pandemic to August 2022, but new data from Education New Zealand shows that student demand, visa application rates, and approval rates are trending upward.
Marketing push is driving results
New Zealand has an impressive Study with New Zealand website as well as an associated "I AM NEW" digital campaign that most recently has been focused on parents and students in China, India, US, Thailand, Vietnam, Germany, Brazil, Japan, and South Korea. Phase 2 of the campaign featured the stories of international students in New Zealand. (A wide body of research shows that prospective international students are eager to hear the perspectives of current international students when choosing where they will study.)
The timing of Phase 2 of the campaign coincided with a significant jump in traffic to the Study with New Zealand website: from around 75,000 users in November 2022 to around 295,000 users in February 2023. India, Vietnam, Brazil, Thailand, and Japan contributed the highest number of users.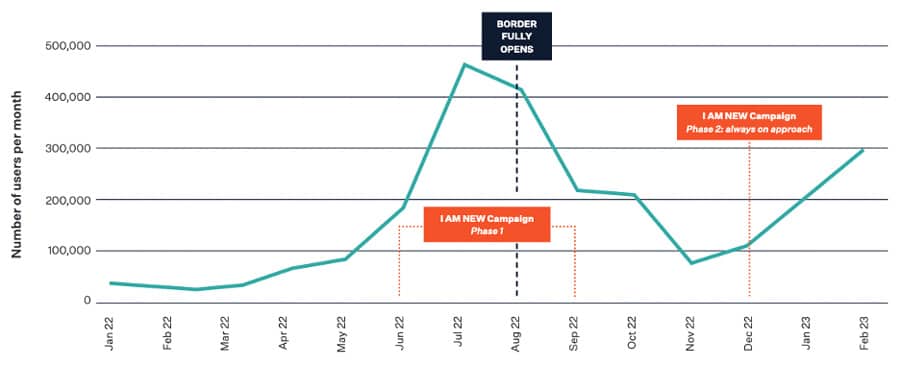 Visa trends are positive
A few data points indicate that the pace of recovery is picking up:
New Zealand immigration officials are processing and deciding on a growing volume of international student visas; 16,000 decisions were made between December 2022 and February 2023.
There were nearly 34,000 international students holding visas for study with New Zealand at the beginning of March 2023, up 98% since the border reopened.
Between December 2022 and February 2023, the number of approved visas was about two-thirds of the number approved between December 2019 to February 2020.
The number of Chinese and Indian visas approved was lower than in December 2019–February 2022, while visa approval rates for students from Vietnam and Malaysia were 17% and 4% higher, respectively, in the December 2022–February 2023 period.
How's the competition looking?
New Zealand Education also looked at trends in competitor countries. They note that across Australia, Canada, the UK, and the US, the big driver of growth is India. Those leading destinations (combined) granted 28% fewer visas to Chinese students and 125% more visas to Indian students in 2022 compared with 2019.
New Zealand Education also provides a great table that illustrates where growth is coming from – aside from India – for top destinations. Australia is leading the pack in terms of diversification, attracting significant volumes of new students across a range of nationalities including Nepal, India, Thailand, Colombia, Philippines, Pakistan, Indonesia, and Vietnam.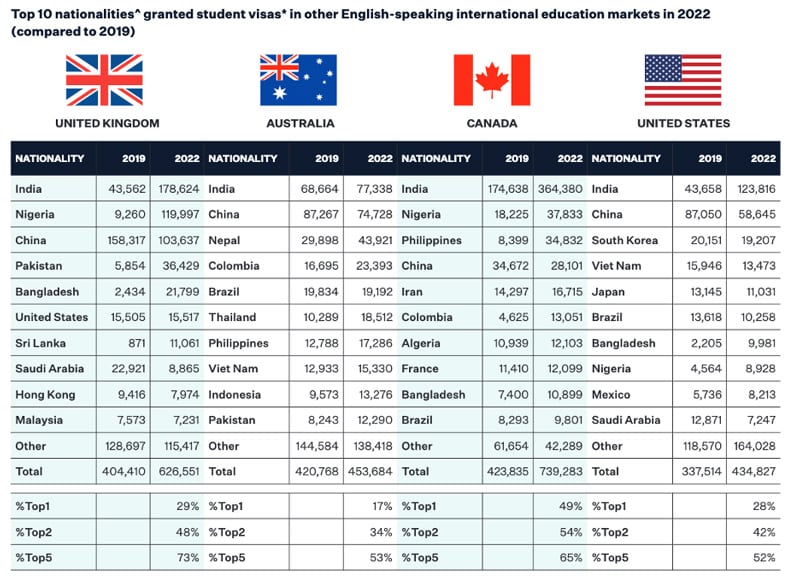 For additional background, please see: