New Zealand launches new online portal for adult learners
Short on time? Here are the highlights:
A new digital platform aims to test market demand for short courses targeted to international adult learners
The pilot project will help shape future directions for transnational education or distance learning initiatives from New Zealand providers
Education New Zealand recently announced the launch of Study with New Zealand Online, a new digital platform designed to provide "flexible, bite-sized learning" for adult students.
At launch, the platform offers 60 short courses from more than 20 New Zealand providers. Most courses are self-paced and will take anywhere from five hours to 25+ hours to complete.
Topics range from sustainable tourism to English language teacher training to courses on design thinking, early childhood education, and more.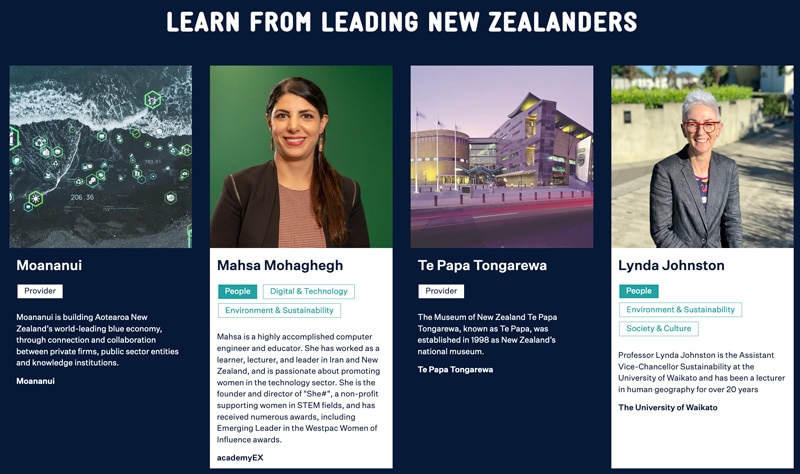 "Our research shows that there is a significant career-oriented, adult learner market that is looking for ways to advance within their current career," says Education New Zealand's General Manager for Sector Engagement Wendy Kerr.
The new platform is framed as a pilot project to test market demand for such courses and to help shape future offerings.
Ms Kerr adds, "We know how hard the pandemic was on international education. We know this project is about exploring new and different ways to deliver, and new and different audiences for, the New Zealand education experience. The goal is to diversify and build resilience."
The project arises directly from New Zealand's 2020 Strategic Recovery Plan for International Education. Along with direct funding supports for the sector, the recovery plan sets aside NZ$10 million (US$6.2 million) "to develop new future-focused products and services to drive growth in our system onshore and offshore".
Those initiatives were specifically meant to include:
"An offshore pathways initiative [link to https://monitor.icef.com/2020/12/new-zealand-takes-next-step-in-recovery-plan-with-major-pathways-initiative] to enable learners to begin their New Zealand education journey from their home country and to study programmes that pathway directly into bachelors and masters degrees in New Zealand;" and
"A New Zealand digital platform to provide a single strong New Zealand brand and presence to enable New Zealand providers to deliver their education products and study programmes to more people offshore, and to meet changing learner needs."  
For additional background, please see: