Norway moving towards tuition fees for non-EU students in 2023
Short on time? Here are the highlights:
Norway is considering the introduction of tuition fees for international students coming from outside the European Union as of fall 2023
A government proposal recommends annual tuition fees of about USD$13,000
A survey of just over 1,000 non-EU students who are considering studying in Norway has found that the move away from free tuition could deter up to 80% of prospective students
A Norwegian government proposal to introduce tuition fees in 2023 for international students pursuing degree studies could deter up to 80% of non-EU students from choosing to study in the country, according to a survey from Study.eu. Norway currently hosts about 13,000 international students, two-thirds of whom come from outside of the EU. They currently have the same rights to tuition-free study as Norwegian students.
The proposal, brought forward earlier this year, recommends that Norwegian universities should begin to charge non-EU students NOK130,000 (USD$13,000) in 2023 – though it also stipulates that individual institutions can charge more than that for courses in high demand.
The rationale for the introduction of fees is to attract only the most "motivated" of international students. An anticipated drop-off in overall international enrolments is expected to then free up capacity in the higher education system and in accommodation for Norwegian students. Critics argue that mandatory tuition fees will disadvantage poorer international students from less prosperous world regions, but Norway's Minister of Research and Higher Education Ola Borten Moe defended the proposal, saying:
"Our universities and university colleges are well fitted to attract international students because the quality is good, not because they are free of charge. I believe that tuition fees will give us more motivated international students. Since we will have fewer international students, this will release both study places and housing for Norwegian students."
A fall-off in international enrolments is highly likely
Study.eu conducted a survey among just over 1,000 students living outside of Europe who were considering Norway as a study destination. These students were virtually as likely to cite "free tuition" as the quality of Norwegian universities as reasons they were interested in studying in Norway.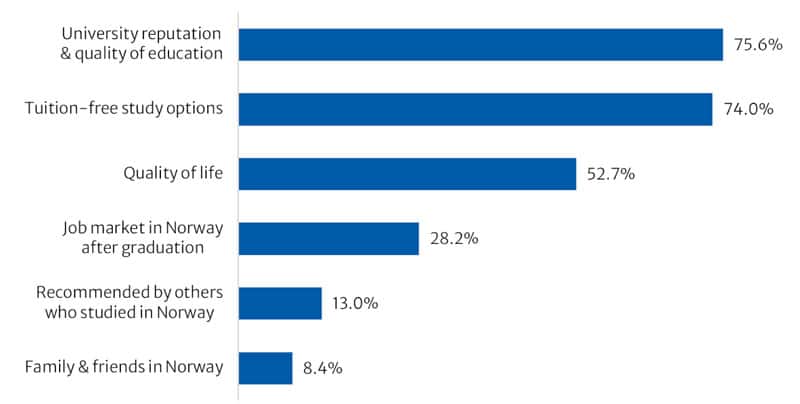 As the following chart indicates, more than a quarter of student respondents said they could not afford tuition fees even of 50,000NOK (around USD$5,000). If tuition fees were raised to the level recommended in the Norwegian government proposal (NOK 130,000 or more), over three-quarters of respondents did not believe they could afford to study in Norway unless there were some scholarship arrangements in place.
Gerrit Bruno Blöss, CEO of Study.eu, points out that a decline in international students would affect the overall Norwegian economy:
"In the short term, this might be a fool's bargain. Fewer students mean less money flowing into local economies. And while there won't be many students who will actually pay fees, many operating costs will remain fixed even with smaller classes."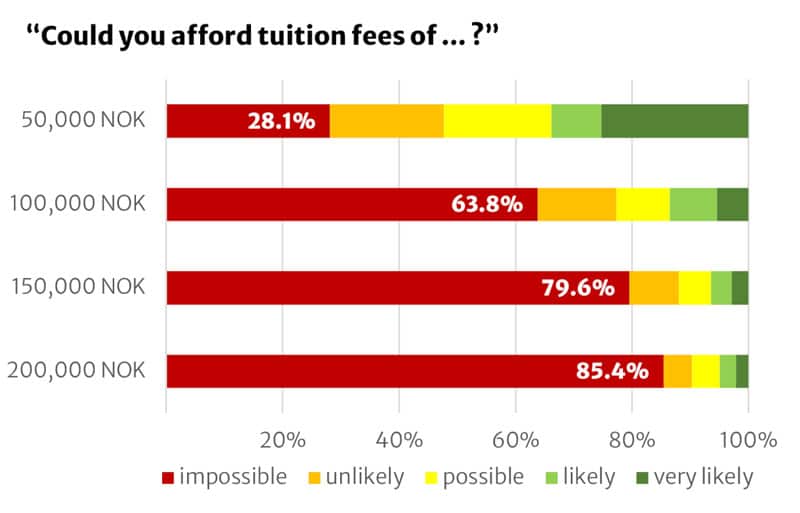 Following in the footsteps of Sweden and Finland
In 2011, Sweden introduced tuition fees for international students, which contributed to declines of up to 80% in foreign enrolments for several years, until 2014. By the 2017/18 academic year, international student numbers rebounded to about the same level they were at in 2011, signalling that the market had reset to a new normal in terms of cost of study in Sweden.
This pattern is also observable in Finland, where international students began paying tuition fees in 2017, leading to a short-term decline in foreign enrolments. In 2022, there are more international students choosing to study in Finland than in 2016, in part because Finnish institutions leveraged scholarship programmes to lower their costs of study.
Earlier this year, Finland's Ministry of Education and Culture set up a task force to explore the impact of international student tuition fees. That task force found that Finnish higher education institutions "had collected some EUR 42 million in tuition fees in 2019–2020." However:
"The higher education institutions use a significant proportion of the potential return from tuition fees for student grants and scholarships. After subtracting the grants and scholarships, higher education institutions received approximately EUR14 million in revenue from tuition fees."
In Finland, it is typical for international students to pay annual tuition of between EUR6,000 and 8,000 (USD$6,200 to $8,292) for universities of applied sciences and EUR8,000 to EUR12,000 (USD$8,292 to $12,437) for universities.
In Norway, fees for international students range between SEK80,000 (US$7,000) and SEK140,000 per year (US$12,400).
Therefore, Norway's fees are set to be the most expensive of the three countries.
By contrast, most German higher education institutions remain tuition-free for international students. Its foreign enrolments reached a record high in 2021, and a recent survey shows that free tuition is Germany's most important competitive strength.
Many students don't know yet about Norway's plans
The Study.eu survey found that more than two-thirds of surveyed students did not know that they might have to pay tuition fees if they chose Norway for a programme in 2023. Study.eu's Mr Bloss points out the potential implications of this:
"International students typically plan their studies one to two years in advance. For Norway, that's especially true as the country's application deadlines are the earliest in all of Europe. But universities haven't had a chance to properly communicate potential fees to their prospective students for the 2023 intake. Two thirds of students we surveyed hadn't even heard of this plan at all. Introducing fees in a hurry will destroy study-abroad plans for many young people – and is likely to cause lasting reputational damage to Norway's education sector as well as the country as a whole."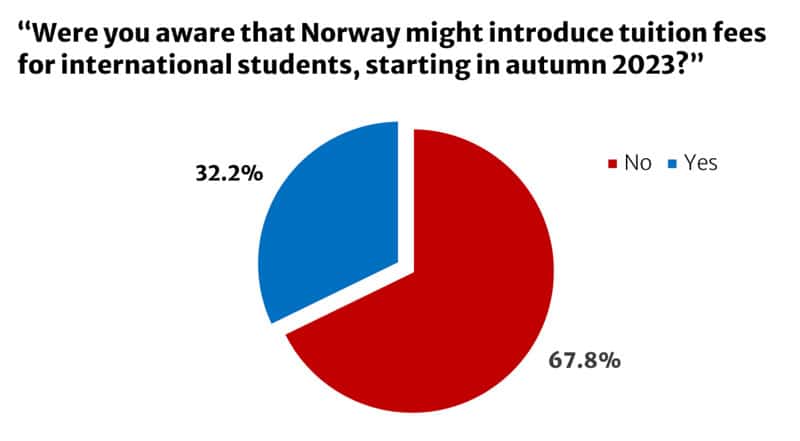 The survey suggests that if Norway is to introduce tuition fees for international students in Fall 2023, raising awareness of this decision should be done as soon as possible.
For additional background, please see: