Spain to ease visa processes for international students and graduates
Short on time? Here are the highlights:
The Spanish government wants to remedy some of the logistical challenges international students face in pursuing degree studies in Spain
Pending new legislation, the government intends to grant residence permits to foreign students for the duration of their studies and to extend work rights for one-two years after graduation
Spain faces a declining college-aged population and high levels of outbound migration
International students hoping to study pursue a higher education degree at one of Spain's 76 universities may soon find it easier to do so. The Spanish government is legislating a new University System Law (LOSU) to allow non-EU students to (1) hold residence permits for the duration of their studies and (2) automatically be granted the right to remain in Spain for one-two years after graduation.
Spanish Universities Minister Joan Subirats says, "We have to find ways to retain [international student] talent that we have trained so they can keep their residence status and look for work for two years."
Currently, non-EU students in Spain are granted residence permits for only one year and must apply for an annual extension to continue their studies. After graduation, students can apply for a post-study work visa to remain in the country for a year to look for a job, but they are not permitted to work within those 12 months. This rule makes it difficult for non-EU students to remain in the country unless they have ample financial resources. Erudera.com reports that,
"Thousands of students who earned diplomas in Spain have already left the country. Over the past decade, 90,000 graduates in Spain moved to other countries to develop their careers."
The LOSU legislation is being prepared by the Spanish government and will require parliamentary approval before being passed into law. If passed, the new rules are expected to come into effect in 2023.
Red tape hampering student mobility to Spain
According to The Local, these are some of the challenges that Spanish universities have faced in recruiting international students:
"There's the fact that it takes years for their prior qualifications to be validated before being allowed to study at a Spanish institution, the not-so-small matter of having to sit the Spanish EBAU baccalaureate unless there's a reciprocity agreement, as well as the issue that once their studies are completed their residence in Spain isn't guaranteed, among other setbacks."
Those issues have limited Spain's ability to compete for international students as effectively as countries like the UK, France, and Germany, even though Spain offers relatively low tuition fees.
On average, annual tuition for a bachelor's degree at a public Spanish university is €550 to €3,500, while tuition for a master's degree is €750 to €4,000. Private colleges set their own rates, however, so fees can be higher in this sector.
Over the past few years, the number of international students in Spain has grown steadily, and the country is known as the top destination for students participating in the Erasmus mobility programme. Just under 10% of students in Spanish universities in 2021 were from other countries.

Spain needs to attract more students
The ability to attract international students is becoming increasingly important to the Spanish government. The Local reports that "higher education institutions are set to lose up to 20% of their students aged 18 to 29 by 2035," an event that would see universities struggle financially and that would see too few skilled workers enter Spain's labour force.
Graduates of Spanish universities often leave to work in other countries such as the UK and Germany. Over the past two decades, so-called "brain drain" has affected Southern and Eastern European countries such as Spain, Italy, Romania, and Greece more than those in Western/Northern Europe. Causes for the emigration of degree-holding students include a sense among youth that public spending is insufficient or poorly allocated, that public services are inadequate, and that there are better job opportunities elsewhere. The exodus of youth to other European countries has been severe enough to prompt the governments of Italy and Greece to offer tax incentives to encourage citizens who have left the country to return. Spain has its own "Return to Spain" strategy that offers grants and discounts for scientists and entrepreneurs.
Focus on Africa
Attracting international students and high-skilled workers from Africa is also part of an overall plan – "Africa Focus 2023" – to change the dynamics of mobility between Africa and Spain. As it forges stronger diplomatic and economic ties with African countries, the Spanish government hopes to encourage and train Africans to enter knowledge-based occupations and industries in Spain. Currently, many Africans who leave their countries for Spain end up working in informal sectors that do not contribute to the Spanish economy.
A particular focus is Morocco, where Erasmus-modelled pilot programmes have been the works for a couple of years to help Moroccans to earn master's degrees in Spain. Morocco is now one of the most important senders of students to Spain.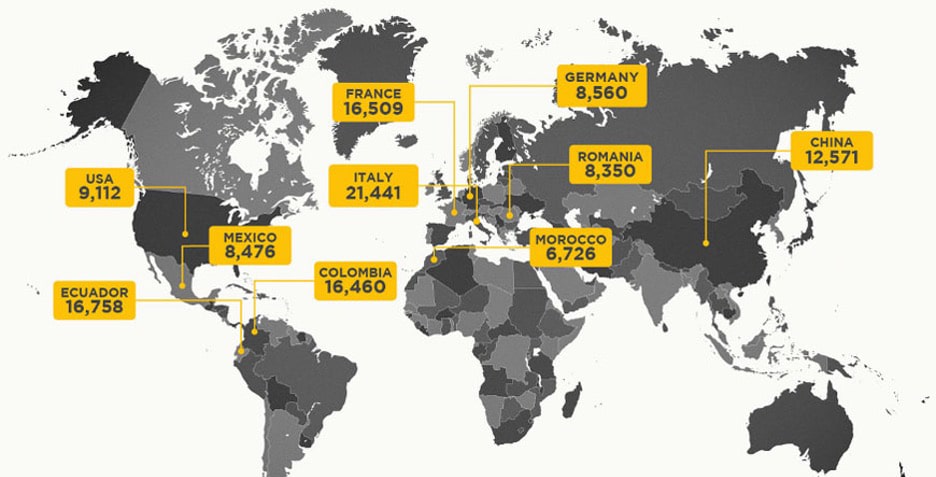 For additional background, please see: