Demand-side data provides further evidence of shifts in Nigerian study abroad
Short on time? Here are the highlights:
A new analysis of Nigerian demand patterns finds continued strength in demand for study abroad and some important shifts in student destination preference.
A new market report from IDP Connect provides us with a further view of some of the shifts in Nigerian demand that we have been observing over the last few years. As we discussed on a recent podcast, the fundamentals of the Nigerian market remain very strong. This is highlighted by the country's large, youthful population, a strong tradition of study abroad, and a substantial demand-supply gap in Nigerian higher education. There are literally millions more Nigerian students who would like to pursue higher education than there are seats in the country's universities.
We have also noted recently that the UK, which has long been a leading destination for Nigerian students, has been losing market share over the past several years. This is partly a factor of increasing competition from other major English-speaking destinations – such as Canada, the US, and Australia – but also by growing numbers of students going abroad to other African countries (e.g., Ghana and South Africa) as well as a wider field of regional destinations, most notably Malaysia.
However, with a more proactive recruiting posture in non-EU markets after Brexit, and with expanded work rights for foreign graduates now well established, the UK has also seen a resurgence of interest from Nigerian students this year. Following the benchmark 26 January deadline for undergraduate applications to British universities, UCAS reported that Nigeria was one of the fastest-growing markets for UK higher education this year with 47% year-over-year growth in undergraduate application volumes.
We see some of those same patterns playing out in the IDP report. Authored by IDP Connect's Segi Adewusi, The Big Picture on Rising Nigerian Student Demand makes the point that, "The pandemic restricted movement across borders which hindered international students globally, and Nigeria was no exception. There was a brief fall in demand from Nigerian students, likely caused by imposed travel restrictions. However, there is now evidence of pent-up demand post-pandemic and an upward trend with Nigerian students eagerly waiting to study abroad in key global destinations such as the UK, US and Canada as borders re-opened."
The report adds that, "Our IQ Demand Tracker tool shows Canada is the most popular destination for Nigerian students claiming 54.28% of share in 2021 when compared to other key English-speaking destinations. This is followed by the UK at 29.46%, the US at 19.58% and Australia at 6.46%." That relatively low value for Australia is of course an outlier and reflects in large part that Australian borders remained closed to international students for most of last year. As we see in the following chart, IDP search data suggests there is some indication as well of that renewed strength in demand for study in the UK with a corresponding drop (at least in the short term) in demand for Canadian education.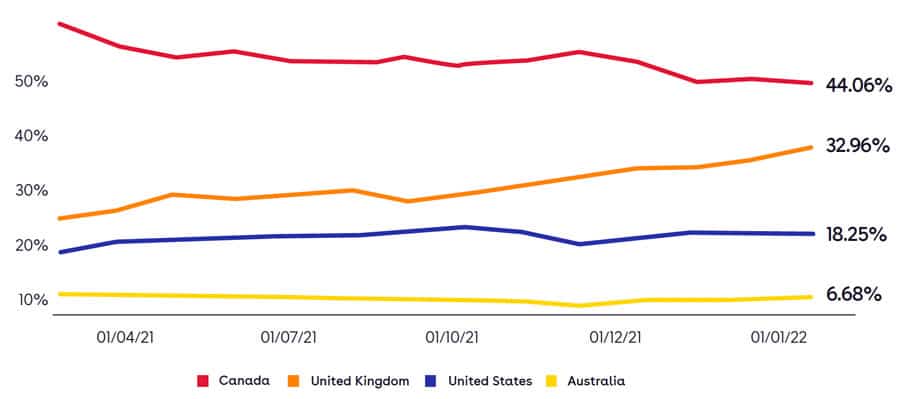 Those continuing shifts say something about the complexity of the Nigerian market, which has always been impacted by global oil and gas prices, corresponding fluctuations in foreign exchange, and the scale of scholarship programmes for outbound students (many of which are also tied to the oil and gas exports).
Those broad patterns account in turn for the growing demand for study in Canada among Nigerian students, where the relative affordability of Canadian programmes continues to attract growing numbers of Nigerians.
Canada has taken steps as well to smooth visa processing for Nigerian students with the introduction in 2020 of a Nigeria Student Express pilot which aims to reduce processing times for study permit applications from eight weeks to 20 days or less and, less explicitly, to reduce rejection rates for Nigerian study visa applications.
Much as we see in other key sending markets, demand for study abroad is now notably expanding beyond Lagos, the country's largest city. While much recruiting activity continues to concentrate in and around Lagos, IDP notes as well strong demand in other cities, including Suleja and the capital Abuja.
"To remain competitive as well as attract and engage potential students, it is vital that universities understand the requirements and factors that specifically motivate Nigerian students," concludes the report. "Affordability, post-study work opportunities, multiculturalism and an easy visa process rank highest amongst the concerns for Nigerian students studying abroad. Marketing strategies centered around these drivers, as well as tapping into an engaged alumni and sharing success stories, will inspire the next generation of Nigerian international students."
For additional background, please see: