Rapid expansion of English-taught degrees a growing factor in global student markets
Short on time? Here are the highlights:
A number of countries – outside of the "Big Four" English-speaking destinations of Australia, Canada, the UK, and the US – are ramping up the number of English-taught degree programmes they offer to international students
A global overview of English-taught programmes produced by the British Council and Studyportals finds that almost one in five English-taught programmes (ETPs) are now offered outside of the "big four" English-speaking destinations, most notably in the Netherlands, Germany, as well as China.
The study identified over 28,870 degree programmes taught in English outside Australia, Canada, the United Kingdom, and the United States, which represents growth of over 77% compared with 2017. Most of the programmes in alternate destinations are at the master's level, but the number of undergraduate English-language degrees is growing at a faster rate (85% compared to 74% for master's).
Edwin van Rest, founder and CEO of Studyportals, said:
"We knew from our growing partners and previous research we had conducted with ACA, EAIE and the IIE that the landscape of international education was changing. This global research shows just how quickly universities around the world are adapting to teaching in English and therefore offering students more diverse study options than ever before. We believe this will make global talent corridors more distributed and symmetrical – good news for students, for GDP and for a more equal and connected global society."
Still, the vast majority (82%) of the 157,278 bachelor's and master's programmes Studyportals identified worldwide are offered by institutions in the "Big Four" English-speaking destinations.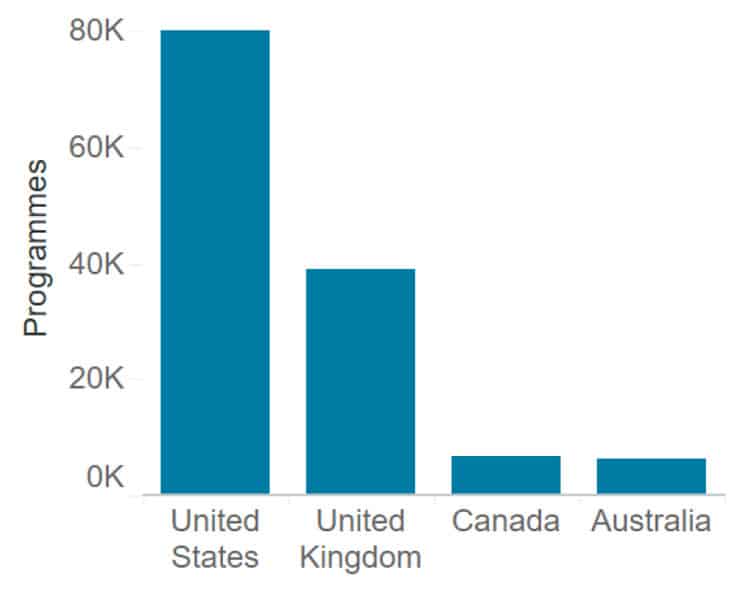 China, Africa, and India working fast to increase capacity
While the majority of English-taught programmes outside of the Big Four are being offered within the European Higher Education Area (63%), China and Sub-Saharan Africa region are introducing English-taught programmes quickly, "doubling their number of programmes since January 2017." The report notes,
"In 2017, foreign enrolments in China were up by 10.5%. India has also announced the intention to host 200,000 visiting students by 2023. These signals are pointing to a shift in Asian-Pacific countries transitioning from 'sending' markets to 'receiving' markets for international students."
Higher education institutions in the Middle East are using various models to increase the number of English-taught programmes they can offer, including collaboration with UK institutions and an expansion of transnational education offerings.
Regional hubs
Many experts have pointed to a rising trend of students being interested in studying abroad – but closer to home, within their own region. Studyportals notes that South Africa has a number of universities with English-taught programmes that attract students from other African countries, and that,
"Among other markets for ETPs, both East Asia and the Arab countries in the Middle East and Northern Africa act as powerful regional hubs. In the former, Malaysia offers the majority of ETPs delivered by universities while in the latter, the United Arab Emirates acts as a main player alongside other Gulf countries."
Increasingly competitive
In Europe, increasing the number of English-taught programmes helped the Netherlands to attract 94,000 students to 2019/20. Germany, meanwhile, increased its international student population from 197,000 in 2013 to 320,000 in 2019/20. Higher education is free for foreign students as well as domestic students in Germany, and Germany has stood out among leading destinations for its continuing ability to build its international student population over the course of the pandemic.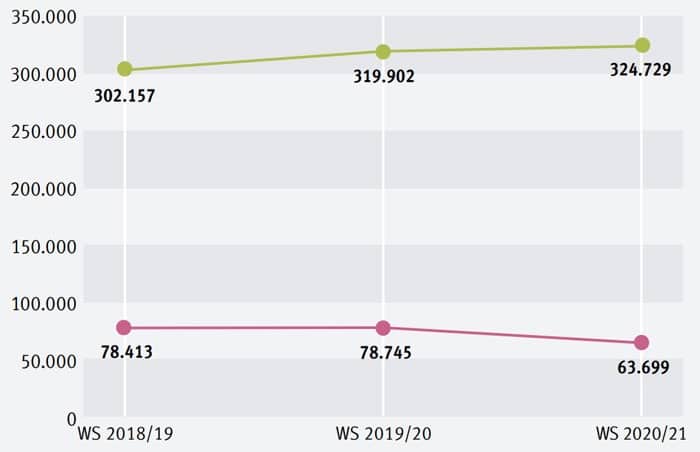 It's Ireland, however, that hosts the most English-taught programmes in Europe other than the UK, offering 2,776 compared with 1,937 and 1,826 for the Netherlands and Germany, respectively. Ireland and Germany have increased their inventory of English-taught programmes by more than 40% since 2017.
Impact on rankings
Studyportals notes that "ranked universities are more likely to offer ETPs than non-ranked; and secondly, ranked universities are more likely to actively try to attract international students, hence being recorded in the Studyportals' dataset."
For additional background, please see: