Short on time? Here are the highlights:
Boarding schools in the United States are projecting a modest decline in foreign enrolment this year, but a stable enrolment base for 2021/22 overall
US schools are highly engaged with agents, albeit over a relatively narrow band of sending markets in most cases, but are expected to place a great emphasis on expanding international recruitment efforts and diversifying enrolment in the years ahead
K-12 boarding schools in the US are projecting a relatively stable enrolment outlook for the 2021/22 school year, even as they look ahead to a more diverse foreign student base in the future.
Speaking as part of a panel at the ICEF Virtual Americas event earlier this month, Michael Shaver, director of international programs for The Association of Boarding Schools (TABS) reported on recent member surveys conducted by the US-based association, and explored some of the factors that will shape the post-COVID recruitment landscape for K-12.
TABS represents roughly 250 schools in the US, Canada, and Europe, with roughly 90% of members based in the United States. The association represents about 85% of all boarding schools in North America.
Needless to say, those schools are also closely connected to higher education institutions in the US and Canada. "The number one reason an international student would come to a boarding school in North America is for university placement," says Mr Shaver. "Boarding schools are a pathway into higher education."
Working with agents
TABS reports as well that its members are highly engaged with education agents. A February 2021 survey found that 82% of TABS schools are already working with agents, and another 7% plan to begin doing so in the next one-to-two years.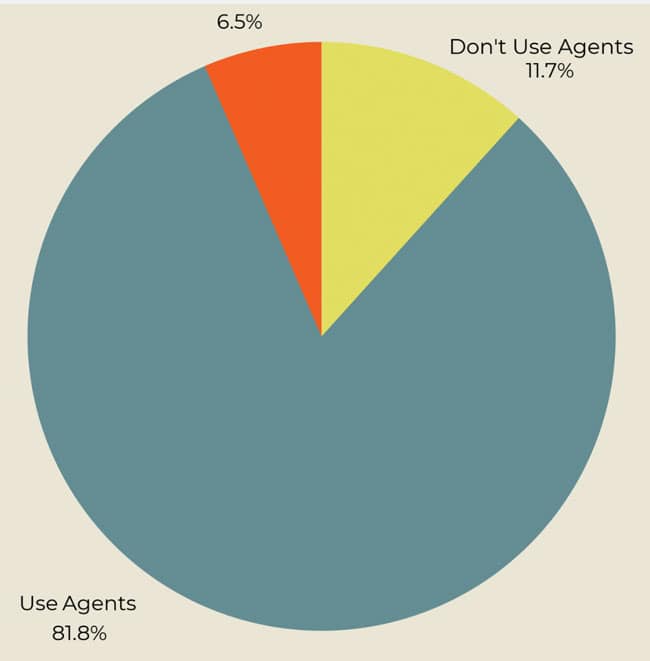 The survey finds as well, however, that most schools are recruiting from a relatively small pool of markets abroad. Nearly two-thirds of responding schools (65%) report working with agents in ten or fewer sending markets. Roughly four in ten (37%) have agent partnerships in five markets or less.
When asked what agent-related supports would be most helpful to their recruiting efforts, 73% of schools said "agent vetting or certification programmes", 71% said agent-school networking events, 54% suggested agent training programmes with a focus on boarding schools, and 37% said further training for schools on how best to work with agents.
Admissions outlook for 2021/22
Mr Shaver points out that the TABS member base is diverse in terms of the proportion of foreign students enrolled at each school. "Some schools rely more heavily on international enrolments and so those schools have been hit harder," he says.
This point is brought home by a further April 2021 survey that looked at application volumes, offers of admission, and enrolment commitments for the coming school year. Responding schools reported a wide distribution of international enrolments as reflected in the chart below.
More than six in ten schools responding to the April survey (63%) indicated that foreign students accounted for 30% or less of total enrolment. Nearly 20% of survey respondents said that international students represented 51% or more of their school populations.
Mr Shaver explains that some members, and particularly those with a greater reliance on foreign students, have taken extraordinary steps to help international students pursue their studies in the US this year. A few schools have gone so far as to fly faculty overseas to meet students and bring them back to the United States. Others are expanding their scholarship supports for foreign students this year.
In terms of overall trends across the TABS membership, the April 2021 survey finds that international applications for 2021/22 were down -9% year-over-year. Offers of admission to international applicants declined as well (-5%). However, based on enrolment commitments for September 2021, TABS is projected only a -3% decline in foreign student numbers compared to 2020. More broadly, the association expected total enrolment in member schools to be up 4% this year on the strength of increased demand from domestic students.
Mr Shaver attributes the positive enrolment forecast for this year to the distinct environment offered by boarding schools. "Our schools can actually create kind of a bubble around their students," he explains. "The students all arrive on campus together, they quarantine in their dormitories for two weeks, everybody is tested, and then there is basically a bubble around campus with very little movement in and out. This creates a great safety net for our students and our schools. We have very few schools who have had [positive COVID cases during the pandemic]."
Recruiting for the future
Looking ahead to the post-COVID marketplace for K-12, Mr Shaver says that much of the recruitment outlook for TABS schools will depend on Chinese students. "Right now, China is the number one [sending market for boarding schools] by far. If we start to see a softening in those numbers, which we have even before COVID, I believe we are going to start to see boarding schools really diversifying their recruitment."
"It's no longer going to be getting 20 students from China," he continues. "It's going to be one student from France, one student from Albania, one student from Ghana. And that creates a great opportunity for schools to engage with educational agencies. Our schools are not going to have the additional budget or resources to be able to do outreach and travel to all of these countries."
Mr Shaver notes as well that TABS has recently partnered with the American International Recruitment Council (AIRC) in order to "help bring more of the K-12 perspective into working with international agencies and agents, and to also help our schools better understand best practices for working with agents."
For additional background, please see: