Digital health passports will help shape global travel in 2021
Short on time? Here are the highlights:
Trials of several digital health passports showing passengers' COVID status are underway involving both public and private sector investment
The goal is to use verified COVID test results stored on digital platforms to enable travellers to depart on flights and arrive in destinations without needing to quarantine
There is also a possibility that some destinations will require proof from travellers that they have received a COVID vaccine to enter the country
Given the pressing economic need for international travel to rebound in 2021, governments and companies are working together to develop ways for travellers to demonstrate that they are COVID-free at the time of transit. The goal is to reduce or even replace reliance on burdensome and costly practices such as quarantine, which tend to discourage travel. To this end, several international health passports are under development, all of which have one thing in common: they store travellers' verified test results and allow these results to be shown to airline and border officials.
With vaccines already beginning to be administered in some countries, there is also discussion about the potential use of "immunity passports" going forward.
CommonPass trials are underway
The "CommonPass" digital health passport, a platform – and app – that stores and stands as proof of a traveller's COVID-19 test results, is one of the main initiatives underway in this regard.
A collaboration of the World Economic Forum, the Commons Project Foundation (a Swiss-based non-profit), and public and private partners in close to 40 countries, the CommonPass has already launched in limited fashion. The first trial was in October for passengers on United Airlines and Cathay Pacific Airlines flights between London, New York, Hong Kong, and Singapore. This month, the trial is being expanded to passengers of JetBlue, Lufthansa, Swiss International Airlines, United Airlines and Virgin Atlantic on certain flights leaving from New York, Boston, London, and Hong Kong. US Customs and Border Protection and Centers for Disease Control and Prevention are observing the trials and looking at the multitude of logistical, legal, and safety factors at play.
To use CommonPass, travellers go to a certified lab to take a COVID test and upload their results. Depending on where they are going to, they may also have to fill out additional health questionnaires required by the destination country. CommonPass then generates a QR code that airline staff and border officials scan to ensure that travellers are meeting airline and destination country screening requirements.
While there have been concerns raised about privacy and data protection, CommonPass does comply with the General Data Protection Regulation (GDPR) and it is designed to not reveal additional personal health information about the passenger. CommonPass provides officials with a "yes" or "no" answer regarding whether the passenger has met current entry screening requirements for a destination; officials do not see any other information about the passenger's health background.
The CommonPass website explains that the pass is designed to "enable safer airline and cross border travel by giving both travellers and governments confidence in each traveller's verified COVID-19 status."

Dr. Bradley Perkins, chief medical officer of the Commons Project, explains the raison d'etre of the CommonPass:
"Without the ability to trust COVID-19 tests – and eventually vaccine records – across international borders, many countries will feel compelled to retain full travel bans and mandatory quarantines for as long as the pandemic persists. With trusted individual health data, countries can implement more nuanced health screening requirements for entry."
Steve Morrissey, United Airlines' vice president, regulatory and policy, says that "trials with solutions like CommonPass are critical to demonstrate the potential for testing as an alternative to blanket quarantine measures or travel restrictions."
Assuming all goes well with the current trials, CommonPass usage will soon be expanded for flights departing and arriving from cities in Asia, Africa, the Americas, Europe and the Middle East.
Other travel passes in development
The IATA will be launching its own travel pass in early-2021. The IATA Travel Pass will also rely on testing and will "securely manage, share and verify test data matched with traveler identities in compliance with border control requirements." The following graphic from IATA shows what the Pass is intended to do: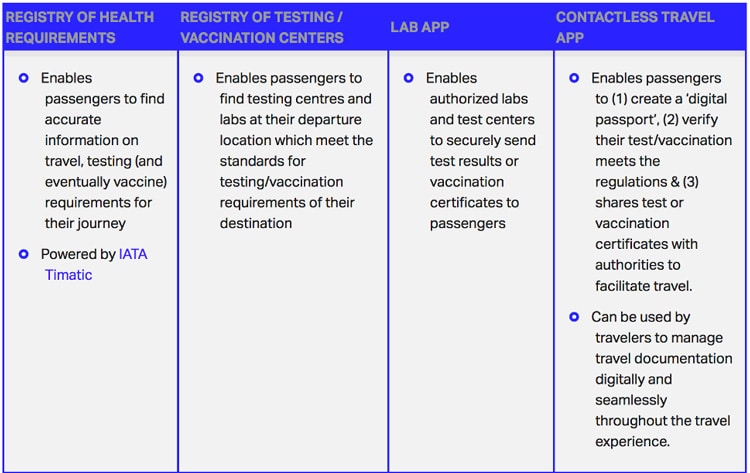 Other digital passports in development include the Ink Digital Health Platform, by Ink Aviation and Tento Health, the AOKpass by International SOS in partnership with the International Chamber of Commerce, and Australia-based goPassport.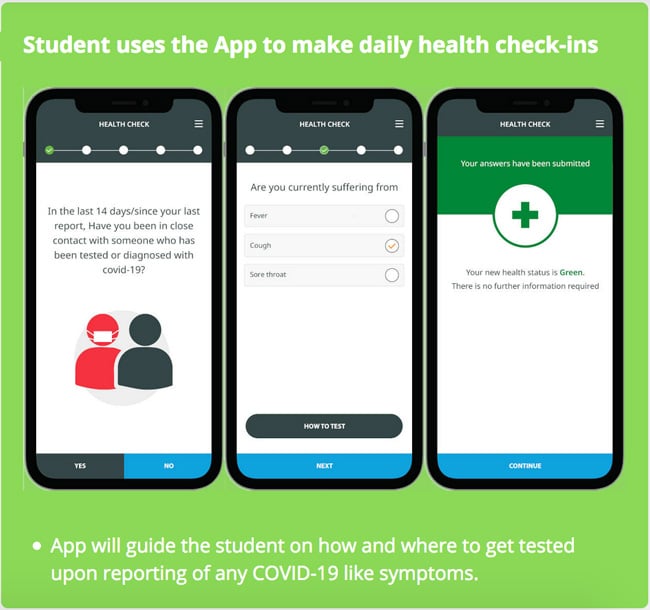 Will immunity passports be widely adopted?
With vaccines rolling out in 2021, there is anticipation that travellers will have to prove they have been vaccinated to enter a destination. Already, Alan Joyce, CEO of Australia's largest airline, Qantas, has stated that to board Qantas flights destined for Australia (a country with some of the strictest COVID border measures in the world), passengers will need to have been vaccinated. Mr Joyce says Qantas is in the process of investigating digital solutions for this purpose. Air New Zealand and Korean Air have also indicated they are in favour of "immunity passports," but Air New Zealand also released a statement saying that,
"Ultimately, it's up to governments to determine when and how it is safe to reopen borders and we continue to work closely with authorities on this."
Some experts are skeptical about the ability of immunity passports to stimulate global travel. One reason is that a relatively small proportion of the population will be vaccinated in 2021. On top of limited vaccine availability, there are significant pockets of resistance to the prospect of getting vaccinated at all in several countries. For example, a recent Gallup poll found that only 58% of Americans say they will get the vaccine. Destinations that would require an immunity passport from travellers would thus lose out on a substantial number of would-be American tourists, and airlines would be similarly affected.
Need for cohesion
As exciting as it is that several travel passes are in the final stages of development, there is the potential for confusion and logistical delays as a result of the competition to be the default pass for global travel. As Gabriel Leigh writes in Forbes magazine,
"The more all of this can be streamlined across borders, across airline alliances and so on, the better off everyone will be … Competition is a good thing, as long as it doesn't add to confusion in this case. Hopefully one very clear winner will emerge."
For additional background, please see: