Shutdown of study abroad for Australian students a reminder that international education is a "two-way street"
Short on time? Here are the highlights:
Following years of steady growth in the number of Australian degree students pursuing studies abroad, outbound numbers are expected to have fallen to nearly zero this year
With widespread travel restrictions still in place, study abroad for Australian degree students is likely to be severely curtailed in 2021 as well
A new study predicts important knock-on effects in leadership development and graduate employability as a result
A new study highlights that study abroad programmes for Australian students have essentially ground to a halt this year, with the prospect that up to 100,000 Australian students will have their overseas programmes disrupted through 2021.
The analysis, carried out by industry consultancy Studymove and commissioned by the International Education Association of Australia (IEAA), notes that more than 52,000 Australian students went abroad in 2019, a number that dropped to virtually zero this year during the pandemic.
With travel restrictions and border closures expected to remain in place into 2021, the analysts conclude that the plans of up to 100,000 Australian students may be affected by the time mobility begins to resume on a larger scale.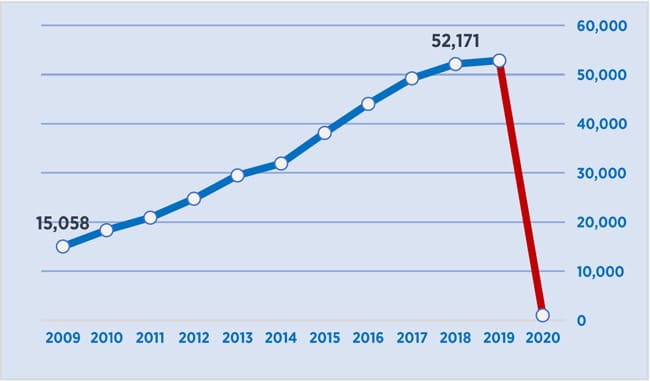 As we have reported previously, roughly one-quarter of all Australian undergraduate students participated in study abroad as part of their degree programmes in 2018. Across all levels of study, 18.5% of Australian students went abroad in 2018, up from 13.9% in 2015.
The top five destinations for Australian students as of 2018 were China, USA, UK, Italy and Japan. Indo-Pacific countries host roughly half of outbound Australian undergraduate students.
The link to employability
The authors draw a direct line between the gap in study abroad opportunities and the future employment prospects of Australian students. "This will result in a domino effect which is going to have a lasting impact on career outcomes and overall employability goals," they note. "According to a study from PwC, enterprises across the world are using international mobility experiences to develop future leaders and advance the careers of key talent."
The study relies in part on a survey of Australian university students carried out in September 2020. More than eight in ten (84%) of responding students considered the opportunity to study abroad as "fairly important" or "very important". More than half (55%) said that they saw international study experience during their degree programmes as key to their employability.
A similar proportion (56%) said that they hoped to study abroad in the future, but that the timing and even destination would depend on the progress of the pandemic.
"More than half of the students indicated that they will now consider undertaking an international study experience in a country with low levels of COVID-19 in order to feel safe. Based on these results, it will be important to effectively consider and manage travel bubbles which enable students to undertake an international experience in a safe environment."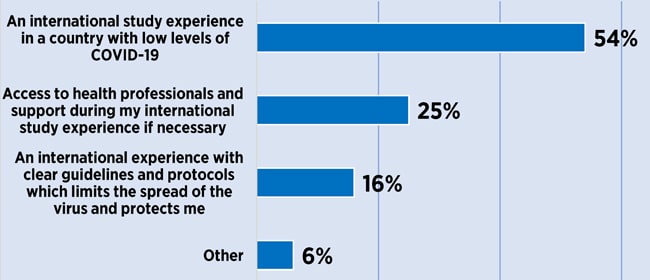 For additional background, please see: