Short on time? Here are the highlights:
A survey of international students at major public universities in the US finds that foreign students adapted well this year to the shift to online delivery
Survey respondents also report, however, a number of significant concerns around navigating the US health and immigration systems
A new study from a consortium of US research universities draws on a large sample of international students in the US to measure student perceptions and concerns during the pandemic.
Released today by the Student Experience in the Research University (SERU) Consortium, the paper gathers responses from 22,519 undergraduate students and 7,690 graduate and professional students at five large public research universities in the United States.
It finds that, compared to their domestic peers, foreign university students are more satisfied with their academic experiences and the institutional support they received during the pandemic. "Both undergraduate and graduate international students report they adapted to remote instruction better than domestic students," say the study authors. "International students are more satisfied with how their university responded to the pandemic, the courses that were offered remotely, and with how instructors supported their remote learning."
But if they adapted relatively well to a very different academic environment under the pandemic, foreign students still reported a number of important concerns around living in the US, especially with respect to navigating the health care and immigration systems during the pandemic.
As the following chart illustrates, the most important concerns cited by students were:
Maintaining good health during their studies (reported by 67% of undergrad respondents and 52% of graduate students)
Managing immigration status (55% of undergraduates; 44% of graduates)
Having adequate financial support (49% undergraduates; 36% graduates)
Understanding medical insurance and obtaining health care services (53% undergraduate; 35% graduate)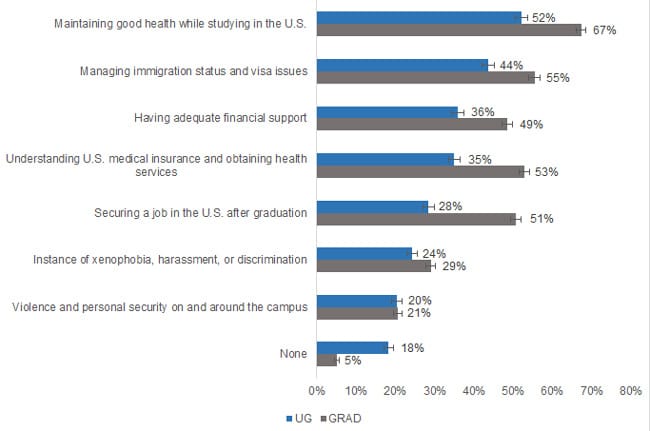 "More than two-thirds of undergraduate students reported managing immigration issues was stressful for them," highlights the study report. "The most important concerns were managing their current visa status and travel restrictions between the US and their home country. The impact on future employment-based visas concludes the top three of most stressful immigration-related issues for international students."
"Graduate and professional students were more concerned about travel restrictions (61%), followed by managing their visa status and the impact upon their future employment-based visas."
Keeping in mind that the survey was in the field until 11 June, those concerns, if anything, will have been exacerbated in the weeks since. After months of rumours that the US administration may be moving towards more restrictive policies for key programmes such as the H-1B work visa and Optional Practical Training (OPT). Those concerns were partially realised on 24 June when the US president suspended H-1B arrivals to the US for the rest of 2020.
Also of note in the SERU survey is the roughly one quarter of respondents who said they were concerned about xenophobia, harassment, or discrimination. More to the point, 17% of undergraduate respondents (and 12% of graduate students) said that they had personally experienced "instances of intimidating, hostile, or offensive behavior based on their national origin." A majority of students reporting such experiences said that they increased their concerns around personal safety, impacted their mental health, and/or intruded on their relationships with US peers.
"University leaders, staff, and faculty who are seeking to support international students should consider offering students more information about maintaining their health…during the pandemic," concludes the study. "We encourage campus officials who work with international students to respond to those immigration concerns by offering clear communications with students about policy changes related to travel restrictions and visa requirements, in addition to expanding services to assist students with travel planning and visa applications."
And finally: "Mental health counselors who specialise in working with international students should be aware of the negative experiences encountered by international students that affect their safety, mental health, and relationships and develop strategies to support students experiencing intimidating, hostile, or offensive behaviors."
For additional background, please see: