Rolling survey tracks consumer sentiment across Asian markets
Short on time? Here are the highlights:
Expectations for economic recovery vary across key education markets in Asia
Recent tracking studies indicate that the consumer outlook tends to be stronger in countries that are in a later stage of the current outbreak, including China
McKinsey & Company is conducting a recurring survey panel in several Asian markets. The survey is carried out at one month intervals, and has been through two cycles so far – at the end of February and another at the end of March – in China, India, Indonesia, Japan, and South Korea. The research team is continuing to field the survey and so to track consumer response over time.
At this early stage in the process, however, there are already some important observations to be drawn, keeping in mind that each of the included countries is at a different phase of the COVID-19 outbreak.
As of 22 April, the Johns Hopkins Coronavirus Resource Center reports nearly 84,000 confirmed cases in China, and more than 4,600 deaths. In contrast, there are 20,471 cases in India, 11,512 in Japan, 10,694 in South Korea, and 7,418 in Indonesia. Where the number of new cases appears to have peaked in China and South Korea, the outbreak is at a relatively early stage and continues to grow more quickly in India, Indonesia, and Japan.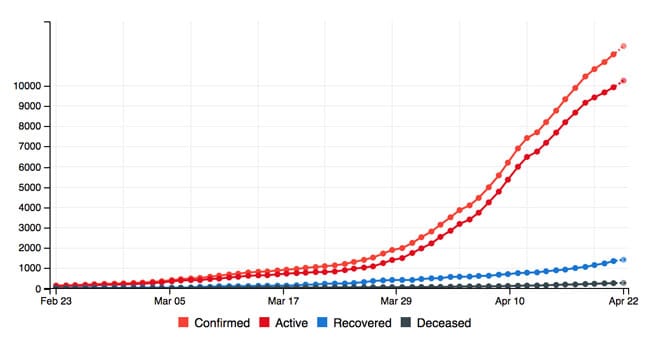 "Consumers across these markets demonstrate varying degrees of confidence in the prospects for economic recovery, with those in earlier or later stages of the outbreak significantly more optimistic," notes the McKinsey analysis. "These sentiments are likely influenced both by their awareness of the disease, recently announced government contingency measures such as movement restrictions and business rescue plans, and other news events. In China, consumer confidence has stabilized, with optimism that the economy will rebound in two–three months rising to 47% of respondents in late March from 43% the previous month. For the remaining four countries, we will refresh responses on a regular basis to track how consumer sentiment evolves."
The following chart highlights some of these variations with strengthening consumer confidence reflected for China (where the outbreak is more under control and the economy beginning to re-open) and higher degrees of uncertainty or pessimism in other markets, notably Japan, where the numbers of new cases are still rising quickly.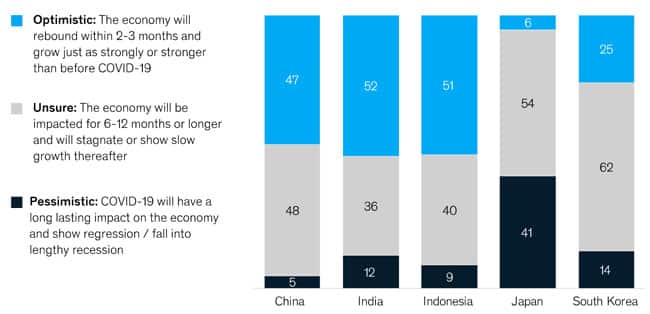 We see a similar pattern playing out with respect to respondents' expectations for how the pandemic will impact their household finances. Most consumers believe their personal finances will be impacted over the next two to six months, the exception being Japan where nearly half say that the impact will last for more than seven months.

A related comment from McKinsey reinforces the point regarding shifting consumer sentiment at different phases of the outbreak in each country. "The COVID-19 pandemic is evolving rapidly, deepening the uncertainty for consumers and the economies they sustain. Consumer mindsets will continue to shift as governments and central banks introduce unprecedented countermeasures and stimulus packages to mitigate potential impacts."
For additional background, please see: