UK introduces new points-based immigration system
Short on time? Here are the highlights:
In January 2021, the UK will switch to a points-based immigration system designed to attract top students and highly skilled workers who wish to obtain permanent residency
To be granted a visa to remain in the UK after their studies, international students "will achieve the required points if they can demonstrate that they have an offer from an approved educational institution, speak English, and are able to support themselves during their studies in the UK"
The UK Home office has announced that EU students will now be treated in much the same way as non-EU students, with some exceptions, under a new immigration system that will come into effect in January 2021.
The new immigration rules follow on from the UK's exit from the European Union and its long-established freedom of movement provisions. The 19 February Home Office policy statement asserts that:
"We are ending free movement and will introduce an Immigration Bill to bring in a firm and fair points-based system that will attract the high-skilled workers we need to contribute to our economy, our communities and our public services. We intend to create a high wage, high-skill, high productivity economy."
The government arrived at a new points-based system in part on the advice of the Migration Advisory Committee (MAC), an independent advisory group sponsored by the Home Office. The UK will join Australia, Canada, and New Zealand, among other countries, in using a points-based system for those seeking to remain in the UK.
Implications for student movement
The Home Office has indicated as well that EU citizens will be treated the same as non-EU nationals, and that – by 2021 –European citizens will no longer be able to enter the UK with a simple ID card. This will mean in effect that EU students will have to obtain a study visa for the UK like all other international students:
"People coming to the UK from any country in the world for the purpose of work or study, other than some short-term business visitors and short-term students, will need to obtain a visa for which they will pay a fee."
EU students will be given a handful of unique allowances not available to non-EU students: they will not have to provide their fingerprints, and they will be permitted to upload their photograph online, receive an e-visa, and enter through e-gates at UK ports of entry.
Meanwhile, the government's re-introduction of two-year post-study work rights last fall was widely welcomed by the UK university sector, and these work rights will remain in place under the new system.
Summary of the points-based system
All international students, as well as all skilled workers wanting to work or become permanent residents in the UK, will now have to achieve 70 points in the points-based system. The government statement reads as follows:
"Students will be covered by the points-based system. They will achieve the required points if they can demonstrate that they have an offer from an approved educational institution, speak English, and are able to support themselves during their studies in the UK."
For skilled workers to reach 70 points, they must get to 50 points by (1) providing evidence of a job offer from an "approved" employer at an "appropriate" skill level, (2) demonstrating a prospective salary of at least £25,600, (3) being able to speak English. These are "non-tradeable" on the points-based system, meaning that they are always required (see table below).
Applicants can earn additional points by having a "relevant" PhD or a STEM-related PhD, and having a job offer in a sector where the country does not have enough skilled workers – even if they don't meet the £25,600 salary threshold. These are "tradeable" on the points-based system.
Once students and workers achieve 70 points, they will be able to get a visa for the UK to study or work.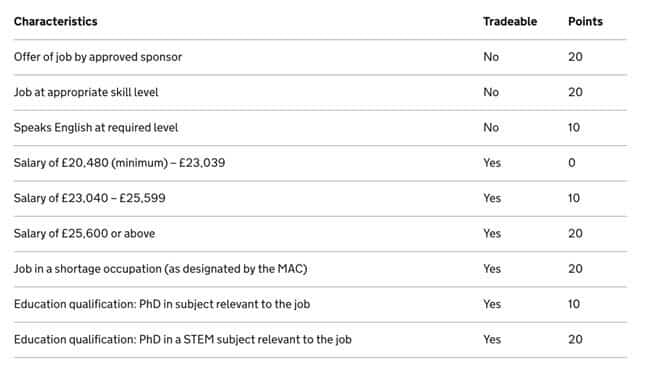 In addition, the government also announced a new Global Talent Visa that will supplement the points-based immigration system. It began to accept applicants last month, and students can apply on this UK government website. It is meant to make it easier and faster for a relatively small number of top scientists, researchers, and mathematicians to come and work in the UK, even if they don't have a job offer – "if they are endorsed by a relevant and competent body."
Specifically, UK Research and Innovation (UKRI), the agency that will be administering the programme, explains that a "Tier 1 Global Talent Visa offers a flexible immigration route to the UK. This visa means a researcher:
Can move freely between organisations, locations, jobs and roles.
Does not have to receive a minimum salary to be eligible.
Can take on activities that are more difficult to undertake on other visas, such as collaborating with businesses.
Can apply for settlement once they have been in the UK for three years. Researchers who spend time outside of the UK for research purposes will not be penalised for this.
Can apply without having to pass an official English Test Qualification, although having sufficient knowledge of the English language may be a requirement of the organisation that hosts or employs them.
Can be accompanied by their families (dependents), if they meet the relevant requirements."
The Global Talent Visa is designed as response to worries about the brain drain many feared would happen after Brexit. BBC News reports that "EU researchers account for about half of the total UK scientific workforce of 211,000."
Guidance for those already in the UK
As we noted in a separate report, EU citizens who are living in the UK as of 31 December 2020 can still apply for the EU Settlement Scheme and will be given either settled status or pre-settled status (depending on whether they have lived in the UK for more than five years or less than five years). Those granted settled status can live, work and study in the UK for as long as desired. Those granted pre-settled status will be allowed to stay in the UK until they meet the five-year continuous residency requirement to apply for settled status.
Any application for settled or pre-settled status will need to be filed by 20 June 2021. Immigration status after that point will be determined by the new immigration scheme that the British government will introduce later this year.
Early reaction
Ben Moore, policy analyst at the Russell Group, which represents 24 leading British universities, issued this statement:
"The Russell Group is delighted that the Home Secretary has listened to universities and lowered the salary and skills thresholds for workers, allowing our members to recruit for a wider range of roles essential to research. Commitments to cut red-tape and remove caps on skilled labour are a very welcome shift from the current system."
A statement from UKCISA (UK Council for International Affairs), was more critical:
"None of this is new and it is very vague. We have asked the Home Office when and how it intends to start engaging with the education sector and we will post details in a news item as soon as we have more information."
Regarding non-EU EEA nationals, UKCISA noted as well,
"It is not clear from the statement whether this process will also apply to non-EU EEA nationals. The UK Government will continue to accept national identity documents for the time being and will publish details 'shortly' about its intention to stop treating them as valid travel and identity documents."
Universities UK's international director Vivienne Stern said that while she welcomed the fact that the points-based system recognises academics and researchers "for their high skill level and their contribution to the UK economy and society," she is concerned about university staff who may not meet the £25,600 salary threshold. She added,
"We still need to ensure that all university staff will be able to work in the UK, including lab technicians and language assistants, who are vital to supporting the success of our universities … "The government must ensure that new immigration arrangements avoid potential unintended negative consequences for the ability of universities to attract all the talented staff they need with minimal barriers and to continue our world leading research and teaching."
For additional information, please see: