Short on time? Here are the highlights:
Fall 2019 trends mark a return to growth after two years of declining foreign student numbers for US graduate programmes
Sub-Saharan Africa is the most notable growth region for US graduate schools
Chinese applications and commencements were up by 3% in fall 2019, and Indian commencements were up by 1% following two years of decline
In fall 2019, American universities saw a year-over-year increase in international graduate applications (up 3%) and first-time enrolments (up 4%). This marks a reversal of a downward trend that stretched from 2016 through 2018, according to the Council of Graduate Schools' (CGS) International Graduate Admissions Survey. The annual survey, conducted since 2004, tracks the applications and enrolments of international students in master's and doctoral programmes in the United States.
Previous to 2016, international students' applications and first-time enrolments (also referred to as commencements) in American graduate programmes had increased every year since 2003.
CGS President Suzanne Ortega said of the fall 2019 findings:
"We are pleased to see that the overall application and first-time enrolment numbers for international graduate students are on the rise. Our member universities work hard to ensure a welcoming environment for students and scholars from across the globe.
We remain vigilant, however, in monitoring obstacles, including the latest Executive Order 'travel ban' and other changes in immigration and visa policy, that may negatively impact our ability to attract talented students from around the world."
Master's and certificates responsible for most growth
Three-quarters of first-time enrolments were in master's and certificate-based programmes, while doctoral programmes claimed the remaining quarter. International applications for master's and certificate programmes increased by 3% and first-time enrolments were up 4% in fall 2019.
Doctoral universities with the highest level of research activity (classified as R1) as well as master's colleges increased their international commencements (by 3% and 11%, respectively), but not all types of graduate university saw increases. Doctoral universities with higher or moderate research activity saw doctoral and master's and certificate programme commencements fall by -6% and -1%, respectively.
Less interest in engineering and business
Two of the most popular areas of study for international graduates saw decreases in applications in fall 2019: engineering programmes received -2% fewer applications and business programmes experienced negative growth of -3%.
But international applications were substantially up for arts and humanities (6%), health sciences (7%), mathematics and computer sciences (7%), and biological and agricultural sciences (14%) between fall 2018 and fall 2019. And, CGS notes that,
"The largest one-year increases in first-time international graduate enrollment by broad field of study were in mathematics and computer sciences (11%), social and behavioral sciences (11%), and biological and agricultural sciences (10%)."
China and India continue to drive trends
In fall 2019, Chinese applications and commencements were up by 3%. While Indian applications were flat (0%), first-time enrolments were up by 1% – the first bit of growth from the Indian graduate market since 2015.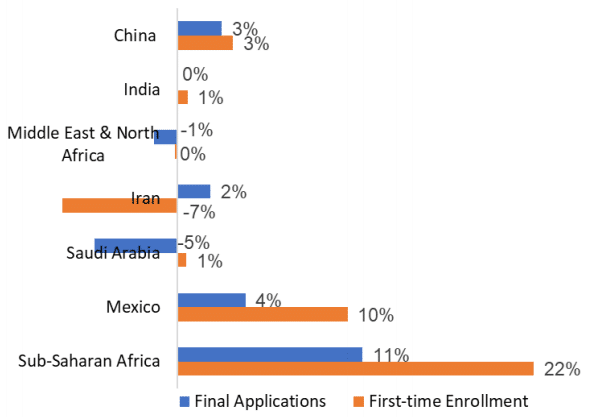 The stable, slightly growing flow from China and India is important given that China (39%) and India (24%) together made up 63% of all first-time international graduate students enrolled in US institutions in the fall of 2019. In addition, both applications and enrolments had been down substantially from India from 2016 through 2018, so the fall 2019 data suggests that this market is beginning to rebound.
Nearly 7 in 10 first-time international students in US master's and certificates programmes were either Chinese (41%) or Indian (28%) in fall 2019. Chinese and Indians also together represented almost half of international doctoral student commencements (33% and 14%, respectively).
In terms of applications to US graduate schools, Chinese and Indian students submitted 68% of these in fall 2019. Chinese students contributed almost half (46%) of international applications to master's and certificate programmes and 39% of submissions to doctoral programmes, underlining the continued heavy significance of this market in the American graduate school landscape.
Other markets: trends in applications
Prospective graduate students from South Korea (-6%), Brazil (-2%), and Saudi Arabia (-5%) sent in fewer applications in fall 2019 than in fall 2018. This marks the fourth year of a downward trend from the Saudi market.
By contrast, Japanese graduate students sent in 13% more applications, a reversal from two previous cycles of decline. Iranians also sent in 2% more, in contrast to declines of -18% and -27% in 2016/17 and 2017/18, respectively. However, this upward tick seems unlikely to continue given current Iran–US tensions.
The major growth story is from the Sub-Saharan African region. For the third year in a row, students from this region sent in substantially more applications (11%).
Other markets: trends in commencements
There were more first-time students enrolled in American graduate schools from Japan (8%), South Korea (1%), and Taiwan (5%) in fall 2019 than in fall 2018. After two years of decreases, Mexican commencements were up, and by a substantial 10%; by contrast, Brazilian commencements were down (-7%). There was a dip in Iranian graduate students (-7%).
Again, the big news is from Sub-Saharan Africa. There were 22% more African students from this region enrolled for the first time in US graduate schools in 2019 than in 2018, following an increase of 19% the previous year and 27% the year before that.
For additional background, please see: