Major industry report highlights key Internet trends in China and India
Mary Meeker is a partner at the Silicon Valley venture capital firm Kleiner Perkins Caufield & Byers. Her annual Internet Trends report is a must-read for industry insiders along with anyone else interested in the latest trends in web technology and usage. Ms Meeker's 2017 report clocks in at a massive 355 slides, and it highlights some of the most important macro trends shaping the web today, especially the increasing global usage via mobile devices and a corresponding growth in mobile ad spending. For 2017, Ms Meeker also zeroes in on the two biggest Internet markets in the world – not to mention the two largest education markets – China and India.
China highlights
Mobile has also played a big part in the Chinese experience of the web, and the number of mobile Internet users in China grew again in 2016: up 12% from the year before to reach roughly 700,000 users.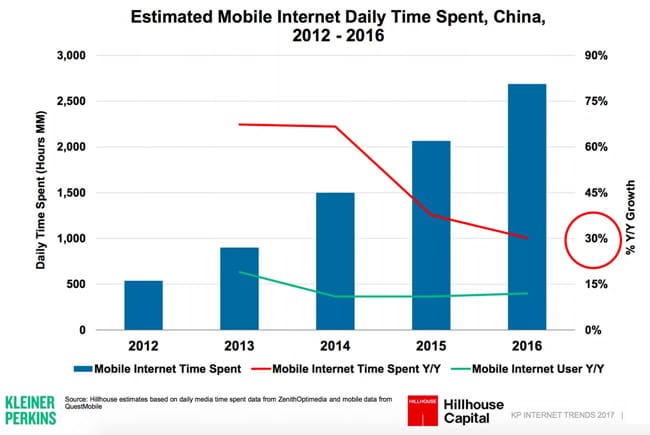 Estimated time spent per day on mobile Internet, China, 2012–2016. Source: Kleiner Perkins Even more notable than that growing user base is that mobile Internet use – in terms of time spent per day – is increasing even more quickly. It grew about 30% this year, illustrating that even as total user growth slows overall usage is still expanding quickly as consumers shift ever more to online media.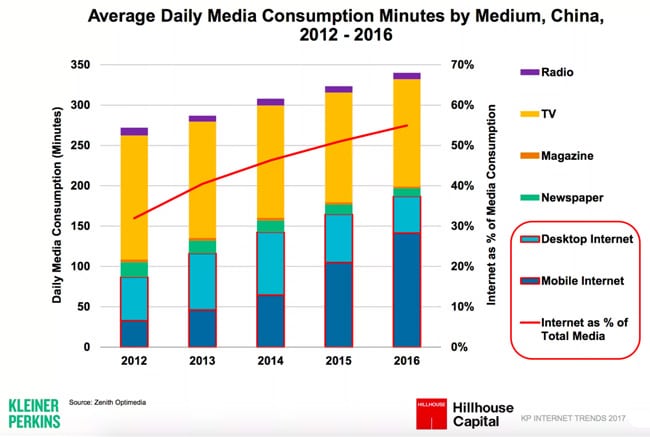 Average daily media consumption in China, 2012–2016. Source: Kleiner Perkins Indeed, people in China primarily use the Internet for media consumption. The Internet accounts for more than half (55%) of daily media consumption in China, and mobile Internet consumption surpassed time spent viewing television some time last year. In a further reflection of this trend, Ms Meeker notes that while overall e-commerce growth remains strong in China, it is especially so with respect to mobile. Total e-commerce spending by Chinese consumers grew 24% this year and 71% of that was on mobile.
Highlights for India
Meanwhile in India, the world's second-largest market for Internet users, fierce competition is helping to drive even more rapid growth as costs for both hardware and data services are falling dramatically. The total number of Internet users in India grew by 28% in 2016, as compared to a global average of 10%. This reflects in part that, at only 27% penetration of the Indian population, Internet usage has considerable room to expand further still.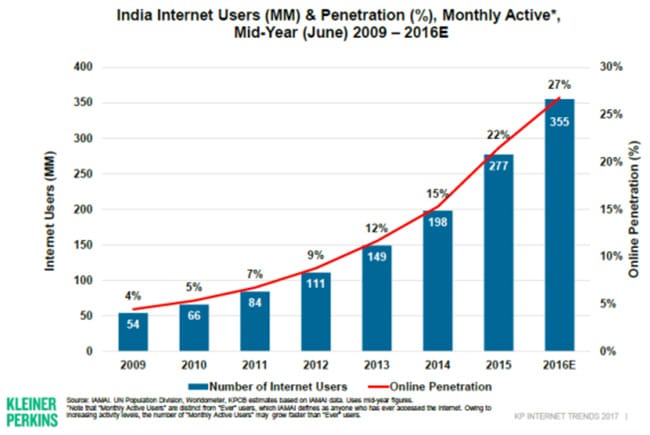 India's population of Internet users and market penetration for the web, 2009–2016. Source: Kleiner Perkins While online and mobile ad spending continues to grow globally, advertisers are learning to exercise caution in the Indian market (and, for that matter, in other Southeast Asian and South Asian markets as well). Adblocking software is widely used, to the point that 28% of mobile users in the country actively block online ads. The average smartphone price declined again in 2016 but the cost of such devices still represents a real curb on adoption for a large percentage of the population. In a related development, the prices for wireless data services fell by nearly half during 2016. This is largely a function of intensifying competition for market share in India.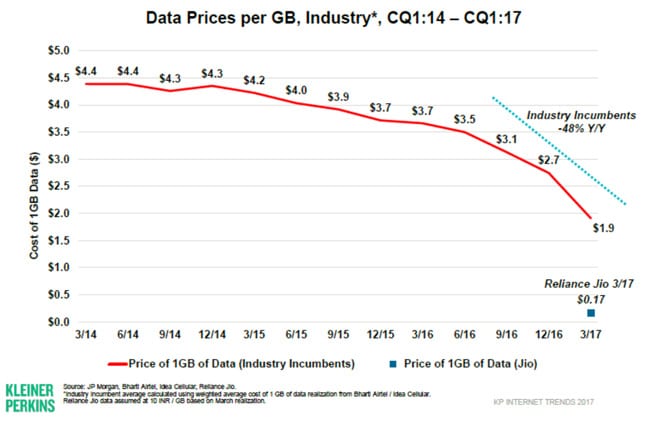 Data prices per gigabyte, India, 2014–2017. Source: Kleiner Perkins Whatever the cause, declining costs have contributed to a nine-fold increase in data consumption in the country, and Indians now spend 28 hours per week on the mobile web (this compares to the four hours per week that they spend watching television). For additional background, please see: