Short on time? Here are the highlights:
International student enrolment in the US grew by 7% in 2015/16
There are now more than one million foreign students enrolled in the US, with an estimated economic impact of US$36 billion
India was the fastest-growing sending market with 25% growth this year
Aside from China, other notable gainers included Nepal, Nigeria, Vietnam, and Colombia
The Institute of International Education (IIE) released its landmark summary of international student enrolment in the US today: the annual Open Doors Report on International Education Exchange.
The overall picture from this year's report is of continued growth for the US, albeit not at the record-breaking pace of 2015, and of some important underlying shifts in sending markets.
To call out just a few of the top-line findings:
Year-over-year international enrolment grew by 7% – this is the tenth consecutive year of growth for the US although down slightly from 2014/15's increase of 10%
The number of foreign students in the US has surpassed the one million mark for the first time ever to reach 1,043,839
China and India continue to drive enrolment growth, and together accounted for more than 80% of the overall increase in student numbers between 2014/15 and 2015/16
The economic impact of international students in the US is now estimated at US$36 billion – "Students from around the world who study in the United States also contribute to America's scientific and technical research and bring international perspectives into US classrooms," the report adds. "[They help] prepare American students for global careers, and often lead to longer-term business relationships and economic benefits."
Enrolment diversification remains a critical issue this year, with China accounting for more than three in ten foreign students in the US. The top three sending markets alone – China, India, and Saudi Arabia – represent more than half of all international enrolment in the country.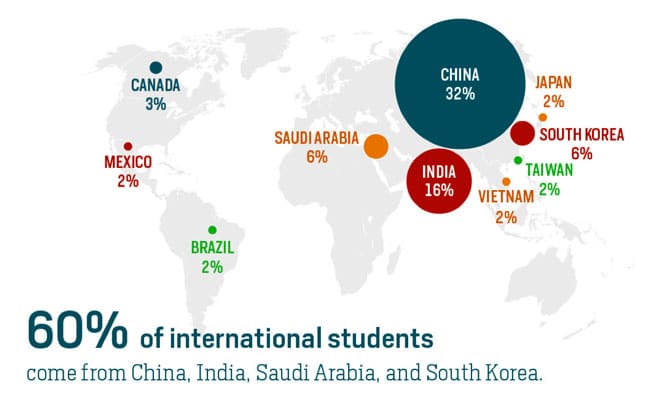 Top ten countries of origin for international students in the US, 2015/16. Source: IIE
Attentive readers will note that another traditional top three source market, South Korea, has fallen out of the group this year. South Korean enrolments declined again in 2015/16, registering a 4.2% decline from 2014/15 and marking the fifth straight year of decreasing student numbers from this key source market. Saudi Arabia, meanwhile, has moved into the number three spot this year with enrolment growth fueled by the massive King Abdullah Scholarship Programme (KASP). Whether or not it will remain among the top three senders is something of an open question as the funding and stability of KASP has been called into question this year.
The key Chinese market was up 8% this year, with continued strong growth in undergraduate enrolment in particular (9% this year). But India led all growth markets with a 25% year-over-year increase for 2015/16, and with that burgeoning enrolment still heavily concentrated in graduate studies. Fueled in part by significant increases in Indian enrolments in recent years, IIE reports that, "More than a third of [all] international students [in the US study] engineering, math or computer science, and 14% engaged in Optional Practical Training (OPT), including many in science, technology, engineering, or math (STEM) professions."
Other fast-growing markets for the US this year included Nepal (18%), Vietnam (14%), Nigeria (12%), and Colombia (9%). Close behind was a next tier of growth markets that all saw increases of 8% in 2015/16: Iran, Kuwait, Indonesia, Malaysia, Spain, and the UK.
On the other side of the ledger, and following significant funding cuts in its Science Without Borders programme, Brazil led the pack among declining markets with an 18% drop in student numbers in the US between 2014/15 and 2015/16. Leaving South Korea aside, the six other declining markets among the top 25 countries of origin for the US recorded only modest decreases of one or two percentage points each.
"The Open Doors findings show that international students value the quality, diversity and strong reputation of US institutions and recognise that these institutions will give them opportunities that can help them not only in their education but also in their careers," said IIE President Allan Goodman.
"At the Institute of International Education, we believe American colleges and universities offer a premiere education and valuable training to students from around the globe and that students from other nations also teach us a lot about the world we share," he added. "The more we can open doors to other cultures for our students, the better off our country and our world will be."
For additional background and detailed data, please see the Open Doors data portal.
For additional context on the United States' international market position, please see: