Short on time? Here are the highlights:
An annual ranking of countries' English proficiency finds that non-native speakers in Europe and Asia tend to exhibit the highest levels of English skills
In contrast, test scores in Latin America declined marginally this year, and countries in the MENA region continue to consistently place in the lowest bands in the global ranking
Across all countries and regions, young people and women tend to exhibit higher levels of English skills
The 6th annual EF English Proficiency Index (EPI) was released yesterday, and, as always, it provides a fascinating window into levels of English proficiency in regions and countries around the world.
The 2016 edition relies on data from 950,000 test takers for an updated ranking of English proficiency among non-native speakers in 72 countries.
In broad terms, Europe continues to exhibit the highest levels of proficiency of all global regions. The Netherlands is now the top-ranked country for English skills, followed by Denmark and Sweden.
The greatest year-over-year gains in testing scores were found among non-native speakers in France, Qatar, and Singapore. In contrast, the greatest declines were recorded in Iran, Japan, and Peru.
EF notes as well two broad patterns in English proficiency around the globe:
Young people – that is, those aged 18-25 – have the strongest English skills worldwide
Women tend to have stronger English skills than men across all countries and age groups
This year's EPI also observes a greater, and perhaps growing, range of English skill among countries in both Asia and Europe. Both regions have at least one country in each of the EPI's five proficiency bands in the 2016 ranking. Singapore is the first Asian nation to ever place in the top proficiency band, and both Malaysia and the Philippines are now among the top 15-ranked countries in the index.
In contrast, countries in the Middle East and North Africa (MENA) are consistently found in the lowest proficiency bands, and English skills in the region have not improved over the six years of EPI rankings.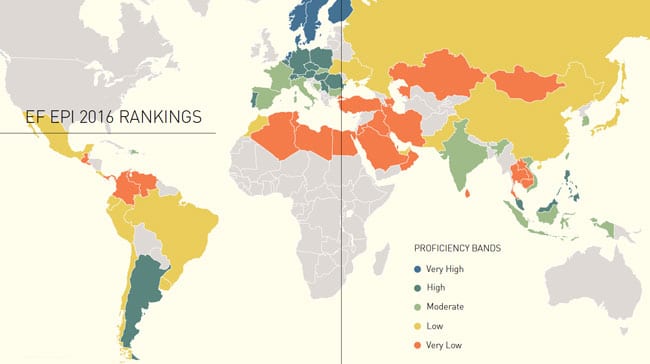 An illustration of the 2016 EF EPI rankings for English proficiency observed in 72 countries. Source: EF
EF attributes Europe's relatively high English skills to underlying policies of multilingualism within the European Union, whereas in Asia the drive to learn English is often more strongly tied to economic imperatives.
The same could be said of Latin America, where a number of national governments have launched significant programmes to expand English teaching and learning. These include Ecuador, Brazil, Uruguay, Colombia, Mexico, and Panama – all of which have introduced significant proficiency-boosting initiatives since 2012. "Most [such] initiatives are focused on training teachers, who will ideally have a positive effect on students' English levels. However, the trickle down effect will take a few years to materialise, and then we'd have to wait another couple of years for these students to graduate – the EF EPI measures adult English proficiency (18+), so we'd only capture the effect of these programmes after these students leave their secondary schools," says report author Minh Tran.
And in MENA, Mr Tran adds, it is largely structural issues that are impeding the region's progress toward greater English proficiency: "One of the major difficulties for effective education reform in MENA is the structure of the labor market, which in many countries includes a public sector that employs as much as half of the formally employed workforce, a far higher percentage than most economies outside the region. A large public sector with guaranteed lifetime employment and higher wages than the private sector distorts [the labour market] by making public sector jobs more appealing than any others.
Despite its size, the public sector in the MENA region is poorly structured to absorb all the qualified graduates the university systems produce, resulting in unusually high unemployment rates among qualified young people.
These economic challenges are compounded by the relative youth of the region's population. About 20% of the MENA population is aged 15-25, and another 45% is younger than 15. This large cohort of young people has stressed education systems in the region but also presents an opportunity: if schools could teach English effectively to such a large number of students, the region's average adult proficiency levels would rise quickly as the cohort advances into adulthood. However, [there is] little evidence that this is occurring."
As in previous years, the 2016 EPI report makes a number of linkages between greater English proficiency and improved incomes, higher levels of innovation, and more widespread adoption of Internet and mobile technologies. "There are clear reasons why countries with strong English proficiency tend to thrive in the innovation sector," notes the report. "English skills allow innovators to read primary scientific research, form international collaborations, bring in talent from overseas, and participate in conferences. English proficiency expands the number of connections innovators can make with the ideas and people they need to generate original work."
EF has also released a supplementary report this year, the EF EPI for Companies, which tests proficiency among 510,000 professionals from 40 countries. It finds that executives tend to lag behind their staff in terms of English skills, and that the English test scores for a country's workforce are linked to other indicators of global innovation, government transparency, and ease of doing business.
Please see the EPI website for the complete reports as well as more detailed findings by market.
For additional background, please see "Fifth annual English proficiency ranking finds Latin America on the rise".