Survey finds increasing focus on online channels among higher education marketers
A global survey of nearly 200 higher education marketers finds that digital continues to claim a growing role in student recruitment this year. QS Digital Solutions ran its survey over December 2015 and January 2016, and the findings are summarised in a new report, Digital Marketing Trends in Higher Education 2016. A clear majority of respondents (75%) said that digital channels are a high priority at their institutions and - in line with this overarching finding - nearly half expected their digital marketing budget to increase in 2016.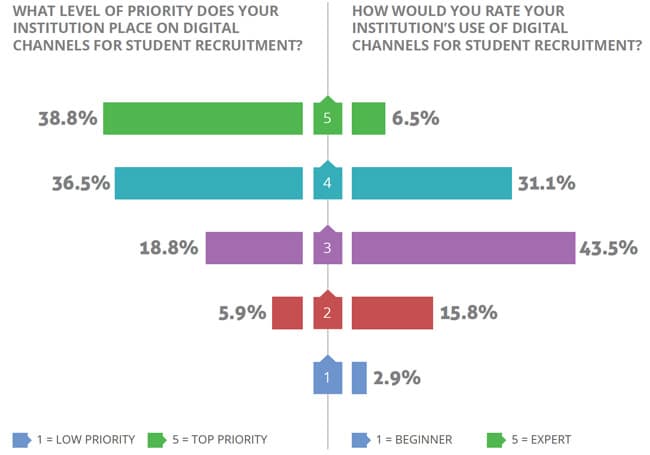 Institutional priority and expertise in digital recruitment channels, as rated by survey respondents. Source: QS Digital Solutions In terms of the channels most used by higher ed recruiters, survey respondents indicated a clear emphasis on email marketing, social media, and website design and optimisation as their major areas of focus in 2015. "Our survey results show university marketers have especially understood the crucial importance of a user-friendly and responsive website as the foundation for all digital marketing activities," says the QS report. "During 2015, many universities were focused on optimising their sites to attract users from all over the globe, and to be accessible on any device." This points to the importance of an earlier finding from a separate QS survey. It found that the university website was often the source of the first meaningful impression of the institution for prospective students. More to the point, QS concluded that many students were frustrated by their experience with university sites. "Students from all over the world have repeatedly told us that university websites tend to be difficult to navigate, lack some of the necessary information and that if they email someone, they rarely get a response. For many of them, this would mean they stop trying and simply move on to a more accessible university," notes an earlier QS commentary on the report. And of course students use mobile devices heavily during their college search process. In many global markets, a majority of prospects make their first visits to institutional websites on their mobile devices, and significant proportions apply to institutions from their phones. This strong shift in student search behaviour led the authors of a 2015 Chegg report to advise educational marketers, "If you aren't pulling up your website and application on your phone right now to see what it looks like, we recommend you pause and do so before reading any further." Indeed, the QS survey would suggest that higher education recruiters took this message to heart last year with many investing in their websites to yield a better user experience as well as stronger recruitment performance. It is generally held that institutional websites must effectively serve users across the range of desktop and mobile devices. Key information - including programme, admissions, and student life details - should be easy to find, and key conversion points, including inquiry and application links, need to be well optimised for both desktop and mobile. Martin Bojam is the education sector lead with the UK-based management consultancy Penna. Speaking at the ICEF Berlin Workshop in November 2015, he set out a number of basic considerations for improving the marketing performance of institutional websites. Along with ensuring an effective user experience across all desktop and mobile devices, Mr Bojam advocated the following:
Prominently placing a data capture or opt-in form on important landing pages. "Capturing prospect data should be one of your most important marketing goals," he said.
Effectively using Google Analytics as a marketing tool to track user behaviour - and monitor key performance or conversion metrics - and then using those observations to optimise campaigns and increase ROI.
Developing local language microsites or landing pages for key international markets.
Among the QS survey respondents, more than six in ten (61.8%) invested in website design and optimisation in 2015, and just over a quarter of responding marketers rated such investments as their most successful digital strategy during the year. (Social media and email followed close behind with 20% of respondents citing each as their most-effective digital channels.) Going forward, many respondents expect to hold that focus on improving institutional websites through 2016, with nearly a third indicating that website optimisation will remain their priority again this year. As the following chart reflects, roughly 20% expect to emphasise social media but it appears that content investments will be more balanced in 2016 between email and content marketing initiatives.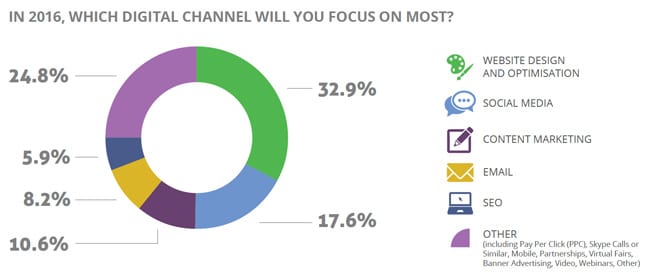 Respondent intentions regarding digital priorities for 2016. Source: QS Digital Solutions Nearly four in ten respondents (38%) expected to spend more on digital marketing in 2016 than was the case in 2015, and 46% expected that they would receive a budget increase to support expanded digital recruiting this year. This echoes the findings of an earlier UK-focused study by the digital consulting firm UniQuest. It found that nearly two-thirds (63%) of respondents to its 2015 survey expected their digital marketing budgets would increase in 2016/17. "Many institutions now recognise the need to regularly engage with prospective and students, as well as alumni communities, maintaining strong communications at all times," notes the QS report. And, as the survey findings make clear, education marketers are relying more and more on digital channels to keep these vital connections alive and growing.