At the recent annual conference of the Canadian Bureau for International Education (CBIE), officials from Citizenship and Immigration Canada (CIC) reported on the continuing implementation of previously announced reforms to Canada's International Student Program (ISP). The CIC briefing also highlighted several important service changes intended to improve Canadian visa processing.
In a related development, the Immigration Consultants of Canada Regulatory Council (ICCRC) moved to address a persistent critique of Canada's Bill C-35 legislation (now the Immigration and Refugee Protection Act) by introducing a new professional designation that would permit international student advisors based at Canadian institutions to once again provide guidance to students regarding immigration issues. The new designation was formally approved at the council's annual general meeting in Toronto yesterday.
Students migrating to Canada
Echoing an important observation from our recent report on Canadian enrolment trends, CIC officials affirmed that the number of former international students choosing to immigrate to Canada continues to increase.
They advised as well that former international students primarily immigrate to Canada via the following five programmes:
Provincial Nominee Program (PNP) – Under this option, Canadian provinces or territories can nominate people to immigrate to Canada based on their skills, education, and work experience.
Skilled Worker Class – This programme allows up to 25,500 skilled workers or professionals per year to apply directly for permanent residence status.
Family Class – This mechanism allows people to apply for permanent residency with a sponsorship from a family member who already has Canadian citizenship or is a permanent resident.
Canadian Experience Class – This programme allows up to 8,000 people per year who have already lived in Canada for some time, and have adapted to Canadian culture and language, to apply for permanent residency.
Investor Class – An option targeted to immigrant entrepreneurs planning to start a business in Canada.
Of these, CIC notes that for 2013, "Post-Graduation Work Permit holders who transitioned to permanent residence were most likely to do so through the Provincial Nominee Program."
In a related development, in January 2015 CIC will launch a new electronic system called Express Entry to streamline permanent residency applications under the following programmes:
Skilled Worker Program;
Skilled Trades Program;
Canadian Experience Class.
In effect, Express Entry will become a required pre-application stage for these programmes, with the goal of creating a pool of pre-qualified applicants for permanent residency. Any prospective immigrant registered in the system could receive an invitation to apply for permanent residency in Canada, and Canadian provinces and territories will also be able to select candidates from the Express Entry pool under the Provincial Nominee Program and to meet local labour market needs.
Service improvements in 2014
CIC reports that processing times for online visa applications have declined over the past two years (from an average of 28 days as of September 2012 to 20 days as of October 2014), and that acceptance rates remain high. 82% of all study permit applications for Canada were approved in 2012, and, as the following table reflects, the acceptance rates for the top 10 source countries were at that level or higher in all cases except for India.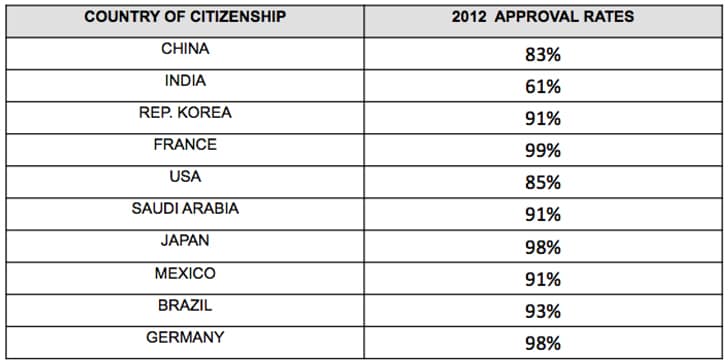 Acceptance rates for study permit applications from top source countries, 2012. Source: CIC
Along with an increasing emphasis on online applications and services, CIC aims to expand on this performance with a number of new service improvements introduced in 2014. Perhaps most notably, Canada has dramatically expanded the reach of its Visa Application Centres (VACs) this year, from a network of 60 sites in 2012 to 130 centres in 99 countries currently. Visa application centres provide services in local languages and accept applications for study permits, work permits, and visitor visas.

Canada's global network of Visa Application Centres, 2014. Source: CIC
CIC is also making greater use of its Multiple Entry Visa (MEV) option this year for those applying for visitor visas for Canada – that is, for visits of up to six months at a time. MEVs are valid for a 10-year period and, as of February 2014, they are now the default visa type issued to successful visitor visa applicants.
Next stage of reform implementation
In June this year, Canada began to implement a series of wide-ranging reforms for its International Student Program (ISP). Major policy changes introduced at the time included:
Only students enrolled at designated institutions in Canada are now able to apply for a study permit (that is, an international student visa).
International students with a Canadian study permit (and "pursuing academic, vocational or professional training of six months or more that leads to a degree, diploma or certificate at a designated institution") are now automatically authorised to work off-campus for up to 20 hours per week during the academic session and full-time during scheduled breaks, all without the need to apply for a separate work permit.
CIC reports that, as of November 2014, 881 institutions have been designated by their respective provinces and territories as eligible to receive international students. A complete list of designated learning institutions is available on the CIC website, and is updated regularly.
The next major stage of reform implementation will be the introduction of a new "compliance reporting portal" website for designated institutions. The portal will launch in spring 2015, following a pilot currently underway with an initial group of 40 institutions. All designated institutions will be required to use the portal to file reports at six-month intervals on the academic and enrolment status of their international students.
Introducing the Regulated International Student Immigration Advisor
The introduction of Canada's Bill C-35 legislation famously excluded both international education agents, as well as international student advisors employed by Canadian institutions, from advising students on immigration matters – unless, that is, they completed training and certification as a Regulated Canadian Immigration Consultant (RCIC) with the Immigration Consultants of Canada Regulatory Council (ICCRC).
In other words, the new legislation prevented international student advisors (ISAs) based at Canadian institutions from providing the immigration advice that they had always done in the course of their day-to-day work with students. Canadian institutions objected vigorously on this point to CIC, and also to the expense associated with qualifying ISA staff as RCICs under the requirements of the new legislation.
The end result of these discussions, as described in ICCRC by-law amendments, was as follows, "[ICCRC] tried to persuade CIC that all ISAs should simply become RCICs. Some did and many others are in the process of doing so, however, many did not. CIC made it clear that ISAs must be able to continue to offer the immigration advice to international students and their dependents that they did before the passage of Bill C-35, without becoming RCICs. We therefore needed to find a way to regulate ISAs without requiring them to become RCICs. CIC also made it clear that they expected us to find a workable solution quickly."
This imperative from CIC led the ICCRC to approve the introduction of a new credential – the Regulated International Student Immigration Advisor (RISIA) – at its AGM in Toronto yesterday. Under the revised by-laws adopted by ICCRC, experienced ISAs will be eligible to write a challenge exam in order to secure the RISIA credential. Newer staff will be required to take a training programme before taking the exam and, while there will be a cost associated with such training, the clear expectation is that the costs for institutions will be notably less than would be the case for RCIC training.
ICCRC adds, "As with RCICs, ISAs wanting to become RISIAs will be required to pass an exam – and if they are new ISAs they must also complete an education programme before writing that exam. They will need to show good conduct and character before being registered as RISIAs. Once registered, they will need to complete professional development hours, fulfill annual reporting obligations, have [liability] insurance, and otherwise meet professional standards similar to those that we require of RCICs now."
ICCRC has indicated that the RISIA programme could launch as early as February 2015, and further details regarding training options and costs will be forthcoming. For additional background on the new RISIA designation, please see a set of Frequently Asked Questions prepared by ICCRC.