"We have revised our international forecasts for digital English language learning products significantly upward from previous forecasts. Revenues will more than double over the forecast period in 51 of the 98 countries analysed."
So begins an extensive new market report on global demand for digital English language learning products from Ambient Insight. Ambient estimates that the global market for digital English language learning reached US$1.8 billion in 2013, and projects that the market will nearly double to US$3.1 billion by 2018.
As that dramatic growth forecast suggests, the global demand for English language learning remains incredibly strong. Competition among English language schools, meanwhile, continues to intensify as well, with some observers suggesting that general English courses are becoming increasingly commoditised.
Recent estimates indicate that there are now 1.3 million international English students enrolled outside of their home countries, a category of international programming that extends across an estimated 2,400 language learning centres and generates an economic impact of US$11.5 billion. However, English is spoken by an estimated 400-500 million native speakers worldwide, and as many as 1.4 billion more who have English as a second language.
The widespread use of the language, and the massive global population of second language speakers and learners, no doubt informs the attention-grabbing forecasts from Ambient that we noted above. Those projections ride along several other important market developments in English language learning worldwide, including the commodification of general language courses, industry consolidation, expanding capacity for English instruction and English-medium programming in traditional source countries, and an expanding field of providers, products, and services for learning English online.
The British Council goes (more) digital
As the lead UK government agency for intercultural relations, the British Council has a broad mandate to promote British language and culture. It is also a noted provider of English language instruction and operates 70 British Council teaching centres in 53 countries worldwide.
In a reflection of the growing market demand for digital learning, the British Council has also moved to expand its online learning resources. It operates LearnEnglish, an extensive platform of lessons, interactive features, test preparation tools, and mobile apps for young learners and adults alike.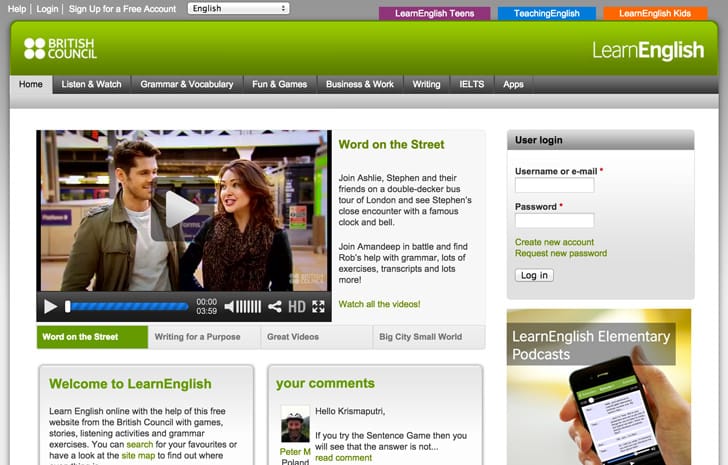 The LearnEnglish website
And now the British Council has expanded on its initial digital offerings with two new product launches in 2014. It partnered with the UK platform FutureLearn earlier this year to offer its first MOOC: "Exploring English: language and culture." And, in October, it launched EAL Nexus, a new resource website for English language teachers in the UK.
Getting to 100,000 students
The "Exploring English: language and culture" course was offered for the first time in September 2014 and a second course is planned for early February. The course is open to all students, free of charge, and recommended for intermediate-level students or higher.
Needless to say, the British Council will be encouraged by the response. The BBC reports that more than 100,000 students have enrolled in the initial course offering this fall, leading the British Council to characterise the course as one of the biggest English learning classes in the world.
The course has attracted students from 178 countries, a third of which follow the material on their mobile phones, with the largest enrolments coming from Spain, Burma, and Russia. Colombia, China, Vietnam and India were among the top ten source countries as well. Female students outnumbered males by a factor of two to one, and nearly three quarters of participants indicated that this was the first time they had ever followed an online course.
Skeptics will point out that MOOCs are notorious for high attrition rates and that, in the case of the British Council course, having 100,000 registrants is no guarantee that anywhere near 100,000 students will have completed their studies. As we have noted recently, however, completion rates are only part of the story for MOOCs. Such courses provide access to learning for students that may have more limited opportunities otherwise. They also have tremendous value as a means for a wider field of students to sample the course content (in this case, the culture and language of Britain), for building profile and brand position, and for recruitment.
Support for English teachers
Participants in the FutureLearn course were asked their age, gender, and to identify themselves as being associated with various categories of learners. It turns out that teachers were the single biggest group of learners in the initial course – a fact that dovetails nicely with the British Council's second major online launch in recent months.
The EAL Nexus website launched on 3 October in conjunction with World Teachers' Day 2014. The site "targets teachers of more than one million young learners with English as an additional language (EAL) in UK mainstream education."
EAL Nexus is a unique resource for UK teachers. It provides an online archive of learning materials and information correlated to UK curricula, and is meant to serve as a community hub for both teachers and students. The overarching goal of the site is to help ensure that English language learners in British schools are better supported in their studies.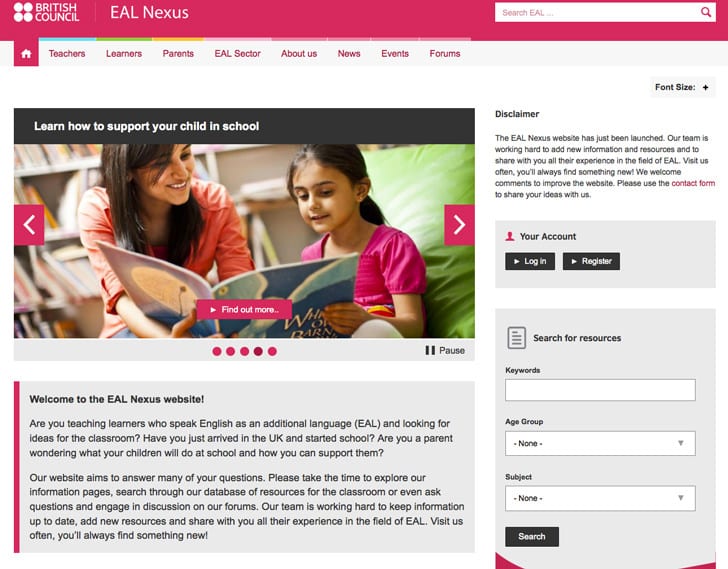 The EAL Nexus website
Caroline Drummond, EAL Nexus project director of the British Council adds, "The new EAL Nexus site will play a key role in helping to support those teaching and learning English as an additional language in the UK."
EAL Nexus points as well to the important opportunities that domestic markets represent for English language learning programmes, products, and services. This idea was front and centre as well in a recent interview that Forbes magazine conducted with Rosetta Stone's President of Global Enterprise & Education, Judy Verses. Ms Verses indicated that English language products are the main business drivers for the innovative language learning company.
"English is the #1 language," she told Forbes. "And interestingly, even in the US it is the #1 language sold. A new product we just launched this year is Advanced English for Business. And what we found in selling to corporations – even in the US – the number one language that corporations buy is English. So if you think about these multi-national companies, English is usually their lingua franca. When they have an off shore operation, their employees need to be able to speak English."
The British Council's notable investments in online courses and learning resources underscore the point that technology is opening up new platforms, methods, and channels for recruiting and serving English language learners, both at home and abroad. This is a marketplace that will see a number of new entrants in the years to come, and many of these will be connected to technology providers and/or supported via private equity investments. The extent to which (and how) those new players collaborate or compete with established providers in English language learning will be one of the more interesting questions in the industry in the decade ahead.