New report highlights changing face of the world's freshman class; calls for expansion of higher education
More than 23 million students across the OECD and G20 countries will begin their university studies this year. This reflects a dramatic increase in university entry rates across OECD countries over the past 20 years, with part of that increase being driven by a broader applicant pool made up of growing numbers of older students and international students. Participation rates for women have also increased over this period in most OECD states. These are some of the key points in a new OECD brief - How are university students changing? - the 15th instalment in the OECD's Education Indicators in Focus series of highlighted findings from the annual Education at a Glance report. (Please see our earlier post on this year's Education at a Glance for additional background.) The Organisation for Economic Co-operation and Development (OECD) is a global group of 34 countries that includes the world's most developed countries as well as "emerging giants like China, India and Brazil and developing economies in Africa, Asia, Latin America and the Caribbean." How are university students changing? presents a vivid picture of a dramatic global expansion in higher education participation since the mid-1990s.
"Access to university has increased widely in recent decades. Between 1995 and 2011, university entry rates rose by more than 20 percentage points on average across OECD countries, from 39% to 60%. In many countries, the increase was a result of growing demand, while in others it may be due to structural changes in educational systems (such as the implementation of the Bologna Process). At the same time, new programmes have been created to meet changes in the professions. The pool of applicants has also widened to include many more international and older students, further increasing entry rates."
The video below presents several facts as highlighted in the report: The report notes as well that the average age of the freshman university student varies around the world.
"Traditionally, students entered university programmes immediately after completing upper secondary education, and this remains true in many countries. For example, in Belgium, Japan and Indonesia, the average age of entrants to university is 19 or below. However, the average age of new entrants varies across countries because of differences in the typical age at which students graduate from upper secondary education, the intake capacity of institutions, and the opportunity cost of entering the labour market before enrolling in tertiary education. This is the case for countries like Iceland, New Zealand and Sweden, where the average age of entrants is 25 or over. On average, students across the OECD and other G20 countries will be 22 years old by the time they attend their first lecture and will spend 4.4 years studying full time in university."
In a reversal of the historical gender gap in higher education, 52% of new university entrants in 2011 were women - the exceptions to this trend being found only in Indonesia, Japan, Mexico, and Saudi Arabia where the number of men beginning their university studies still outnumbered their female counterparts. The OECD further reports a marked shift in how the world's higher education students are distributed, largely as a result of the dramatic expansion of post-secondary education in fast-growing G20 economies. "Today, China has the largest proportion of new entrants, followed by India and the US." "The new generation of students is also internationally mobile," notes the brief. "The number of international students has more than doubled during the last decade. Today it is expected that some 4% of new students will leave their country of citizenship to study. In 2011, the largest numbers of foreign students came from China, India and Korea." Asian students made up 53% of internationally mobile higher education students in 2011 across OECD and G20 countries. The report adds, "Language – as a barrier or a bridge – is one of the key considerations for international students choosing their destination. English-speaking countries are more attractive but an increasing number of non-English-speaking ones have started to offer courses in English in order to overcome their linguistic disadvantage."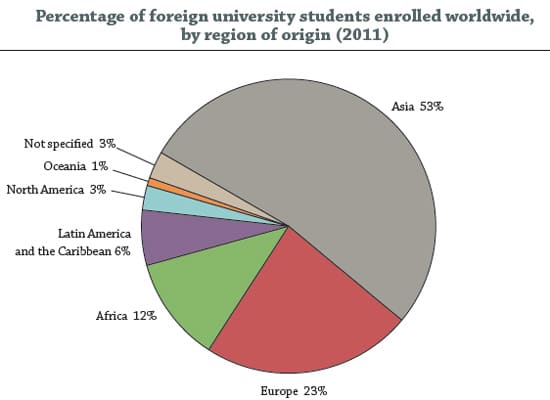 Source: OECD, Education at a Glance A related chapter - "How many students study abroad and where do they go?" - from Education at a Glance notes that nearly 4.3 million students are now enrolled in post-secondary education outside their home country.
"Over the past three decades, the number of students enrolled outside their country of citizenship has risen dramatically, from 0.8 million worldwide in 1975 to 4.3 million in 2011, a more than fivefold increase. During the 2000-11 period, the number of foreign tertiary students enrolled worldwide more than doubled, with an average annual growth rate of almost 7%."
The distribution of internationally mobile students has historically been heavily concentrated in the world's leading economies. While this remains true today - with almost three times as many foreign students enrolled in tertiary education in OECD countries as there are OECD citizens studying abroad - that concentration is more diffused, in part as higher education has expanded in emerging economic giants, (notably China) and as intra-regional patterns of international mobility have continued to strengthen.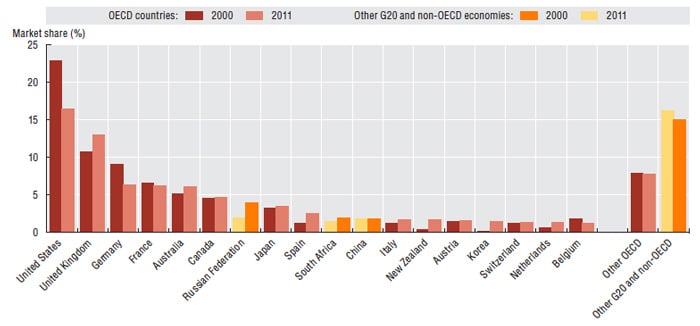 The distribution of international students in tertiary education, by destination. Source: OECD, Education at a Glance The 15th instalment in the Education Indicators in Focus series concludes by noting:
"Tertiary institutions not only have to meet the growing demand for university education by expanding the number of places they offer, they also have to adapt programmes and teaching methods to match the changing needs of a more diverse generation of students."
While this is a conclusion with widely varying implications across the OECD and G20 states - each of which will reflect their own demographic and demand patterns - it overall reflects both the dramatic growth of university entry rates reported in the OECD brief as well as the shifting composition of the freshman class and related changes in the economies and labour markets of both developed and developing economies.