More than half of African applicants fail to get a visa to study in Canada or the US
Short on time? Here are the highlights:
Research shows that in Canada and the US, African students have much less chance of receiving a visa than students from other world regions
More than half of African students applying to study in Canada or the US are refused
F-1 visa refusal rates have been rising in the US in general, with 31% of applicants denied a visa in 2022
Over the past couple of years, there has been an appreciable spike in international student recruiting activity in Africa. Schools and universities in study abroad destinations are attracted to the potential of Africa's large youth demographic, and African students are interested in the quality of education in destination countries. It seems like a perfect match, but in North America at least, there is a problem: the high visa refusal rates African students have been encountering relative to students from other world regions.
Canada: Recent improvement but refusal rates are still very high
The years-long trend of low visa approval rates for African students was covered widely in the Canadian media last year and the issue made its way to the House of Commons Standing Committee on Citizenship and Immigration. Immigration, Refugees and Citizenship Canada (IRCC) commissioned an independent inquiry into whether a culture of racism underpinned the low approval rates, and the research determined that systematic racism was indeed a contributing factor.
Coincidentally or not, approval rates for students from four of five of Canada's top five African source markets – Nigeria, Algeria, Cameroon, and Ghana – increased significantly in 2022.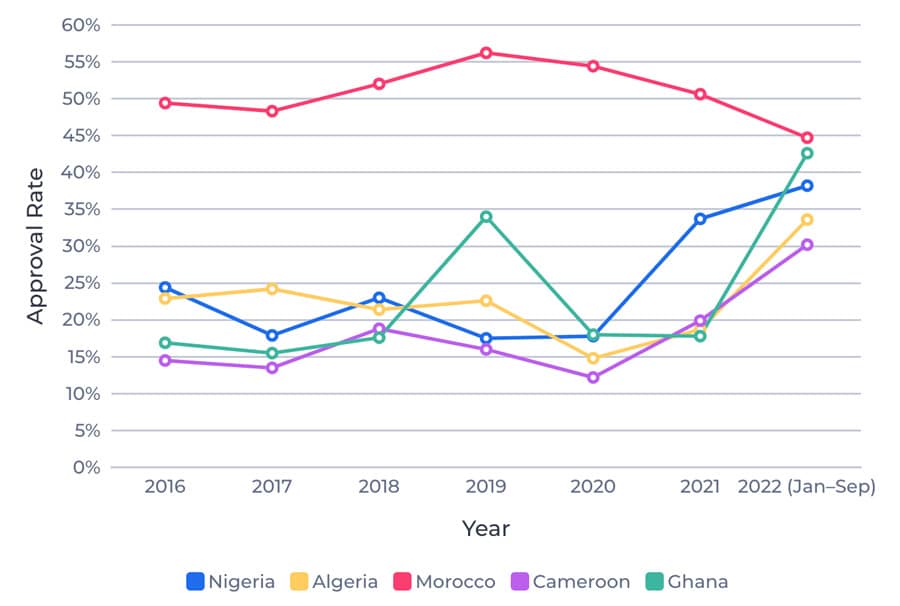 More generally, IRCC data indicates that visa approval rates for African students rose by 10% between Q1 and Q3 2022.
2021: 30%
2022 - Q1: 30%
2022 - Q2: 35%
2022 – Q3: 40%
Still, a declining trend of visa refusals for African students does not diminish the fact that more than half of African students who apply to study at a college or university in Canada do not obtain a visa. Between 2018 and 30 April 2023, 59% of English-speaking Africans were rejected, as were 74% of French-speaking Africans. In 2022 alone, 62% of applicants from English-speaking African countries did not receive a visa, and 66% of applicants were similarly unsuccessful.
Speaking with University World News, Etienne Carbonneau, director of research and support for internationalisation at Université du Québec in Québec City, points out that the high rate of rejection for French-speaking Africans is particularly challenging for Canada's francophone colleges and universities:
"Presently, some 50% of French speakers worldwide live in African countries; by 2050, the continent will account for 50% of the world's population growth. The potential for growth [for francophone institutions] is really in French-speaking Africa, but this potential is cut off by the practices of Immigration, Refugees and Citizenship Canada."
The US: High visa refusal rates increased in 2022
Recently, a non-profit group called the Presidents' Alliance on Higher Education and Immigration collaborated with Shorelight Education to analyse US Department of State student visa data. The mission was to determine whether, between 2015 and 2022, there was a trend of F-1 visas being rejected more frequently for international students from some world regions. The data proved this to be the case.
The inquiry found that in general, F-1 visa rate approvals have been declining since the pandemic, especially for South American students. Applicants from Australia, China, Brazil, South Africa, and some European countries have been spared this trend, but overall, US visa officials rejected one in three (31%) visas in 2022.
There is a geographical pattern to which students are most likely to fail in their attempt to get an F-1 visa. More than half (54%) of African students were denied F-1 visas in 2022, compared with a 9% rejection rate for European students. Asian students fared better than African students, but the 36% visa rejection rate they have encountered is still much higher than the rejection rate for European students.
The key takeaway here is that students from the Global South – i.e., relatively less affluent countries in Africa, Latin America, and the Caribbean – have for many years had a much lower chance of studying in the US than other international student applicants.
Some African regions are particularly affected
The following chart shows that students from certain African regions – especially Western Africa – have less opportunity to obtain an F-1 visa than those from other regions. Southern African students are much less likely to be refused than their peers in other parts of the continent.

Disputing the story of ill-prepared or fraudulent students
The history of student mobility from Africa to the US is shorter, in general, than it is from Europe and Asia (especially China). It is true that inexperience with application requirements is part of the reason some African students are denied visas, and there are African students who apply for F-1 study visas not because they want to study but rather because they are trying to work or emigrate to the US. However, the Presidents' Alliance/Shorelight report found evidence that many African students "who have met every admissions and financial requirement and are seemingly well-prepared for their high-stakes visa interview, are nonetheless denied visas."
Higher education officials even told the Presidents' Alliance/Shorelight that "students from some African nations, for example, are more likely to receive a student visa when applying in a non-African country, such as Australia, to study in the US."
Implications for universities and colleges – and African students deciding where to apply
Writing for the Chronicle of Higher Education, Karin Fischer points out that high visa refusal rates diminish the ROI of educators' recruiting investments and could also discourage African students from applying to US institutions:
"Despite that potential [of African student demand], American colleges may think twice about building up their recruitment capacity in Africa if the returns on that investment, in actual enrolled students, are poor...Denials could also discourage African students from applying to the United States."
The Presidents' Alliance/Shorelight report concludes that between 2018 and 2022, more than 90,000 "potentially qualified African students applying to study in the US were denied visas."
Domestic enrolments are declining in the US, and the health of the higher education system – i.e., the ability of all types of quality institution to survive and thrive due to having sufficient tuition revenue – will depend on securing enough international students in the future. The report elaborates on why so much international student mobility will come from Africa, and what is at stake if US educators are unable to compete for African students because of discriminatory visa policies:
"By 2030, just seven years from now, young Africans are expected to constitute 42% of the world's youth population, and by 2050 are expected to number 1.1 billion ….
According to one projection, sub-Saharan Africa's tertiary population could swell to 90 million by 2050 with over half of this growth coming from Nigeria …
There seems to be growing interest amongst certain destination countries to reap this "demographic dividend" from Africa. While traditional Anglophone destinations like Canada and the UK also have purported higher visa denial rates for students from Africa, other destinations such as France and China are aggressively recruiting African students, and there also appears to be interest and potential amongst US institutions to do so."
For additional background, please see: