Short on time? Here are the highlights:
Driven by strong consumer spending in key sending markets, travel volumes are surging in the first half of this year
The total number of arrivals in the first five months of 2022 equates to roughly half of pre-COVID travel volumes
International travel is still expected to recover up to 70% of 2019 levels overall this year
International travel volumes are surging this year. The latest data from the UNWTO World Tourism Barometer reports just under 250 million international arrivals for the first five months of 2022. This represents a nearly 225% increase over the 77 million arrivals reported for January–May 2021. A better benchmark, however, might be that that year-to-date volume for 2022 represents roughly half (46%) of pre-pandemic travel numbers from 2019.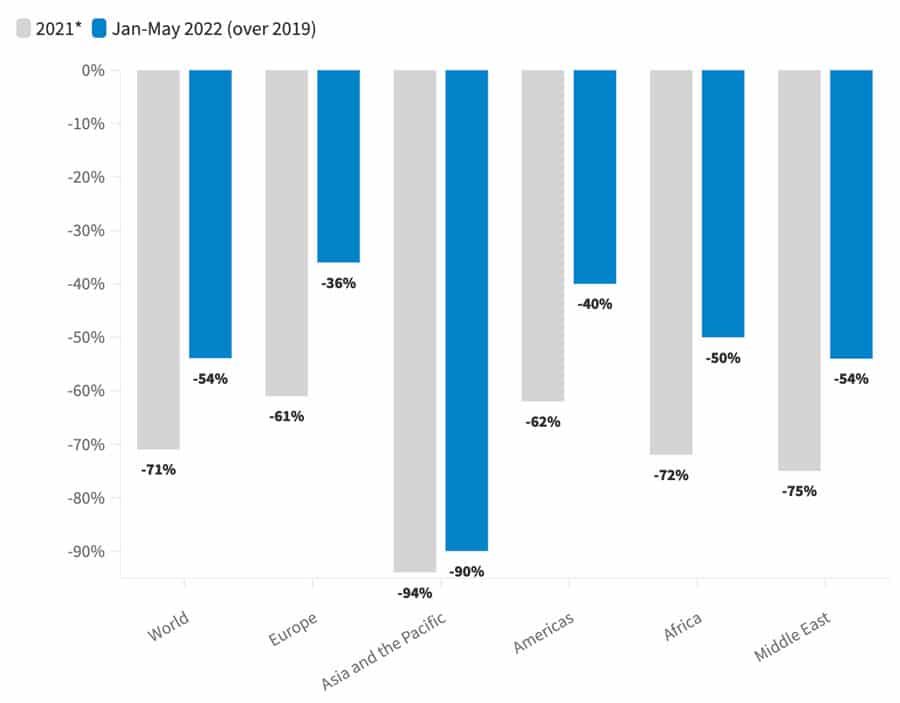 "The recovery of tourism has gathered pace in many parts of the world, weathering the challenges standing in its way", said UNWTO Secretary-General Zurab Pololikashvili.
The UN World Tourism Organization (UNWTO) reports that Europe and America are driving much of the recovery so far this year. "Europe welcomed more than four times as many international arrivals as in the first five months of 2021 (+350%), boosted by strong intra-regional demand and the removal of all travel restrictions in a growing number of countries," explains a UNWTO release. International arrivals in the Americas were up 112% through May 2022, but still remain 40% below pre-pandemic levels.
Lying behind that destination performance is strong growth this year in tourism spending from key source markets, including France, Germany, Italy, and the United States, where total spending now ranges from 70-85% of pre-pandemic levels. In other notable cases, such as India, Saudi Arabia, and Qatar, spending is already up above pre-COVID volumes.
Looking ahead, the UNWTO expects international travel to reach between 55–70% of pre-pandemic levels in 2020, with the caution that actual industry performance will depend on, "evolving circumstances, mostly changing travel restrictions, ongoing inflation, including high energy prices, and overall economic conditions, the evolution of the war in Ukraine, as well as the health situation related to the pandemic. More recent challenges such as staff shortages, severe airport congestion and flight delays and cancellations could also impact international tourism numbers."
For additional background, please see: