Ukraine crisis: The struggle to evacuate international students
Short on time? Here are the highlights:
Thousands of international students are attempting to flee Ukraine, and governments as well as not-for-profit organisations are trying to help them to evacuate
Many international students live in Kharkiv, the second-largest city in the country and the focus of intense attacks by the Russian armed forces
At least two international students have died so far
Organisations are springing up to support the evacuation of international students, and governments are also on the ground assisting students as much as possible to cross the border into neighbouring countries and then on to flights home
Some African students are facing racial discrimination at border posts as they attempt to flee the country
The loss of international students will have a significant impact on the Ukrainian economy
The war in Ukraine is intensifying, and tens of thousands of international students stranded in the country are, like native Ukrainians, in great danger as a result of Russia's increasingly aggressive military strikes. Russian President Putin is ordering the use of more lethal weapons and there is evidence now that civilians – not just Ukrainian fighters and political/military personnel – are being targeted. We were greatly saddened to hear that an Indian student and an Algerian student lost their lives in Kharkiv over the past days in the heavily bombarded city.
With profound sorrow we confirm that an Indian student lost his life in shelling in Kharkiv this morning. The Ministry is in touch with his family.

We convey our deepest condolences to the family. — Arindam Bagchi (@MEAIndia) March 1, 2022
India trying to get students to safety
India is by far the largest sender of international students to Ukraine; close to 20,000 Indians were studying there in 2019. The Indian embassy in Hungary has sent a team to the border post in Zohanyi to coordinate the evacuation of Indians from the country, working with the government of Hungary. In addition, reports the Business Standard, the Indian Embassy in Kyiv is "advising Indian students on how to reach the country's western borders to reach Poland, Romania, or Hungary from where they can board Air India flights specially operated by the Indian government to reach India."
As of 1 March, 1,396 Indian nationals have been flown back from Ukraine to India in six evacuation flights. However, a government source told Reuters that an Indian team "positioned in Belgorod, a Russian city about 70 kilometres (45 miles) away from the Ukrainian border … has been unable to evacuate citizens because of the fighting."
Many Moroccan students still stranded
The families of Moroccan students have also pressed their government to help in evacuation efforts. There are 8,000 Moroccan students enrolled with Ukrainian universities, making them the second largest group of international students in the country after Indians.
The Moroccan Ministry of Foreign Affairs announced by the afternoon of 28 February, more than 1,500 Moroccan citizens had been evacuated from Ukraine: 720 made it Poland, 384 to Romania, 300 to Slovakia, and 130 to Hungary. Morocco's foreign ministry says it "has dispatched twenty consular staff, including four former consul-generals, to support and assist the Moroccan embassies on the ground in Ukraine and neighbouring countries."
Middle Eastern and North African students from countries other than Morocco (e.g., from Algeria, Lebanon, Egypt, and Iraq) are also in Ukraine, and the Middle East Eye is reporting that some say that they cannot afford flights back home and so feel forced to stay.
Reports of racism
In distressing news, there are reports of African students facing racial discrimination as they try to cross the border into countries such as Poland; some border officials seem to be prioritising evacuees of European descent. African students are using the hashtag #AfricansinUkraine to describe the intolerable treatment they have been facing.
'They said if you're black, you should walk'

Nigerian student Jessica has kept in touch with us about her journey out of Ukraine. She is among the hundreds of thousands of people fleeing the country, and one of many #AfricansinUkraine who have described facing racism at borders. pic.twitter.com/OTTx6wxVDY — BBC News Africa (@BBCAfrica) March 1, 2022
The African Union has issued a statement on these reports of racism, reminding governments that "all people have the right to cross borders during international conflict … "notwithstanding their nationality or racial identity." The full statement can be read in the screen shot below.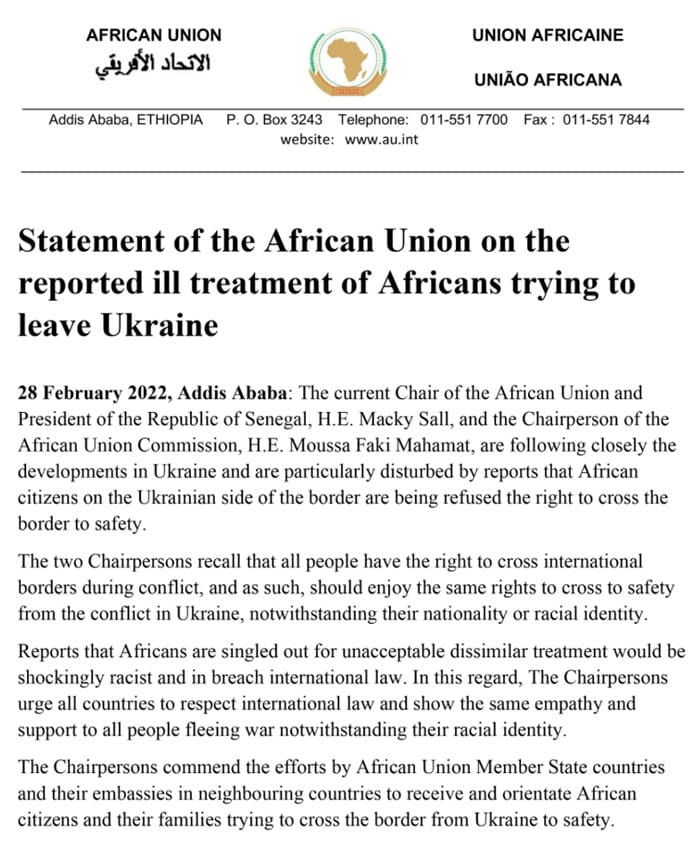 Many international students in eastern Ukraine
Unfortunately, as Al Jazeera points out, many of Ukraine's best universities (including VN Karazin Kharkiv National University and the Kharkiv National Medical University) – host a substantial proportion of all international students in the country and these institutions are located in eastern Ukraine, where the most intense fighting is happening at the moment. Vishnu Mohan, an Indian student trapped in Kharkiv told Al Jazeera that, "The possibility of dying in college is the last thing on your mind when you apply to a university."
US NGO working to evacuate students
Some organisations are working non-stop to help international students to get out of the country. For example, US-based NGO Sewa International is already working to help over 4,000 students who have registered with their helpline, and they have another 400 students who are next in line. The NGO is organising the transportation of students to the closest border checkpoint, as well as providing food and other supplies for the journey. There is a monetary component to the work as well: Sewa has earmarked USD$10,000 to fund the relief effort and has launched a Facebook fundraising campaign.
Meanwhile, Sewa Europe, an independent partner organisation to Sewa in the US, and the Hindu Swayamsevak Sangh (HSS) are joining forces on the ground now in ten Ukrainian cities to evacuate terrified people. On 26 February, the joint effort managed to move 150 students from Vinnitsa – a key target because it houses the headquarters for the Ukrainian Air Force – to Chernivsty in western Ukraine.
Ukraine's economy will suffer greatly
On top of the horrendous human suffering that Russia's invasion of Ukraine is causing, it is also wreaking havoc on the Ukrainian economy, whose health in normal times is significantly buoyed by international students. Al Jazeera reports that international students' spending makes up a bigger proportion of GDP in the Ukraine than in the US:
"Foreign students bring US$542 million in revenue to the country – which has a GDP of US$155 billion – or more than $3 of every $1,000. By comparison, international students contributed US$28.4 billion to the US economy of US$21 trillion in 2020-2021 – or less than $1.5 of every $1,000."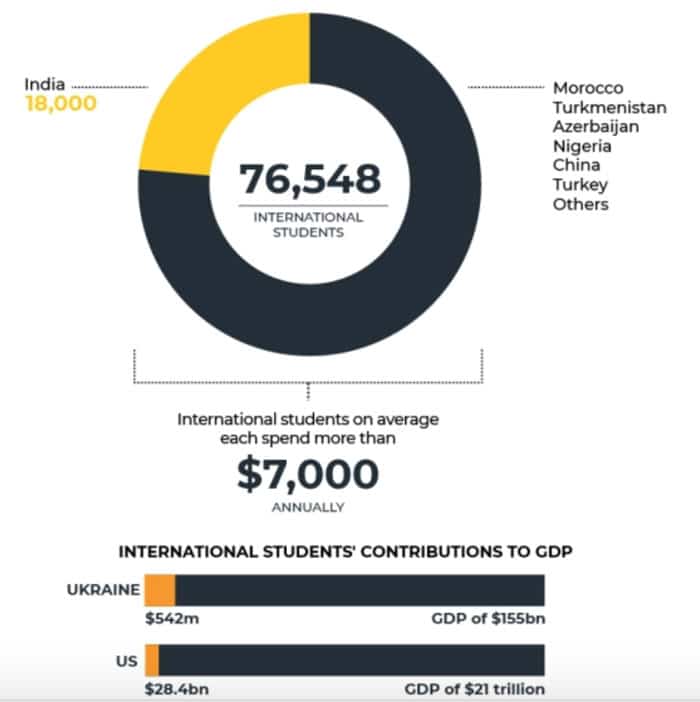 In the face of those losses, the rest of the world is committing unprecedented funds to helping Ukrainians millions will go towards rebuilding economic infrastructure. It will be a long time, however, before Ukraine will be able to host international students within the country again, which is incredibly unfortunate given the success over the past few years that Ukrainian educators have had internationalising their campuses.
For additional background please see: