A special statement about the war in Ukraine
At ICEF Monitor, we – along with our readers around the world – have been watching in horror as Russian President Putin moved from months-long threats of a military incursion into Ukraine to a full-scale invasion this week. It is, as WYSE declares, "a violation of Ukraine's territorial integrity and sovereignty" and an abhorrent attack on a free country and people who did nothing to deserve such a war.
We send our thoughts and support to international students, educators, and agents in Ukraine. We wish strength to students' parents, siblings, and friends all over the world who are so worried for them. More broadly, we pray for all Ukrainians, and we feel deep respect for the bravery of Russians protesting against the war despite the real possibility of arrest.
International education has played an important role in Ukraine, and in building links between Ukrainians and people around the world. As we speak, there are nearly 80,000 international students in Ukraine pursuing higher education degrees. They come from all over the world, especially from India, Morocco, Azerbaijan, Turkmenistan, and Nigeria. They chose Ukraine for various reasons – affordability, quality of education, and yes, safety – safety that seemed a virtual guarantee until very recently. Their numbers have grown substantially over the past five years, as illustrated in the chart below.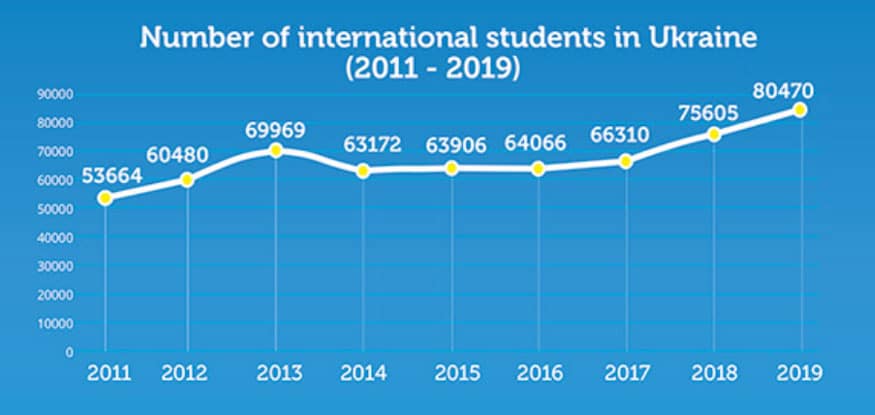 As a result of the invasion, most of those international students are sheltering in basements, tunnels, parking lots, and underground subway systems – instead of classrooms among peers and educators equally committed to education and progress.
We stand in solidarity with the Ukrainian people, and we admire their incredible bravery.