Agent survey highlights important demand factors for study abroad into 2022
Short on time? Here are the highlights:
A recent survey of education agents highlights continuing strong demand for in-person study, but alongside a growing openness to online and hybrid programmes
Responding agents also reported some important changes in decision factors for international students and their parents, notably a greater emphasis on affordability and employment outcomes
Four out of five respondents to a late-2021 survey of education agents believe that the factors influencing student decision making for study abroad have changed because of the pandemic. The survey was conducted by INTO University Partnerships in November 2021, and it gathered responses from 1,126 agents worldwide. The survey reflects a number of important findings from similar research throughout 2021, and points to some important shifts in student and parent priorities – most notably a greater emphasis on affordability and employment outcomes – along with trends in programme demand and a greater openness to hybrid programme delivery.
Among the most important changes in demand factors, 65% of agents say that students and parents give greater weight to scholarships and other forms of financial aid when weighing options for university study abroad. Slightly more than six in ten (61%) said that both students and parents are now more focused on career outcomes than they were before the pandemic, and roughly half (49%) believe that students and parents have greater expectations for the return on their investment in learning abroad.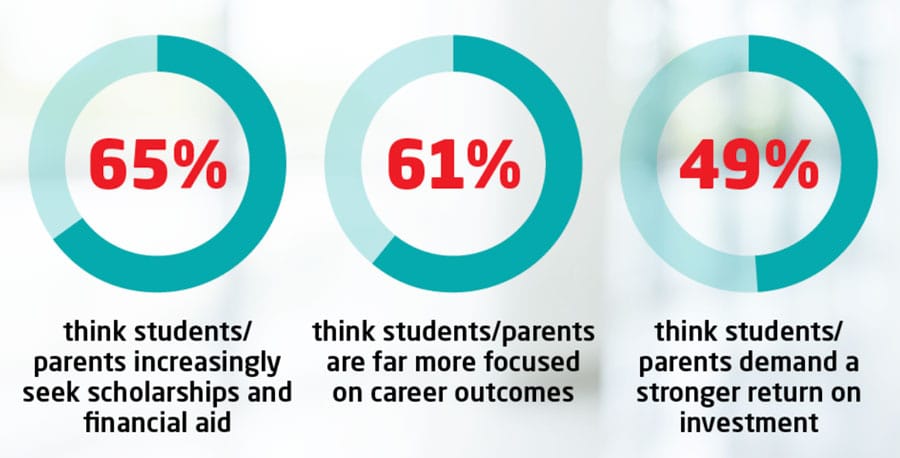 Commenting on the findings, Dr Parves Khan, vice president of Market Research and Insight for INTO, said, "Concentration on careers and clear-cut objectives among young people is well-documented…and agents say it will continue to define international education. More than one quarter of them — 27% — identify job opportunities in destination countries as the factor that will have the greatest impact on study abroad decisions in the next five years, suggesting more of their clientele want to work abroad after university. An additional 21% identify the immigration policies of destination countries as the greatest influencing factor."
Demand for growth professions
Nearly half of survey respondents (45%) reported changing patterns in terms of the fields of study that students were interested in pursuing abroad. In particular, agents report a growing interest in degree subjects linked to areas of strong labour market demand, such as computer science, data science, and selected technology specialisations, such as robotics and artificial intelligence.
Following some of the broader trends we have been observing around non-degree credentials, roughly two-thirds of agents (66%) also said that they thought international students would now be more interested in travelling abroad to pursue non-degree qualifications, including microcredentials and certificate programmes.
In-person vs online
Nearly all agents in the survey (95%) expect that demand for study abroad will return primarily to in-person teaching and learning as we continue to move through and out of the pandemic. But roughly three quarters (72%) also report increased interest in blended or hybrid delivery programme since the onset of COVID, a finding that provides further evidence for a growing expectation among international educators that programmes combining in-person with online instruction will have a greater footprint going forward.
INTO adds, "Although virtually all agents anticipate that international student demand will return to primarily face-to-face learning in the future, nearly three quarters have registered increased interest in degree programmes that involve blended delivery since the pandemic began — a significant departure from pre-COVID preferences."
This broad trend is reflected as well in what agents report about student performances for language learning. While anticipating a return to pre-COVID volumes for language travel, most agents also report a greater interest in online language study than was the case before the pandemic.

This strong outlook for market recovery nevertheless reinforces a growing expectation that digital delivery will continue to play a larger role in the global market for language learning, alongside continuing strong demand for language travel. As we reported last year, an in-depth market-sizing analysis from HolonIQ projects a global language training market of US$115 billion by 2025, up from an estimated US$61 billion as of 2019. "We estimate the language learning market will almost double in size by 2025," says an accompanying HolonIQ statement. "Mobile-first and online tutoring will accelerate and triple in size over the next five years."
For additional background, please see: