UK issues record number of study visas in 2021
Short on time? Here are the highlights:
In 2021 (for the year ending in September), the UK issued 428,428 sponsored study visas to international students and their dependents – the highest total ever, surpassing the record previously set in 2010
Visas issued to EU nationals composed only 9% of the total
There was significant growth from key non-EU markets including China, India, Pakistan, and especially Nigeria
The UK has broken a record in terms of the number of study visas issued to international students and their dependents, according to the Home Office. In the year ending September 2021, UK immigration officials issued a total of 428,428 study visas, which represents:
143% more than for the year ending September 2020;
55% more than for the year ending September 2019;
29% more than the previous high achieved more than a decade ago, in June 2010, when the total was 307,744.
The vast majority of the visas were issued to students and not dependents: UK government notes, "90% of the [study] visas issued are to main applicants, compared with 68% for Work visas."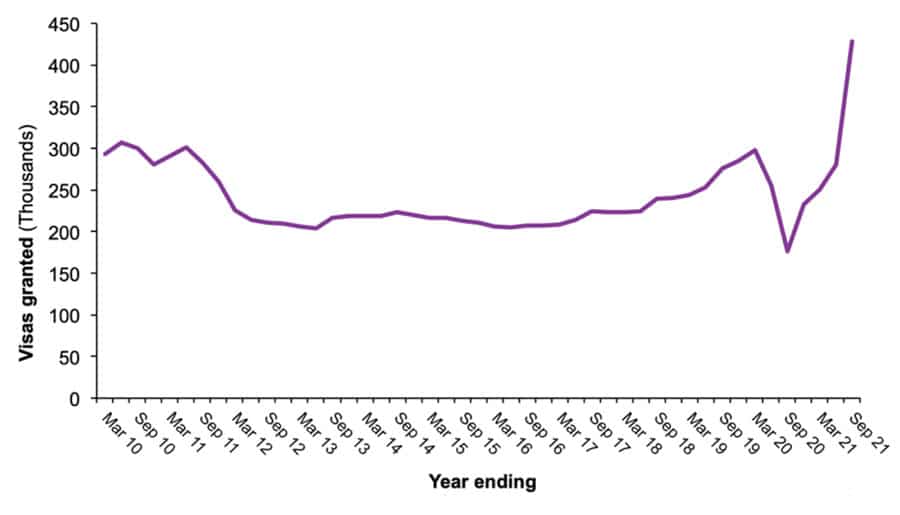 Growth is overwhelmingly from non-EU markets
The visa numbers for 2021 not only constitute a substantial recovery for the UK's international education sector in the context of COVID, but also a new historical high. Never have there been more visa-holding international students enrolled in UK education. Almost all of these students (91%) are in higher education.
EU/EEA students accounted for only about 20,775 of the total number of visas (9% of the total), compared with hundreds of thousands of visas issued to non-EU students in 2021. More than 135,450 visas were issued to Chinese students, while the number of visas issued to Indian students (90,970) nearly tripled from 2019, when they stood at just 30,490 (see table below).
Times Higher Education notes that mobility from the EU to the UK this year looks sparse compared with that from other regions of the world:
"Although there are no comparable visa figures due to this being the first year [EU] nationals have needed a visa, the rough total of 20,000 does not look high when compared with the 64,000 EU students who started courses in the UK in 2019-20, according to the Higher Education Statistics Agency."
Demand spiked in September 2020
The surge began in September 2020, gathered pace after that into the summer of 2021, then peaked in August and September 2021. In September 2021, the number of visas granted (roughly 140,000) was more than double the number in September 2019 (pre-COVID). The government offered several reasons for the growth:
"Students who either deferred starting a course, took a break from studying and are now resuming, or began a course by distance last year and did not choose to apply for a visa at that point could be increasing in number as they return to in-person educational settings."

The UK is continuing to gain in popularity, "as from 2017 until the pandemic there was a strong annual growth in student visas, averaging at approximately 10% per annum over the period."

New immigration rules, including of course the UK Graduate Route, which students could begin applying for in July 2021. This immigration route allows international students who have graduated with degrees from UK universities to stay in the UK for 2-3 years after their studies to work or look for work.
Massive increase in visas granted to Nigerians
While China and India are still the top sending markets by far for the UK (see table below), Nigeria is growing extremely fast – much faster than China. Nigerian nationals were issued 36,783 visas in 2021, a +347% change from September 2020. The past decade has seen the UK lose ground in Nigeria to other destinations, so the massive uptick in study visas will come as welcome news to UK educators.
The number of visas issued to Pakistani nationals grew by a robust 225%, and there was also tremendous growth from Bangladesh (+410%). Bangladesh is now the sixth largest source of students for the UK.
The number of study visas issued to Americans grew by only 3% from 2019 – more in line with growth trends from the EU than what we see from Asia and Africa.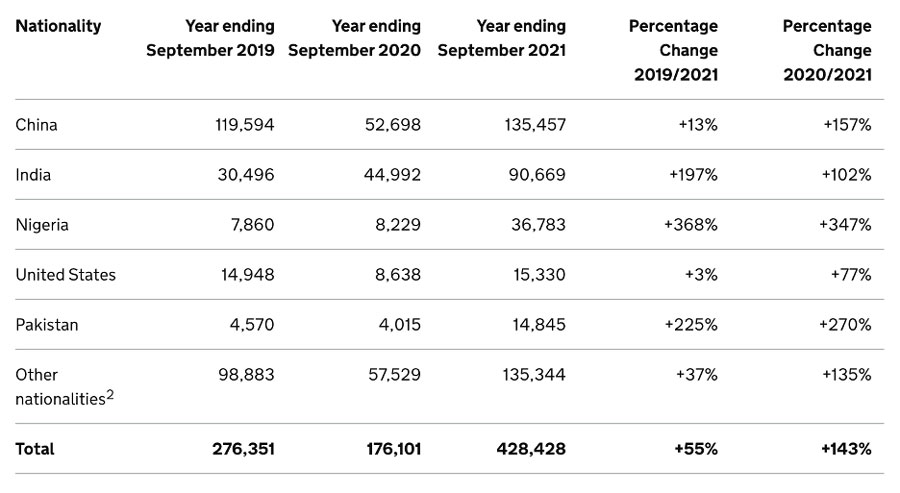 Rebound apparent in the US as well
A snap survey of US education institutions this fall indicates that the US international education sector is also likely on a path to recovery after steep declines in 2020. More than two-thirds (68%) of roughly 860 higher education institutions reported increases in international enrolments this fall.
It is unlikely that growth in the US will be as significant as in the UK, however, since a big part of the boost in the latter country is demand for the new post-study work rights offered to all international students. The lack of these rights for several years had depressed demand for UK education among many international students, especially from the key market of India, which is now clearly rebounding.
For additional background, please see: