Short on time? Here are the highlights:
A growing field of private providers are offering specialised loans for international students
Students with strong potential for post-graduate success can access loans that do not require a co-signer or collateral
For each international student whose family can afford to send them abroad, many other students face an uphill battle paying for studies at the school of their dreams. The events of the past couple of years have made the latter group even larger – which is unfortunate given the number of promising students within it.
A new kind of private lender is offering hope to some of these students by banking on their future successes rather than on their current fortunes. The early leaders in this new category are MPOWER Financing and Prodigy Finance, both backed by venture capital or investment bank financing.
Their model is offering international student loans that do not require a co-signer or, even, collateral. Traditionally, co-signers and collateral are required as security in the event the international student is unable to pay back the loan.
"The world is increasingly global and connected, yet the banking industry has not kept pace," says Prodigy Finance founder and CEO Cameron Stevens. "Traditional lenders are bound by local legal constraints, local data, as well as local repayments and collections, which ties an applicant's credit profile to their location. For example, if you're born and live in the US, you will have greater choice and access to financial services and credit. However, if you're born in Ghana and want to study abroad, you're more likely to be unbanked. We've worked hard over the years to change this. Our global credit model has allowed us to help international students with limited or no funding options to gain access to life-changing opportunities."
No co-signer, no collateral
Traditional models of credit assessment rely on the borrower's credit rating or on the type of security they can offer. But MPOWER Financing and Prodigy Finance evaluate applicants based on future creditworthiness. By limiting eligibility to certain destinations, institutions, and fields of study, the lenders can rely instead on proprietary algorithms that focus on factors such as graduation rates, post-study employment rates, and alumni earnings.
MPOWER Financing relies in part on the following eligibility criteria for loans of between US$2,001 and US$50,000:
The student must be enrolled at one of 350+ specified institutions in Canada and the US;
The student must be within two years of graduation – so financing is available for those in the last two years of an undergraduate or a graduate programme.
Prodigy Finance, meanwhile, provides financing for eligible post-graduate students admitted to more than 800 specified institutions around the world. In addition to attending an approved institution, applicants must have been admitted to graduate studies in one of the following fields: business, engineering, law, public policy, and health sciences.
The loans have higher interest rates than would typically be charged to domestic students via conventional student-lending channels, whether commercial banks or government-backed loan programmes. However, many students find the terms attractive, especially given their more limited eligibility for bank financing or ability to secure a conventional loan on the basis of a family home or other collateral.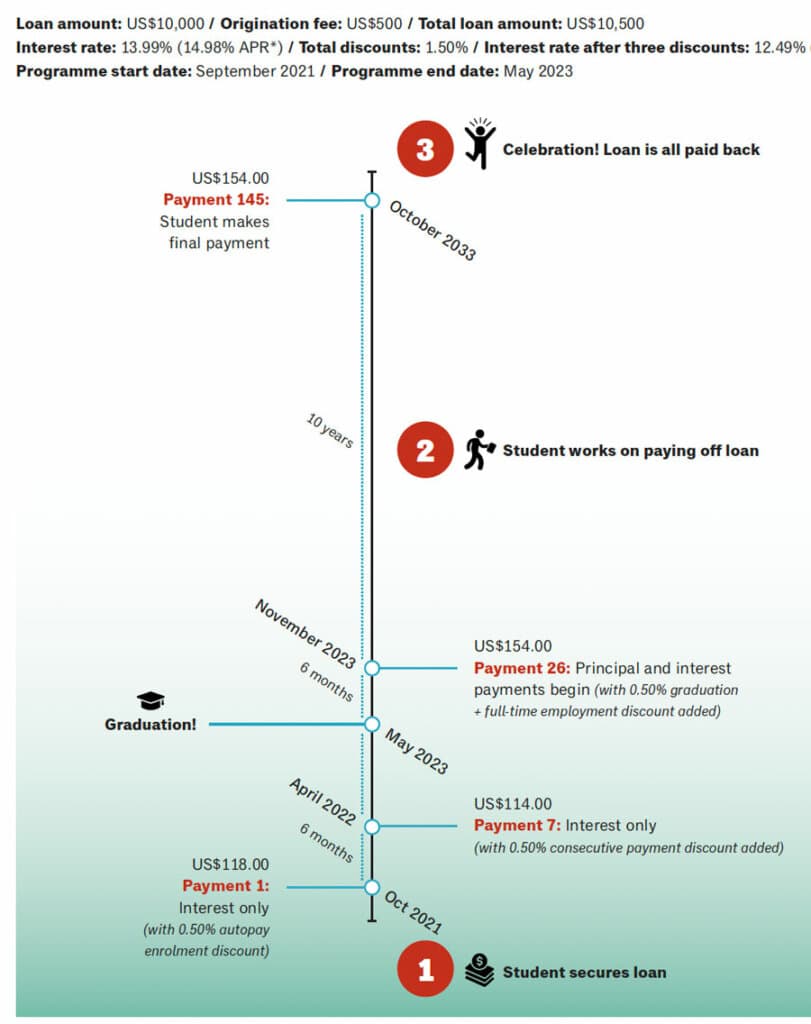 Greater access to education
There are indications that lenders such as MPOWER Financing and Prodigy Finance are promoting wider access to study abroad opportunities and contributing to a more diverse international student body. MPOWER, for example, emphasises its social impact. In a 2019 report, the company noted that 85% of its clients could not have financed their degree programmes without their loans. Three in four students (76%) were from emerging economies, and 53% of clients came from families with annual incomes of less than US$15,000.
The larger context
The new lenders' model is also relevant to educators who are now facing more challenges in attracting international students. As prominent international industry analyst Rahul Choudaha has written, "Many universities, especially in high-income countries, are at risk of pricing themselves out of reach to a large segment of international students." He notes,
"We are heading toward a future scenario where global learning experiences will be out of the reach of many aspiring international students. This is a wake-up call to action for researchers, policymakers, practitioners, and leaders to focus on finding solutions to this affordability crisis, which threatens the future of international student mobility."
Going forward, scholarship support or other financial aid will be an increasingly important factor in study abroad decisions for many students in emerging markets, and those students will be strongly attracted to more affordable destinations and institutions.
Private lenders such as MPOWER Financing and Prodigy Finance represent a compelling option for students facing affordability barriers. By banking on the promise of international students' earning power as opposed to their current financial realities, the companies also remind us of the potential of international students to transform economies and societies.
For additional background, please see: