France eases border restrictions with colour-coded system for international arrivals
Short on time? Here are the highlights:
The French government has reopened the country's borders as of 9 June, but with different conditions in place depending on whether or not international travellers are vaccinated and also based on the country of origin
The government has introduced a green-orange-red classification scheme for all countries around the world
Those arriving from green or orange countries may enter France to study, but study is not included among the essential reasons under which arrivals from red countries may travel to France
The Government of France has announced that border restrictions have been eased as of 9 June under a green-orange-red classification model that spans the globe. A country's assignment within the French "traffic light" scheme sets up distinct conditions, a government statement explains, "that vary depending on the health situation of third countries and the vaccination of travellers."
As the following map illustrates, as of 2 June, all EU countries belong to the green category, as do Australia, South Korea, Israel, Japan, Lebanon, New Zealand, and Singapore.
Also as of 2 June, designated red countries include Argentina, Bahrain, Bangladesh, Bolivia, Brazil, Chile, Colombia, Costa Rica, India, Nepal, Pakistan, Sri Lanka, Suriname, Turkey, Uruguay, and South Africa. These countries are placed in the red category based on the prevalence of COVID cases among their respective populations and/or the "presence of variants of concern".
All other countries – that is, those not in the green or red categories – are designated as orange.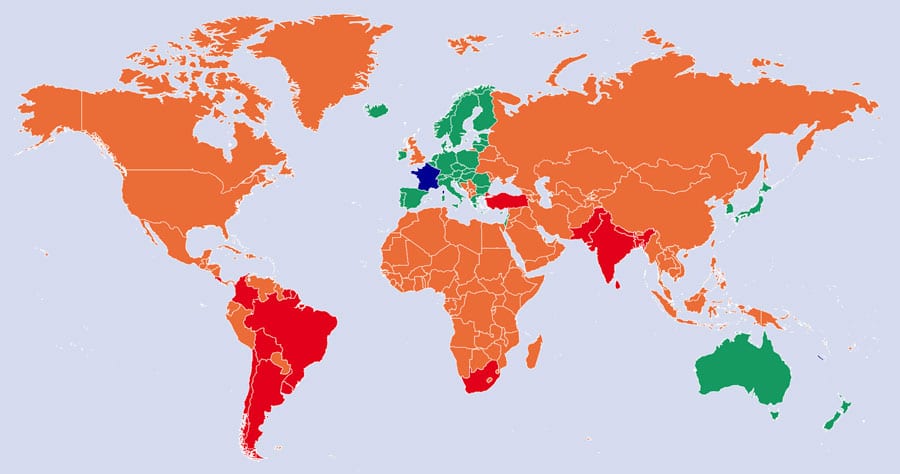 As a more detailed government brief on the border reopening explains, there are very different conditions that attach to arrivals from each group.
Green countries
Vaccinated travellers arriving in France from green countries, for example, may enter the country without any testing or quarantine requirements and may travel to France for any reason. However, proof of vaccination is required – via France's Passe Sanitaire (a mechanism akin to the EU's Digital Green Certificate).
France will accept certification for one of four vaccines recognised by the European Medicines Agency (EMA): Pfizer, Moderna, AstraZeneca, and Johnson & Johnson. To be considered vaccinated, travellers must arrive at least two weeks after a second injection of the Pfizer, Moderna, or AstraZeneca vaccines, or at least four weeks after a Johnson & Johnson injection.
Unvaccinated visitors from green countries are required to present a negative PCR test result obtained within 72 hours prior to arrival.

Orange and red travellers
Fully vaccinated travellers from orange countries will need to arrive with a negative PCR test result received within the previous 72 hours. But there are no other testing or quarantine requirements, nor are there any restrictions in terms of the reasons for travel. The conditions for unvaccinated "orange" travellers, however, are more stringent.
Those without proof of vaccination may enter France only when travelling for essential purposes. Crucially, however, attendance at a French higher education institution (or language preparation for further studies in France) are included in the definition of essential reasons – or motif imperiuex – under which unvaccinated travellers may enter France when arriving from orange countries.
Even so, those travellers will also require a negative PCR test result received within the previous 72 hours, will need to self-isolate for seven days after arrival, and will also require a second negative test result at the end of that quarantine period.

Travellers from red countries are under still more strict conditions and cannot enter France, except for a more limited range of essential reasons (which, in the case of red countries, does not include study in France).
The government will update these classifications periodically after the 9 June reopening. Please see this page for the most up-to-date groupings of green, orange, and red countries.
For additional background, please see: