Australia: Large-scale return of international students not expected until 2022
Short on time? Here are the highlights:
The Australian government says the current pace of the vaccine rollout will likely see more international students arrive in Australia in the first quarter of 2022
Government is also encouraging Australian educators to diversify more, to focus on domestic students, and to invest more in online delivery models for international students
Educators in all sectors – as well as agencies who normally send thousands of students – are being increasingly affected by border closures
Editor's note: Shortly after this item was originally published, the Australian government indicated there could be a further delay for the large-scale return of international students. In its May 2021 budget documents, the government anticipated that students would not return in numbers until mid-2022. Please see this related post for our updated coverage on this important story.
The Australian government continues to signal that the country's universities should not expect a large-scale return of international students until 2022. Federal Education Minister Alan Tudge told a press conference in April 2021 that,
"With the vaccine rollout under way, I am increasingly hopeful that student arrivals in larger numbers will occur by semester one of next year."
But for Australia's international education community, next year feels incredibly far away. Universities – and all institutions that host international students, from VET to ELICOS to schools – are dealing with massive losses in the form of student enrolments, revenues, and staff jobs as a result of the country's closed borders. For example:
Australian universities have enrolled 210,000 fewer international students in 2021 than would normally be expected. Looking just at January, only 360 international students arrived in Australia – compared with 91,250 who arrived in January 2020.
University revenues fell by AUS$1.8 billion (US$1.4 billion) compared with 2019, and another AUS$2 billion loss is projected for 2021.
More than 17,000 jobs have been lost across the industry.
Federal Department of Education, Skills and Employment data show that nearly 164,000 of Australia's visa-holding international students remained stranded overseas as of January 2021 because of the country's closed borders.
What will recovery look like?
There is growing unease about the extent of the expected "recovery" for the sector in 2022. Though Mr. Tudge says the government is "looking forward to welcoming back international students who remain overseas," he has also cautioned that there will be a different ethos in place when borders reopen. He told the conference that,
" … [it is necessary to] rethink the on-campus business model of international education, and more broadly the international education strategy for the nation as a whole …by using international student fees to fund research, universities have undermined the learning experience of domestic students and failed to address skills shortages."
He said that Australia's educators should invest more in online methods of delivery in the future rather than relying on international students studying on Australian campuses. Mr Tudge even hinted at a willingness to rely less on international students' vast contribution to the Australian economy:
"This incredible growth [of international enrolments] has been good for our economy, but even before COVID hit, strains were appearing and the continued rate of growth of on-campus enrolments was not sustainable in my view."
He told The Sunday Age,
"International students have been good for our country in terms of revenue they've provided – in terms of the individuals which stay on and become great citizens and in terms of the relationships with other countries – but at the end of the day, the purpose of our public universities is to teach Australian students, and we shouldn't forget that."
Last week, the government announced "more than AUS$53 million of targeted support for international education providers most affected by COVID-19 border closures." Notably, the intention of the funds – which are to be directed to ELICOS providers and private universities – is to "encourage providers to refocus their business models on Australian students and expand online and offshore course offerings."
Decline will cost billions
The Mitchell Institute is predicting that as a result of continued border closures, international students' contribution to Australian economy could almost halve "from a high of more than AUS$40 billion in 2019 to an estimated AUS$22 billion by the end of this year – a drop of almost AUS$18 billion." Peter Hurley, a policy analyst at the Institute, warns that even if some international students are able to return this year, it will likely not stave off a significant decline in the years to come:
"Even if the government did open the border or try to find temporary quarantine arrangements, it may not be enough to stop the decline."
Martin Foo, S&P Global Ratings' Asia-Pacific associate director for sovereign and international public finance said in a webinar that going forward, the proportion of international students on Australian campuses could dip to less than 10%, a far cry from the proportions found on many campuses pre-COVID when international students accounted for roughly one in four higher education enrolments.
In 2017, 2018, and 2019, international student numbers grew by 12.6%, 11.4%, and 10%, respectively. There were more than 758,000 international students enrolled in 2019, making Australia the world's second-most popular destination for international students after the US.
Mr Foo speculated that any transition to lower international enrolments "would be very sharp and painful … we suspect we'd see a lot more job losses than the 17,000 that occurred last year." His colleague Anthony Walker observed that economic losses would stretch – and are currently stretching – far beyond Australia's international education sector. "Hospitality, cafés, restaurants – anything that relies on international student traffic is suffering at the moment."
Students appeal to government
More than 10,000 international students signed a petition in January urging the government to exempt students from Australia's border restrictions. The petition read,
"International students are willing to quarantine, obey any rules and pay all the fees. We are willing to quarantine in student apartments and will not take any stranded Australians' places. Please allow international students, who do not have online lessons and urgently need to enter Australia to study, to go back to their schools and continue their education on a voluntary basis."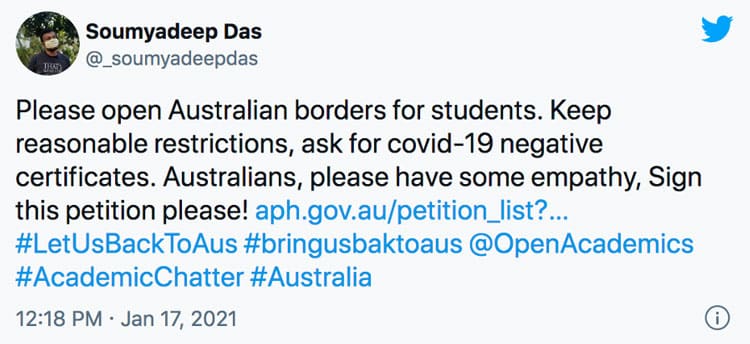 Agencies are having trouble holding on
Australia's educators are perhaps the most dependent in the world on agents to drive international enrolments, with more than three-quarters of international students coming into the country through agents. The International Student Education Agents Association (ISEAA) warned in March that agencies are reporting that COVID has "eroded 60 %of their business." Board member Michal Sestak predicts that 60–70% of agencies could close and notes,
"The longer this goes, the less recruitment channels we're going to have when the borders open. That will have a direct impact on the time required to regain [students] after COVID."
Further pilots for safe student arrival?
Mr Tudge has repeatedly said that the federal government is open to proposals from state governments and educators about how small groups of students could return to Australia, but he says he has yet to see any such proposals. International Education Association of Australia chair Phil Honeywood says that "NSW, South Australia, the ACT and the Northern Territory have all advanced their plans" but that "Victoria is still at the drawing board stage" when it comes to presenting strategies for the safe return of international students.
In Victoria, frustrated educators are offering to help pay for returning students' quarantine. A group of universities are proposing that once or twice every month, roughly 1,000 international students be flown into Melbourne. Upon their arrival, students would be placed into "special hotel lockdown arrangements" that the universities would partly fund. Chinese and Indian students are a priority given how large their proportions are in the international student population, but the COVID crisis unfolding in India right now will almost certainly frustrate any effort to bring Indian students in any time soon.
Approved quarantine strategies are one thing – and inbound flights are another. Acting Victorian Premier James Merlino said recently that if the federal government won't approve such flights, there's no way international students will be able to return:
"If you don't get that from the federal government then it doesn't matter what other ideas, whether it's the City of Melbourne, SA, NSW or ourselves, doesn't matter what idea you have to deliver it, if you can't get people [students] on the flights, it's a no-goer."
Numerous pilots to return international students have been strategised but all but one has been scrapped. So far, one flight carrying international students has landed in Australia during COVID. Sixty-three international students from China, Hong Kong, Vietnam, Japan and Indonesia arrived in Darwin last November.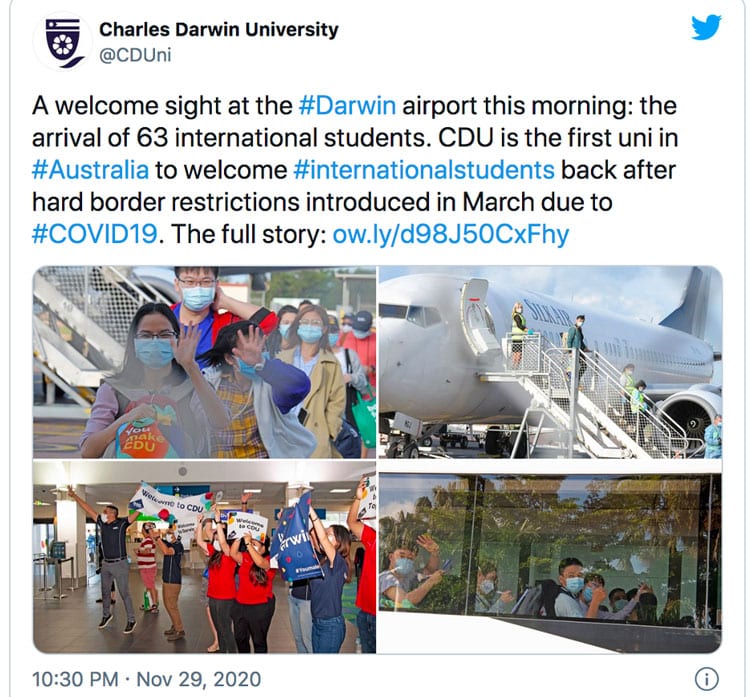 For additional background, please see: