Recruitment reset for 2021: Focus on content and agents
Short on time? Here are the highlights:
As the work to rebuild international enrolments continues this year, we can expect a greater emphasis on education agents as well as on content marketing via social media, blogs, email, and chat channels
Some things are becoming more clear as we continue to adjust to the rapidly changing landscape for international student mobility this year. First, it will take some time for student numbers to recover to 2019 levels.
In a recent survey conducted by the Association of Language Travel Organisations (ALTO), most respondents expected to see language school enrolments recover to roughly two-thirds of pre-COVID enrolments by the end of 2021. Meanwhile, some projections anticipate a five-year recovery period for higher education mobility.
The second thing that is increasingly clear – with the final quarter of 2020 now just around the corner – is that the hard work of rebuilding international enrolments is already well underway. There are some early lessons to be drawn from the work to date, and two in particular that we will highlight here.
Content is (still) king
This point is best reflected in a pattern that can be observed among major brands in the travel sector. In short, those large travel operators are pulling back from paid channels, especially paid search marketing, and investing instead in what is sometimes called "owned media" – that is, organic channels that can be controlled more directly such as social media, blogging, and email.
A recent analysis by PhocusWire finds traffic from paid channels plunged to "nearly zero" over February and March across a sample of more than a dozen leading travel brands. "With budgets cut and [return on investment] top of mind, many are turning to content marketing to drive organic traffic," says PhocusWire.
Skyscanner, for example, is an aggregated travel search and booking agency that typically draws 100 million users per month. The following chart contrasts its recent-month traffic patterns between paid and unpaid channels, with the recovery in traffic from April 2020 on clearly driven by organic sources.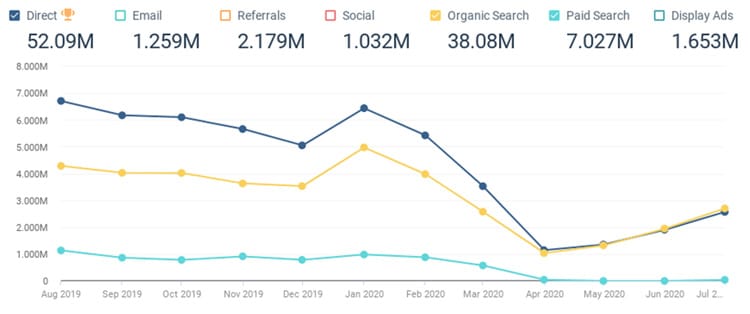 "[The pandemic] has forced us...to move to more of a newsroom environment and climate," says Chantal Thomas, senior director of audience development and SEO at Skyscanner. "As stories develop, as markets open...we are watching the trends like hawks and making sure that we can respond very quickly. We started to cater our content on our blog to users who were asking questions about COVID...Are face masks required for travel? What markets are open? Where can I go? Do I need a visa to travel here?"
This no doubt rings true for recruitment marketers or any international education professionals that are in direct contact with students or partners abroad. Everyone is trying to stay current with the latest travel, visa, and learning conditions, and there is a pressing need for reliable, responsive, and frequent communications across international student markets today. This strong demand for the latest detail is putting a new emphasis on social media as well as well as blog, email, and chat content for many marketers this year.
Doubling down on agents
A recent item from AgentBee points out that, outside of Australia, agents typically account for roughly half of international student referrals for leading study destinations. Taking that as jumping off point, the post argues that there is therefore potential for agents to play a greater role in recruitment for most destinations, and especially during the COVID recovery.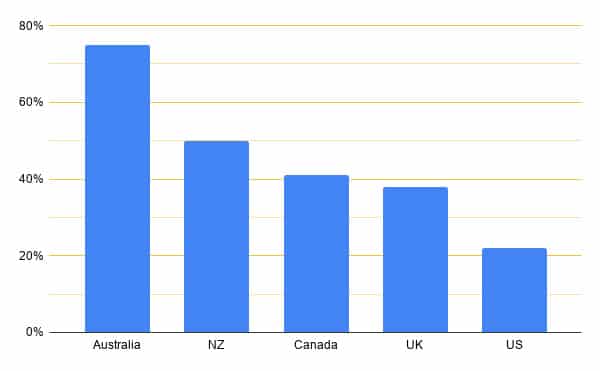 AgentBee adds that some of tried and true pre-COVID recruitment tactics –marketing trips abroad and student fairs in particular – won't be viable until later in the recovery process. As a result, "many institutions that have not previously used agents may consider developing an agent recruitment channel. Those institutions that are already using education agents may seek to double down on their strategy."
And in a recent LinkedIn post, Vietnam-based agent Jack Zissler, the founder of 195 Global Study Abroad, calls for a more strategic collaboration between educators and agents, and even a rethink of the current reliance on commission-based compensation schemes.
"Who is thus in a position to aid school brand awareness in markets? Agents," he says. "Schools seem to recognise this, yet...in-market strategies are thought out in conference rooms in Toronto or Sydney or London. This does not work. Forward-thinking schools are proactively working with agents to develop marketing strategies that work. They trust them to implement these campaigns and not disappear in the middle of the night. They pay up-front for services rendered and they are successful."
This is an interesting perspective to say the least, and it seems reasonable to expect not only more engagement with agents in the months ahead, but more innovative and strategic collaborations between educators and agents as well.
For additional background, please see: