Short on time? Here are the highlights:
A worsening COVID-19 situation in the UK means the country is now under a strict lockdown with people urged to stay home and limit outings for essential purposes only (e.g., groceries, medical needs)
All schools and universities are now delivering education remotely, with campus instruction suspended until at least mid-February
International students currently outside the country are being asked to consider delaying their travel plans if they can do so without incurring undue costs
The UK entered a strict lockdown this week as part of the government deciding to move the country to a new Level 5 COVID threat level (the highest level in the UK scheme).
The country is reeling from the effects of a new variant of COVID-19 that is now circulating widely, with the new strain thought to be at least 50%–70% more infectious than the original one. There are now 40% more hospital admissions in England than there were in April 2020, and case rates and infection numbers are also skyrocketing.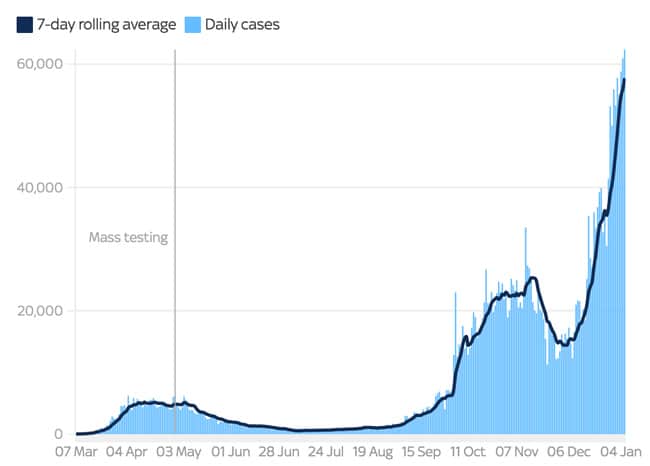 As part of a sweeping range of lockdown measures intended to keep people at home with as few contacts as possible, all schools (except for early-learning centres) and higher education institutions in the UK have now moved to offering only remote learning until at least mid-February. GCSE and A-level exams – which would normally happen in May and June – have been cancelled, and university students are not permitted to return to campuses until the lockdown is lifted. In addition, vocational teachers and college leaders are also calling on the government to cancel upcoming technical exams.
The London School of Economics (LSE) – which contains the largest proportion of international students of any UK university (68% in 2018/19) – isn't waiting to see what happens in February: in a move designed to provide students with some "certainty and stability," it has announced that all "compulsory" teaching will move online for the entire 2020/21 academic year. The school hopes to provide additional, non-compulsory courses to students once the lockdown is lifted as well.
In general, there is a growing call among UK scientists and professors for academic programmes to remain online for the duration of the winter term. The University and College Union (UCU) and the Scientific Advisory Group for Emergencies are advocating for universities to hold off in-person teaching until Easter.
Disruption for international students
The lockdown will naturally affect the plans of international students who had hoped to begin studies in the UK this term or to return to campus to continue their programmes. In a 31 December letter to visiting students, Michelle Donelan, England's Minister of State for Universities, has asked those not enrolled in courses preparing them for "vital public sector roles in health and social care and education" to consider delaying their travel plans to the UK "if travel plans can be rearranged without undue cost":
"We ask that those of you who are not studying on these courses remain where you are wherever possible, and start your term online, as facilitated by your university."
Minister Donelan adds,
"Our advice for international students travelling from overseas for the Spring term is to consider whether you, in fact, need to travel to the UK at this time, particularly if your course does not require you to be on campus from 4 January. Those students should consider delaying their travel plans if travel plans can be rearranged without undue costs. For those who do need to travel, international arrivals must complete a passenger locator form on arrival in the UK, and passengers travelling from a country not on the exemption (travel corridor) list will need to self-isolate in their accommodation for 10 days. Your university should advise you of the appropriate local testing facilities at your institution."
A last-minute call
Prime Minister Boris Johnson's government has been criticised for the delay in imposing the new Level 5 lockdown, especially as the decision to close schools is in direct contrast to directions given to educators over the past month. The Daily Mail reports "teachers last night condemned the 'madness' of the government changing its plans at the last minute again after only weeks ago threatening legal action against schools that tried to close early before Christmas." In response, the Prime Minister said he "completely understands the inconvenience and distress this late change will cause millions of parents." Whatever the politics, the fact is that COVID case numbers and hospitalisations have risen at an alarming rate over a period of days, making new lockdown measures inevitable.
For additional background, please see: