Virtual campus tours take on new importance during travel restrictions
Short on time? Here are the highlights:
Students may not be travelling for study abroad right now, but that doesn't mean they're not actively researching where they're hoping to go once the pandemic is over
There are indications of a spike in traffic for virtual campus tours since the onset of COVID-19 outbreak
Virtual tours can offer students a way of feeling connected to a campus even though they may be thousands of miles away
Multiple student segments can be served, from prospects to students who have been accepted or deferred
As much as COVID-19 has wreaked havoc on educators' recruitment efforts, it would be a mistake to think that international students aren't actively researching countries and institutions right now. Many have more time on their hands than usual, and that time is spent overwhelmingly online amid lockdown and "stay at home" requirements. They may not be able to visit campuses or facilities in person, but students are checking out a quickly expanding array of virtual tours of schools, colleges, and universities. These tours can range from deluxe virtual reality experiences to videos or slide shows and they are often enabled by companies specialising in this particular digital capability. The best virtual campus tours are designed for use across devices.
"Virtual reality really has the 'wow factor' when experienced through a dedicated VR headset, but the content created can and should resonate on every channel," says Ross Holmes, who heads up ICEF's virtual reality services. "We provide clients, as standard, with experiences for web, mobile, and VR goggles. We'll also provide all the testimonials as 2D videos so they can be used as stand-alone pieces, and, increasingly, we'll also cut a short 360° video that can be published on YouTube and, for US institutions for example, used at USCS virtual education fairs."
In all those forms, virtual experiences allow recruiting to continue even as normal admissions cycles and travel are badly disrupted. As Michael Koppenheffer, vice president of marketing programmes for EAB, the parent company for virtual tour platform YouVisit, has said: "Colleges that go silent this spring risk doing long-term damage to their enrolment funnels, reducing the size of their inquiry pools in a way that could take years to correct."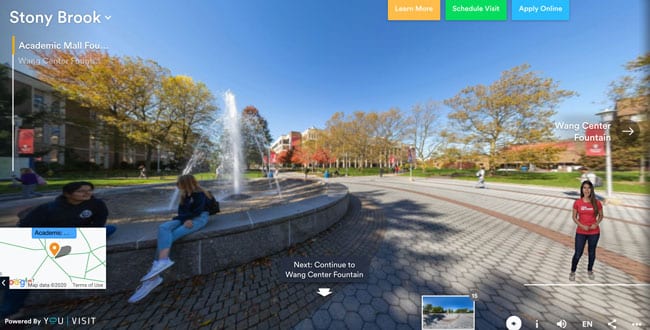 Mr Koppenheffer provided the following data graphs to show the increasing traffic some colleges' virtual tours are benefitting from during the pandemic.

YouVisit is a leader in providing schools and colleges with virtual tour capabilities, but it is not the only one, and there are a number of specialised providers serving institutions and recruiters. Concept3D (formerly known as CampusBird) and PlatformQ are two other notable examples, while CampusReel provides student-generated videos of campuses.
A strategy for multiple student segments
Virtual tours can serve several student segments:
They can increase yield numbers of applicants who have been accepted but haven't yet enrolled by reinforcing key strengths of the institution;
They can foster excitement and anticipation among students who have enrolled but who have had to defer their studies because of COVID-19's effect on air travel;
They can offer prospective students a way of "visiting" the campus virtually, which widens the prospect pool to students who might not have been able to afford an in-person visit to the physical campus even if COVID-19 hadn't happened.
And they need not be focused only on campus or school facilities. Accommodation providers are keen users of virtual tour experiences as a way to showcase housing options for prospective and incoming students as well.
"We always look for revolutionary digital marketing solutions and innovative ways to interact with our target audience," says Elcin Icel, marketing executive for the student accommodation agency Londonist DMC. "During the quarantine when all onsite viewings have stopped, the Londonist VR tour came just in time to offer our customers the best possible way to remotely experience our services. Our key agents and potential customers get a real taste of the Londonist experience without having to land in London. We continue to get bookings and fill our rooms for the new academic year by doing online VR viewings."
Real-time data to help drive conversions
Some of the leading virtual tour platforms offer capabilities such as:
360° panoramic views of the campus or residence rooms, including a drag function that students can use to proceed through the tour with a focus on particular areas of interest;
Multimedia layering – clickable elements on the tour page such as videos or photos;
The ability to insert calls to action based on real-time reporting of students' viewing behaviours.
While virtual tours can't replace some benefits of in-person student visits to campuses, they offer several advantages over in-person visits:
They are more affordable for students. Because there is no need to travel, whole families can sit down together to watch a virtual tour and have their questions addressed.
Because of real-time data (e.g., analytics provided to educators on which parts of the virtual tour students are spending the most time on), most popular areas of interest can be easily identified.
Educators can ensure all FAQs are built into the virtual tour (e.g., deadlines, important numbers, program information, scholarship information) and these FAQs can be accessed time and again by students simply through repeat visits.
The ability to insert social media prompts promotes sharing of the virtual tour, a key benefit given how much discussion there is among students about where they will study abroad.
While in-person tours have to be held on specific days and managed individually, virtual tours can be accessed by international students anywhere in the world any day of the year.
They can level the competitive playing field for smaller schools. Many smaller institutions simply don't have the budget for large, resource-intensive campus tours or the money to bring top students to the campus. A well-designed virtual tour allows them to show that small is sometimes even better than big when it comes to a campus environment.
Virtual in the time of COVID-19
While virtual tours were growing in popularity before COVID-19, they are naturally a highly advisable part of a recruitment strategy now because of travel restrictions. Equally important to strategy during the pandemic is crafting communications around the virtual tour that strike the right tone.
For example, some universities are adding greater personalisation to their emails to students, a smart and compassionate way of acknowledging the challenges students currently face in their ability to pursue their education. At Kenyon College in the US, Diane C. Anci, vice president for enrolment and dean of admission and financial aid, said that every acceptance letter to students who have applied includes the following note:
"Adding to the significance of this moment is the reality that your class is being called upon to make a decision during unprecedented circumstances. We recognise that nothing can replace an in-person visit to Kenyon, so we will do everything we can to help you experience Kenyon from where you are."
Students are obviously interested in seeing how well educators are handling the crisis. As Carter, a student at Saratoga High School in California, told EdSurge,
"I'm looking at the schools I applied to and how they're dealing with the situation. Are they taking care of their students? Is my college going to take care of me?"
It is definitely time to tone down corporate language and to adopt a softer, more personal touch. Everyone is stressed out to some degree or another these days and connecting with students now has to reflect this reality. This video, posted in Twitter, is a lovely example of a school (the University of Arizona) reaching out in a calm but effective way.
As we continue social distancing - experts say it's still good for us to get outside. If you're working from home, and can't take a break - enjoy this "virtual tour" of the Campus Arboretum @UAAgLifeVetExt @CALS_UA @UArizonaCALS pic.twitter.com/NmyTCDrEbU

— UArizona Cooperative Extension (@UAZCoopExt) March 25, 2020
Best practices
Adjust the experience
Gil Rogers, executive vice president of PlatformQ Education, advises institutions not to try to replicate the in-person campus experience. He says that while an in-person event with current students and administrators might be over an hour, "providing the same information online means 10-minute videos." Schools can produce more than one video, but each segment should be short to account for how we process content online.
Consider what your audience wants to see and know
Maximise the potential of your virtual tour by making it more than a walk around the campus. Rather than just showing eating areas, for example, highlight all the different types of food available to students on meal plans. And make sure to highlight the most important considerations for international students: for example, career counselling, support services, friendly students, nice residences.
Integrate virtual tours into the overall marketing effort
Use social media to boost views of your virtual tour and also to coax more response out of students. For example, rather than just sharing a link on FB, accompany it with one question on one post (e.g., "What do alumni say about studying at University X? Check out our virtual campus tour!" and another question on another post (e.g., "Have you taken our virtual campus tour yet? Come see our new on-campus residence hall!").
Incorporate destination marketing if possible
If your school is located in a beautiful area or in an exciting or lovely town, layer in some pictures or video of this major competitive advantage. This can be an especially important component for smaller schools whose destination is part of their allure.
Include calls to action
As Concept 3D says, "Modern virtual tours benefit when they incorporate calls to action naturally into the progression of the stops, which can occur in a number of ways … The context has to be right, but these types of CTAs can be immensely effective." If the virtual tour shows the admissions office, for example, this would be a perfect place for an application button to show up.
For additional background, please see: