In the sharing marketplace, video is king
Imagine a group of high school friends who have all decided they want to study abroad, but who are not yet sure which school, or even country they will choose. At night, before bed, they search the Internet for ideas, and when they find cool links and content about schools, they send these around to their friends in other houses, neighbourhoods, even cities. What do you think they're most likely to be sending? If you've read our recent article on emotional branding, you'll probably guess the answer quite quickly: video. Video is an amazing format for storytelling, especially when your audience is young students who aren't reading information the same way as previous generations did. When confronted with text, Gen Z students tend to skim it; research has found that they spend on average 4.4 seconds on every 100 words of text. Text-based communication can therefore be limited in its ability to generate sharing and discussion among peer groups and this is why so many schools today are investing in video. According to Cisco, by 2022, 82% of all consumer internet traffic will be directed to online video, 15 times higher than in 2017. And Forbes reports that mobile consumption of video is rising by 100% annually.
Focus on feeling
There are several branding goals that strategic use of video can accomplish, from awareness to retention to loyalty and more practical information-based needs. But assuming your main goal is reaching, impressing, and encouraging shares among prospects, the key point is to keep video centered on needs and emotions since these are so dominant in the decision about where to study. For example: Needs:
I want to feel part of something special
I want my choice to make my parents proud and my friends impressed
I want this video to be so good I'll want to share it with my friends
Feelings:
Funny
Poignant
Dramatic
Cool
Chances are that when you consider such needs and feelings, you've already thought up some potential content for your next video. As you roll out strategy, consider as well the use of background music to increase the drama of a video and text to support the ideas expressed by the visuals and to increase retention among users.
What can you share?
According to a six-country survey by Adobe, the top motivation for users who share content is the desire to connect with people, share knowledge, or bring awareness to an issue. What are some of the issues and information students will be most likely to share? If your school is doing amazing things around environmentalism, giving back through fundraising or volunteering, or contributing important work in specific fields (e.g., an alumnus who is nominated for a prestigious prize in medicine), you already have a strong foundation for emotion-based video. You also have a great story if your school is providing students such benefits as exciting internships, jobs, accommodation, or life-changing experiences. A video hinging on one of these areas is a wonderful starting point for piquing the interest of prospective students.
Videos for different purposes
Create a Facebook video With so many people on Facebook, it can make sense to post a video right in users' feeds rather than direct them to another platform. Hubspot recommends keeping Facebook videos to one minute or less because users like "snappy videos that they can quickly like or share before scrolling down to the next piece of content." That said, take the time you need in a video to get the job done: if it goes over a minute it's certainly not the end of the world. Just make sure to capture your audience's attention quickly so they keep watching, ideally within the first ten seconds or so. Sometimes you just need a longer video if you've invested a lot of time in its creation, production values are high, and there's significant ad spend attached to the video. Facebook won't penalise you for this decision, and in fact, in 2017, changed its algorithm so that longer videos actually get more visibility in users' feeds! Go live on Facebook Going live (aka video streaming) is a great way to show an authentic behind-the-scenes peek at life on campus. Sports events, tours and other recreational excursions, and orientation week activities all make for excellent live streaming opportunities. Students prioritise authenticity from brands, which is why they tend to respond positively to a live segment that has not been edited. They are looking for connection with schools and other students, and when schools are brave and bold enough to go live, students respect the effort. Adweek reports that "viewers of Facebook Live videos comment 10 times more than they do on videos that are not live because they can engage in the real-time conversation with other viewers." A helpful perk of Facebook Live is that live videos will stay on your page or profile for viewers who missed the live event to see. Below: Syracuse University streaming its men's basketball team playing in the much-watched Final Four tournament – note that in this case, the target audience was Syracuse alumni, demonstrating how video can be targeted for different stakeholder groups.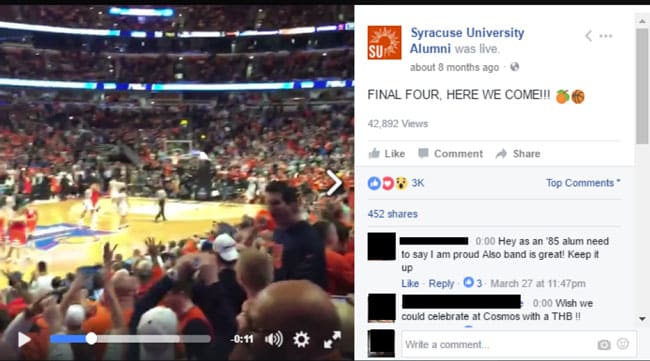 Post videos on the school website Student testimonials and explanation videos (e.g., student accommodation or how to apply) are two of the must-have types of video on school sites today. Campus tours and student-created segments are also perfect fits for the institutional website, as in the following example from Sciences Po, a highly internationalised university in Paris. [embed ] Create calls-to-action on YouTube videos In an average month, 80% of 18–49-year-olds watch YouTube, which is as good a reason as any to post your videos there. But too many schools and businesses are erratic in their posting or missing an essential strategic layer to their execution. The best way to get regular views and shares on YouTube is to post compelling content on a regular schedule, and to include calls-to-action to drive the results you're looking for. Examples of actions to ask viewers to take include:
Subscribe to your YouTube channel;
Like or comment;
Visit, like, and follow your social media accounts (e.g., Facebook, Twitter, Instagram) for more content;
Visit the school website to find out more;
Sign up for emails;
Chat with a school representative.
Upload video to Instagram Nearly three-quarters of teenagers (72%) used Instagram in 2018, up 20% since 2015, and 71% of young adults aged 18-34 were on it compared to only 34% in 2013. Need we say more? Upload short videos to Instagram!
Breaking it down
Hubspot offers the following infographic to illustrate ideal duration of videos over platforms. But again, don't take these as hard-and-fast rules, but rather as reminders to get as much conveyed in a video in as short as time as possible.

For additional background, please see: