Short on time? Here are the highlights:
More than 850,000 participants went on Erasmus+ study, training, volunteer, or work placements abroad in 2018
This represents a roughly 7.5% increase in programme participation year-over-year
2020 is the final year of the current Erasmus+ funding agreement, and a proposal is pending with the European Parliament to double programme funding beginning in 2021
The massive scale and impact of the Erasmus+ exchange programme is very much in focus in a newly released European Commission report. The Erasmus+ Annual Report 2018 highlights that the programme has supported 10 million participants over the last three decades in what has become a flagship initiative for the EU. Through this year, the programme includes all 27 EU member states plus the UK, Iceland, Liechtenstein, Norway, North Macedonia, Serbia, and Turkey.
The numbers in the report tell the story of a record year in 2018 with 850,000 participants learning, working or volunteering abroad, and with funding distributed to 95,000 organisations and more than 23,500 projects.
Within that impressive total were:
Nearly 40,000 teachers and school staff who went abroad in 2018 (a 25% increase over the year before)
More than 148,000 vocational education and training students abroad (+6% year-over-year)
International mobility of just under 470,000 higher education students (+8%)
Another 165,000 youth and youth workers on exchange (+2%)
Programme growth for the five years between 2014 and 2018 is detailed in the chart below, with mobility levels for each major programme category indicated as well.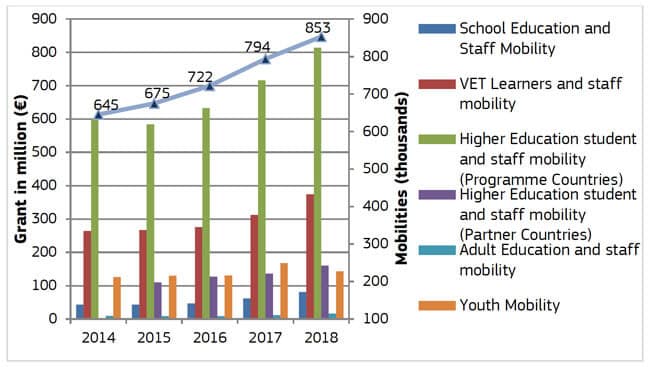 "Erasmus+ has become for our young generations an open gateway to Europe and to the world," said Mariya Gabriel, the EU's Commissioner for Innovation, Research, Culture, Education and Youth. "It is the strongest possible antidote to isolationism, paving the way for a Europe that is no longer a distant reality, but one that becomes a slice of life through the unique Erasmus+ experience. By supporting the learning mobility of people and by strengthening cooperation between institutions across Europe, Erasmus+ provides each year an unparalleled chance for learners to broaden their vision of the world, to acquire essential transversal skills and prepare for the job market, to emancipate themselves and to grow a sense of what it means to be European in the 21st century."
Higher education mobilities accounted for six in ten of all programme participants in 2018, and the EU report provides considerable detail on this large cohort. This is reflected in part in the first chart below, which identifies France, Germany, Spain, and Italy as the largest sources of participants in higher education exchanges.
The second chart below underscores a historical pattern in that Spain remains the leading destination for higher education mobility within the programme, followed by Germany, the UK, France, and Italy.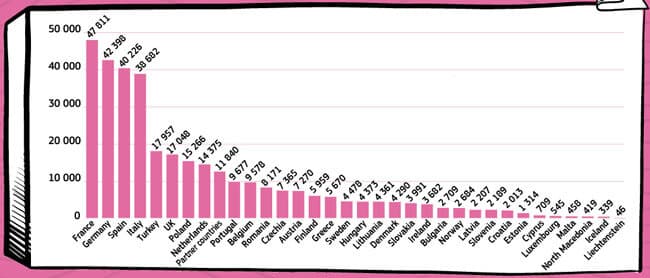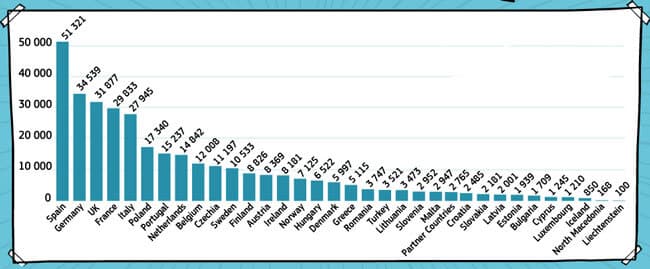 Looking ahead
The European Union is drawing to the end this year of a €15 billion (US$18 billion) commitment to support Erasmus+ grants projected to support more than four million people to study, train, gain work experience, or volunteer abroad. This funding allocation places Erasmus+ as one of the world's largest mobility initiatives, and a major contributor to overall student movement within Europe.
In May 2018, the European Commission put forward a proposal to significantly increase programme funding for the next implementation period. That proposal recommends that Erasmus+ spending be doubled from its current budget of €15 billion to €30 billion over 2021–2027. At this writing, the proposal remains in process and is still pending final approval and adoption by the European Parliament.
The future shape and budget of the programme will of course now also have to adapt to the fact that UK left the European Union in January 2020, and will spend the rest of this year, and perhaps longer, negotiating the fine points of that exit.
In early January, British parliamentarians voted against an opposition motion affirming the government's commitment to remaining within a renewed Erasmus+ programme. The vote triggered widespread concern that the UK's commitment to Erasmus+ might be wavering, but officials were quick to offer assurances. "The government is committed to continuing the academic relationship between the UK and the EU," said a Department of Education spokesperson immediately after the motion was defeated, "including through the next Erasmus+ programme…The vote last night does not change that. As we enter negotiations with the EU, we want to ensure that UK and European students can continue to benefit from each other's world-leading education systems."
Minister of State for Universities Chris Skidmore added, "Erasmus+ participation is protected under the Withdrawal Agreement and we are open to participation in the new Erasmus successor programme from 2021. This will be part of future relationship negotiations with the EU once the scheme has been finalised. And, speaking in Parliament later in the month, Prime Minister Boris Johnson affirmed that, "There is no threat to the Erasmus+ scheme. We will continue to participate. UK students will be able to continue to enjoy the benefits of exchanges with European friends and partners just as they will be able to continue to come to the UK."
For additional background, please see: