Coronavirus update: Educators adjusting deadlines and programmes; agents provide their perspective
Editor's note: Please see our earlier report for more comprehensive background and important context.
The scale of the Covid-19 coronavirus outbreak continues to grow through mid-February with nearly 71,000 confirmed cases in China as of 16 February, and 1,770 deaths.
As the following BBC News graphic illustrates, however, there are still relatively few confirmed cases outside of China.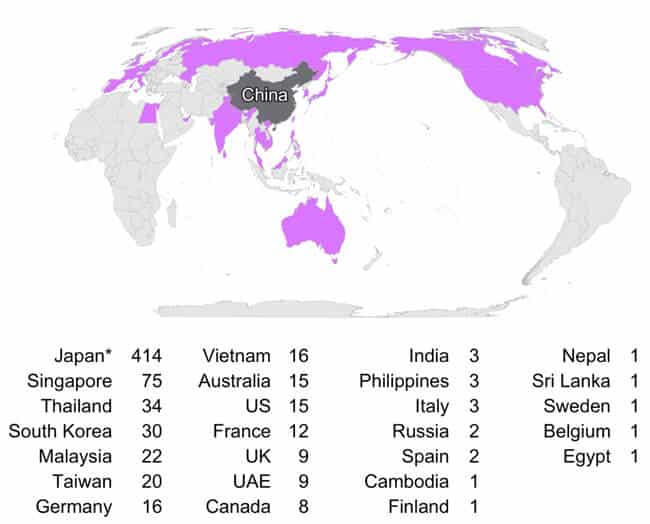 Many businesses and schools throughout China remain closed as authorities there work to stem the outbreak, and travel restrictions remain in place.
Sittings for preparatory exams in China, including IELTS and TOEFL tests, have been suspended through middle or late-March. US-based College Board announced this week that the March sitting of the SAT in China would also be suspended.
With schools closed, large numbers of Chinese students unable to return to their programmes abroad (notably those enrolled in Australia), testing suspended, and many agencies and offices closed as well, foreign institutions and schools are now making a number of adjustments as the outbreak appears poised to continue through early spring.
Some Canadian universities, for example, have extended their normal deadlines for English proficiency exam results. Others are allowing students to demonstrate their language skills via alternate language tests that can be taken online.
Meanwhile, both Chinese and foreign universities are making greater use of online instruction so that more students can continue their studies while campuses are closed. And the Chinese government has taken the extraordinary step of relaxing long-standing constraints to allow students better access to online course materials and learning platforms while travel restrictions remain in place.
The view from Chinese agencies
The Beijing Overseas Study Service Association (BOSSA) has released findings from a survey of 100 member agencies on the current and expected impacts of the outbreak.
The survey highlights that most agencies remain closed through the first half of February, with only 3% of respondents indicating the they have returned to work in their offices. The vast majority (83%) of staff and counsellors are working remotely, including providing student services online.
Two-thirds of respondents (66%) anticipate that the outbreak will lead to a decline in the number of Chinese students going abroad in 2020. And 83% said that the crisis will affect recruitment and preparation for summer camps this year.
The most pressing concerns reported by respondents to the BOSSA survey are (1) that the outbreak persists to the point that normal business operations are disrupted over a longer period of time; and (2) that Chinese outbound mobility continues to be blocked by travel restrictions or other factors to the extent that fall 2020 enrolments are affected.
This reflects the overarching perspective that has taken shape across the international education sector that the impact of the coronavirus will largely depend on how far the outbreak persists into 2020.
The overall view reflected in the survey, however, is that, while some students may need to defer their study plans this year, the coronavirus will not alter the demand for study abroad or the overall trend towards study overseas for Chinese students. The findings reinforce that students and families have a long-term view of planning for study abroad, and nearly two-thirds of responding agents (64%) said that students would not change their plans because of the outbreak.
For additional background, please see: