Closer to home: Intra-regional mobility in Asia
The following feature article is adapted from the 2019 edition of ICEF Insights magazine. The complete issue is available to download now.
For the past decade, the outflow of students from Asian countries to Western ones has been nothing short of staggering. Hundreds of thousands of students from Japan, Indonesia, South Korea, Pakistan, Taiwan, Vietnam, and especially India and China travel overseas every year for degrees, contributing billions of dollars to host economies.
Western destinations have been popular because they offer so many highly ranked, high-quality universities. Asian students have traditionally chosen these schools because of the prestige attached to their degrees, a prestige that often translates into better earning potential for graduates.
But the idea that a Western degree is automatically better and more advantageous than one obtained in Asia is losing ground. Asian students now have an array of appealing options within their region for study. There are a number of reasons for this:
A dozen of the world's 100 top ranked universities are now in Asia – in China, Hong Kong, Japan, Singapore, and South Korea.
Asia is the world's fastest-growing regional economy; China, India, Indonesia, Japan, and South Korea are driving the most expansion. Students realise that Asian universities can help them to access industry internships and jobs in the region.
China, the continent's powerhouse, invests heavily in its massive, multifaceted soft-power initiative known as One Belt, One Road, which stretches through more than a hundred countries and through South and East Asia. China is creating thousands of scholarships to attract Asian as well as African students. It is increasing higher education capacity and tempting Asian students from within the region to choose China rather than go overseas.
Students everywhere are gravitating towards programmes with strong and immediate employment outcomes. Asian universities are performing very well in this regard. QS's 2019 Graduate Employability Rankings include four Asian universities – Tsinghua, Peking, Hong Kong and Tokyo – among the top 20 institutions. QS notes that "Asian universities are among the world's best at enhancing their alumni's job market prospects." All told, 163 of the 500 universities in the rankings are in Asia – including 26 in China, 16 in Korea, 14 in Japan, and 13 in India.
More than half a dozen Asian countries have national strategies aimed at making them major destinations, with several setting international student targets. China is now the world's fourth most popular study destination after the US, Australia, and Canada.
Many Asian institutions offer lower tuition fees than those in the West, and China in particular is drawing students through scholarships.
Asian universities provide the benefit of being closer to home for students from the region who worry about homesickness and culture shock.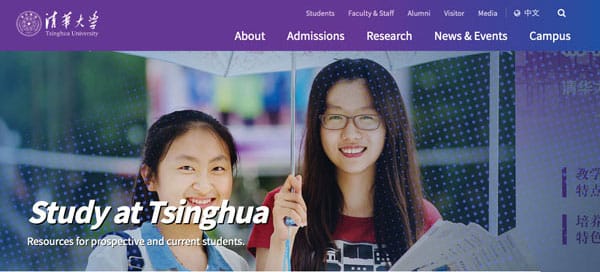 Measuring risk
The top English-speaking destinations – the US, the UK, Australia, and Canada – have historically relied on Asian countries for students. For example,
China, India, and South Korea are the top sending markets for the US, with Vietnam, Taiwan, and Japan in sixth, seventh, and eighth place, respectively. China, India, and South Korea make up 71% of all international students in the US. When Vietnam, Taiwan, and Japan are added, the six Asian source countries contribute 80% of the total.
India, China, and South Korea are also the top sending markets for Canada. Together the three countries composed almost 60% of international students in Canada in 2018.
Eight of Australia's top 10 sending markets are Asian: China, India, Nepal, Malaysia, South Korea, Vietnam, Thailand, and Indonesia. The first three make up 48% of all enrolments, while students from the eight countries together represent 64% of Australia's international student population.
A 33% increase in the number of Chinese students in the UK is the main reason that the number of non-EU students grew by 9% in the UK in 2018. China now accounts for one in five international students in the UK, and one in three non-EU students. India, Malaysia, and Hong Kong are also among the UK's top 10 non-EU sending markets.
Altogether, there are more than a million Asian students studying in the US, Canada, Australia, and the UK.
If China, South Korea, Taiwan, Japan, and Malaysia reach their international student targets by 2025, they will enrol close to 1.5 million students – the bulk of them from neighbouring countries.
Competition increasing
In addition to the many Asian institutions scoring highly on world university rankings, still more Asian schools are competing on price, a strong position given that affordability remains an issue for many Asian families.
The following table provides a high-level summary of the relative competitive position of established and emerging study destinations within Asia.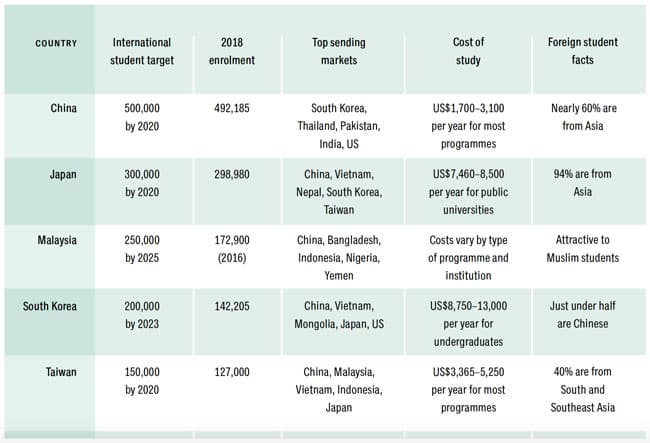 More than ever, universities in Western destinations must provide a compelling offer to students in Asian markets (e.g., through reputation, student testimonials, internships, destination marketing, scholarships, or discounting) and ensure that once students are enrolled, they keep those promises and provide excellent student supports and graduate outcomes.
In addition, coordinated national strategies aimed at attracting international students are crucial. Well-designed visa, work, and immigration policies can make a huge difference and are the major reason that Australia and Canada continue to increase their market share, in contrast to the UK and the US.
Finally, choosing new markets to invest in is an absolute necessity to reduce the risk of exposure created by the heavy concentrations of Asian students in leading destinations.
For additional background, please see: