Short on time? Here are the highlights:
The Canadian government has announced funding for a new international education strategy
The strategy will place the emphasis on increasing the outbound mobility of Canadian students while also supporting new marketing investments in markets abroad that can help further diversify the country's international student base
In its 2018 Fall Economic Statement, the Government of Canada announced that two of its ministries, Global Affairs Canada and Employment and Social Development Canada, would lead the development of a new international education strategy.
The country's national budget for 2019/20 was released on 19 March 2019, and it revisits the topic of a new national strategy via a significant funding announcement.
The budget provides for an initial expenditure of CDN$147.9 million (US$110 million) over five years to support the new strategy. This allocation will be used to fund a pilot programme to boost outbound mobility for Canadian post-secondary students. It will also be used to promote Canada as a study destination to prospective students and partners abroad.
After the initial five-year period, the new budget also provides for a further CDN$8 million per year (US$6 million) in ongoing funding to support outbound mobility and other aspects of the international education strategy.
The details of the strategy are not yet clear, and it is likely still under development in some important respects. There are, however, two important themes emerging to this point.
First, having already met its goal to host 450,000 international students by 2022, Canada will place a greater emphasis on outbound mobility for Canadian students in its new strategy.
Second, in terms of international recruitment marketing the strategy will focus more on diversifying Canada's international enrolment base. As a recent report in the Globe & Mail put it, "Canada has seen a vast expansion of its foreign student market over the past decade…In recent months, there has been a call to diversify the source countries from which Canada is recruiting to guard against political risk and to enhance diversity at Canadian schools."
Early reaction
Peak bodies in Canada were quick to respond to the budget. "We are very pleased to see that the government recognises the importance of investing in the skills needs of tomorrow," said Colleges and Institutes Canada President and CEO Denise Amyot. "This budget will help foster a culture of lifelong learning, supporting Canadians as they prepare for the future of work. Initiatives such as…a new outbound student mobility program…and other important measures will help all Canadians acquire the skills they need to enter the workplace with confidence, and update their skills to be more resilient in the face of disruption."
"The government is taking the right steps to help Canadians build the skills and capacity they need to reach their potential in our shifting global economy," added Mike Mahon, the chair of Universities Canada. "The strategy will promote Canada as a leading study destination and give more students the international study and work opportunities so highly sought by Canadian employers."
Larissa Bezo, President and CEO of the Canadian Bureau for International Education (CBIE), said that, "Supporting international learning experiences is one of the best ways to reinforce the values of openness and inclusion that are the hallmark of Canada's success as a diverse society." And Robert Summerby-Murray, the chair of the CBIE Board commented that, "By making learning abroad financially feasible for Canadians from all socio-economic backgrounds, Canada is moving decisively to prepare Canadians to participate and contribute as global citizens, working across borders, cultures, languages and values to mutual benefit."
Financial support a key for outbound
A CBIE survey from 2016 highlights the importance of financial support for outbound Canadian students. The background for the survey observes that less than 3% of Canadian post-secondary students went abroad (for credit or non-credit experience) as of 2014/15.
We note as well though that the Canadian findings from the 2016 National Survey of Student Engagement put that participation figure higher – at 11% – based in part on a broader frame of reference that includes exchanges, internships, co-op placements, and volunteer opportunities. This range (roughly 3%–11% of Canadian undergraduates) equates to between 25,000 and 91,000 students on short-term exchange or other international placements annually.
Leaving that range aside for a moment, the vast majority (86%) of the more than 7,000 respondents to the CBIE survey said they were interested in participating in a study abroad experience. However, seven in ten said that not having the financial means to go abroad was the biggest obstacle that would prevent them from following through on their interest in having an international experience.
As the following chart reflects, those financial concerns very much outstripped all other obstacles identified by respondents to the CBIE survey.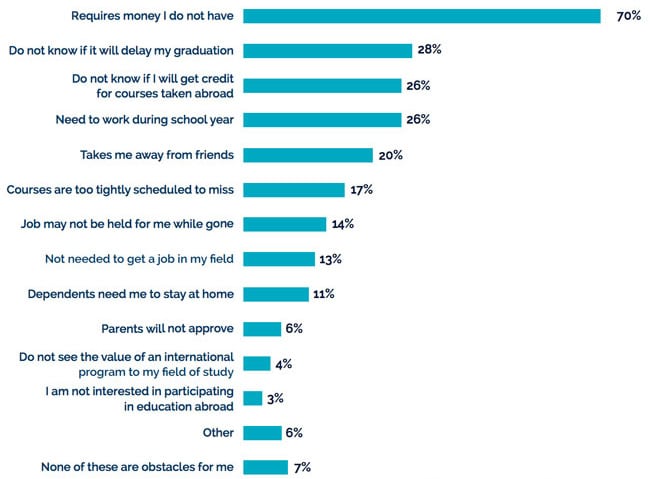 The obstacles to study abroad reported by prospective outbound Canadian students. Source: CBIE
These findings underscore the importance of targeted funding as a lever for boosting Canadian outbound, and set the stage for a next stage of internationalisation in Canadian post-secondary as the country's new national strategy continues to take shape.
For additional background, please see: