Where the students are: Mobile, messaging, and apps
Hootsuite and We Are Social's 2018 Q4 Global Digital Statshot report reinforces the fact that around the world, people are living more and more of their lives online and on social networks. What's more, our online lives are increasingly happening on our phones. More than two-thirds of the world's population has phones, and 60% of those devices are smartphones. The report shows that number of Internet users keeps on growing: nearly 4.2 billion people are now on the web, up 7% since September 2017. Even more impressive is social media growth, which is up 10% over last year to reach a count of 3.4 billion people. Of that total, 320 million are new users who joined a social network over the past 12 months.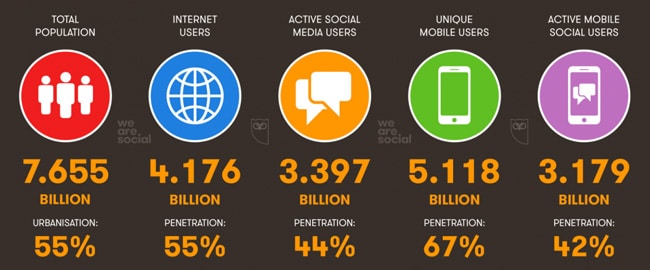 Statistical indicators for Internet, social media, and mobile use, October 2018. Source: Hootsuite/We Are Social An increasing number of people are accessing social media via their phones, not surprising given that more than 5.1 billion people now have a phone, and most own smartphones. Though mobile's growth is not as robust as that of the Internet and social media, Google's latest Consumer Barometer survey found that we are five times more likely to go to our phones to access the Internet than to computers or tablets. What's more, mobile accounts for more than half of all global web traffic. The implication here is that designing mobile-optimised websites has never been more crucial.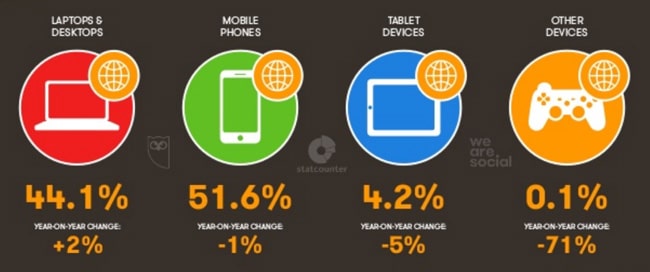 Share of web traffic by device type, October 2018. Source: Hootsuite/We Are Social
Facebook still growing, but losing key demographics
Though Facebook received a fair bit of negative press in 2018, this leading platform is still growing, and claims two out of every three social media users. More than 2.2 billion people are on Facebook, compared to 1.9 billion on YouTube and 1 billion on Instagram (Twitter is much lower with 335 million users). But young people – educators' key audience – continue to leave the platform, with Facebook analytics showing that that advertisers are now reaching 3 million fewer 13 to 17-year-olds now compared to July 2018. Young women are especially likely to be abandoning the platform. What's more, Facebook's algorithms are always changing and this is impacting the results brands are able to achieve using Facebook as an advertising platform. New data from Locowise shows that "the average contribution of paid reach as a percentage of total page reach has dropped by 4% in the past quarter."
Different apps, different audiences
Chat and messenger apps are drawing more people than any social media platform other than Facebook and YouTube, with Facebook-owned WhatsApp at 1.5 billion monthly active users, Facebook Messenger at 1.3 billion, and WeChat at just over 1 billion. WhatsApp is significant in terms of where it reaches: it's the dominant app in most parts of Africa, South Asia, and Latin America. WeChat, meanwhile, is fascinating because of the sheer range of activities it allows its users to perform – it's much more than a messenger app – and because its users are on it so frequently. One in six WeChat users open it more than 10 times a day, and one in five open it more than 50 times a day.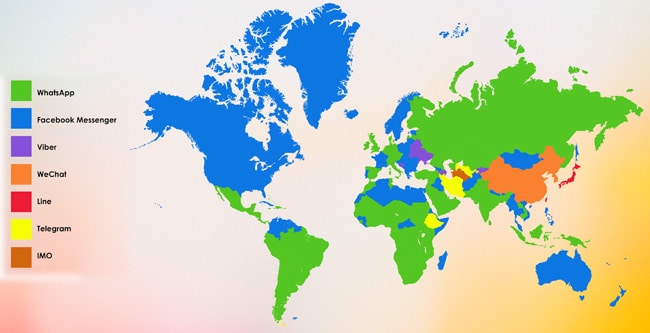 Leading messenger platforms globally, based on Apple App Store Rank in each country as of September 2018. Source: Inc. Magazine, Similarweb.com The Snapchat photo/video sharing and messenger app claims a relatively smaller user share (2.9 million monthly active users) than Instagram (at 1 billion monthly active users), but it is drawing key demographics for educators. Of particular note is that women are significantly more likely to be on Snapchat than men, a contrast from the gender skew on Facebook.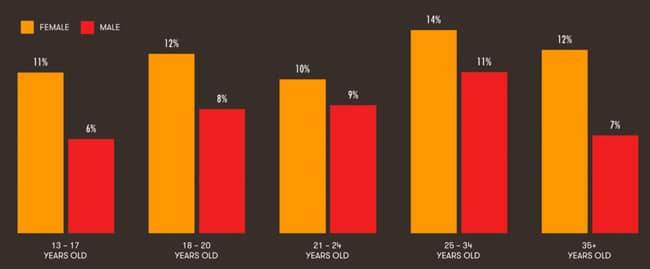 The Snapchat audience by gender and age group, October 2018. Source: Hootsuite/We Are Social Snapchat may not have the overall reach of Instagram, but it may be a more effective advertising platform for reaching the younger demographic. For example, TheNextWeb.com notes that:
Advertisers can reach 196 million global users below the age of 25 with Instagram ads;
Advertisers can reach 329 million global users below the age of 25 with Snapchat ads;
Get appy
Many schools and universities today have custom apps built just for their student audiences, and for a very good reason: today's youth are mad for mobile apps, free or otherwise. The 2018 Q4 Global Digital Statshot cites App Annie research showing that "the total amount of money spent on mobile apps around the world in Q3 reached US$20 billion, up 20% versus this time last year." For additional background, please see: