Global investment in student housing climbing but major gaps remain
A global trends report from real estate services firm Savills highlights the continuing growth in private investment in student housing, but also reveals that significant demand-supply gaps remain in many markets. In its 2018 Global Living Report, Savills focuses on student housing as a fast-growing niche within the global landscape for real estate investment. Even with total private investment reaching US$17.5 billion in 2017, the student housing segment accounts for only a fraction of the US$223 billion invested in residential real estate last year. But the student slice of the pie is growing quickly – up nearly 90% since 2013 – and the expectation is for further growth going forward. To this point, private investments in purpose built student accommodation (PBSA) have been fairly concentrated. Just over half of investments for 2017 (51%) were placed in the UK and Western Europe, with notable growth in Germany, Spain, the Netherlands, and France between 2016 and 2017. In addition, nearly half of total global investments in PBSA were placed in the US last year (46%) – see chart below.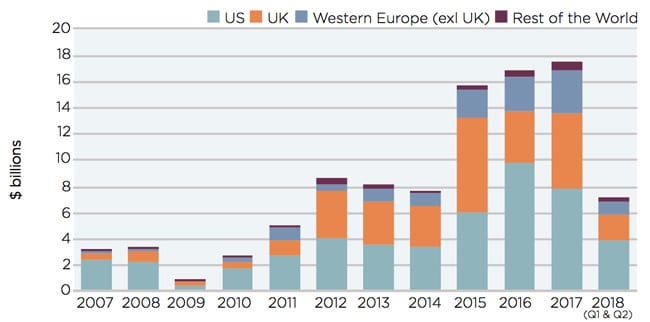 Global investment in student housing by region or market, 2007–2017 and first two quarters of 2018. Source: Saville Savills characterises both the US and UK as mature markets for student housing, and projects that southern European cities offers the greatest potential for new investments in the near term. "Globally mobile students continue to drive demand for purpose-built student accommodation (PBSA)," notes the report. "And mainland Europe is attracting more of them." Savills points in particular to the limited supply of student housing in a number of European cities, where the number of PBSA beds is measured against total student populations in each destination. "Provision is lowest in Rome, a city with a student population of 220,500, but only 6,500 student beds (a provision rate of 3%). This is followed by Porto, where only 3.5% of the total student population has dedicated bed spaces. Florence would appear to offer the best immediate prospects for delivering new supply, however, with a provision rate of 3.8%, high average PBSA single en-suite rents and a student population of 62,400, of whom 23% are international. Investors should proceed with caution, with limited comparable product, high rents reflect the emerging nature of PBSA in Italian cities, a market not yet fully tested." "Spanish cities are also characterised by extremely low levels of supply set against high rents. Provision in Barcelona is just under 5%, Madrid stands at 5.7%. Vienna's is another stand-out. A large student city with 186,000 students, 28% of its students are international, suggesting a solid demand base. PBSA provision stands at 10.3%." The report adds another dimension to this analysis with the following chart, which reflects not only the level of provision in a number of European cities but also the relative costs of housing in each.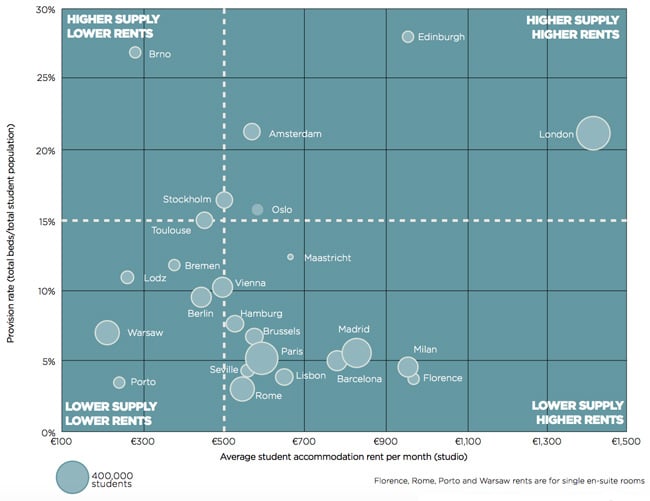 Student housing provision in selected European cities. Source: Savills, StudentMarketing Savills draws in part on data from the market intelligence consultancy StudentMarketing for its findings. In the following video, StudentMarketing's Stefan Kolibar provides some further background on important trends in student housing investments. [embed ] As Mr Kolibar points out, students are discerning shoppers and consumer research in this area points to the importance of amenities in students' choice of housing. Some of the key features commonly cited in student surveys include security provisions/services, common spaces, and social services. For additional background, please see: