Notable growth in international applications to British universities this year
Having tallied "on time" applications to British universities for the 2018/19 academic year, the UK application registry UCAS has now provided a picture of likely undergraduate enrolment trends for the coming year – and international applications are up. "On time" applications received by January 15 are viewed as an important indicator of current demand for British higher education, though students continue to apply after the deadline as well.
Non-EU and EU applications are up over last year
For the first time in five years, there has been a substantial increase in non-EU students' applications to British undergraduate degrees. These grew by 11% year-over-year to reach 58,450 non-EU students, the highest ever recorded number of applications from this student segment. In addition, applications from students from the EU increased by 3.4% to 43,510, a number that is slightly down from 2016's recent-year high of 45,220 applications but that nevertheless reflects a reversal of the notable dip in admissions volumes registered a year ago. In 2017 – following the Brexit referendum and resulting uncertainty about the future for EU students in the UK – just over 42,000 EU students applied by the January deadline.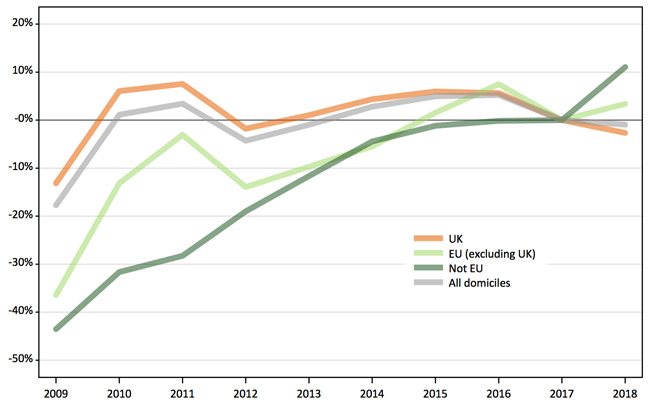 Year-over-year percentage growth in applicants to British universities, by domicile, as of 15 January admissions deadline, 2009–2018. Source: UCAS With growth across both the EU and non-EU student segments, the total number of foreign applications to British universities surpassed 100,000 for the first time this year. The increase in non-EU application volumes is particularly notable as non-EU enrolment in British higher education has been essentially flat since about 2011.
Pre-Brexit rush?
The increase in EU applications may represent "a last-minute rush to study at British universities before Brexit closes the door," notes The Guardian. Professor Seán Hand, University of Warwick's deputy pro-vice-chancellor for Europe, told the paper, "Paradoxically, Brexit has focused people's attention on the strength of British universities." Speaking to The Telegraph, Helen Thorne, director of external relations at UCAS, concurred with Professor Hand, saying, "The UK's universities are highly popular with EU and international students because of the quality of the teaching and experience they offer." In addition, Ms Thorne notes that a weaker British currency and the British government's reassurance that financial supports for EU students will remain in place for the 2018/19 academic year are likely factors driving the increase in applications. Under the current arrangements, EU students pay the same tuition fees as UK students (up to £9,250 a year, or roughly US$13,000), while the annual bill for international students can run up to £30,000 a year.
Big gains from China and India
As always – and as is the case for any leading destination – when there is a significant change in demand from non-EU students, the first place to look is China and India, and this year is no different: driving the 11% increase in non-EU applications to British universities is a 20% increase from Chinese applicants (more than 2,000 students) and a 36% increase from India (1,180 students).
No increase in overall applications to UK universities
While international applications for the 2018/19 academic year increased, overall applications to British universities were down 0.9% (to 559,000) this year. UCAS attributes the decline to "a 2.5% fall in the 18-year-old population in the UK, and falling demand from 19-year-olds and the 25+ age groups." The slight decrease in overall applications highlights the significance of the increase in applications from international students, which in total number 102,050 – nearly a fifth (18%) of all "on time" applications received by the January deadline this year.
Continued gains will depend on Brexit agreements
The first phase of Brexit negotiations in 2017 led to greater certainty about the ability of British and EU students to move and study across their borders in the near term, and it included financial provisions for the UK to continue to participate in both Erasmus+ and Horizon 2020 through the five-year funding window of the pan-European Multiannual Financial Framework (MFF). This provisional scheme is highly likely to have contributed to the increase in EU student applications so far for 2018/19. As talks continue, Universities UK has set out five priorities for the higher education sector going forward past the current MFF budget and into a final Brexit deal:
An agreement for residency and work rights for EU nationals currently working in the university sector, and their dependents;
Continued UK participation in the EU's Horizon 2020 research programme;
Participation in Horizon 2020's successor: Framework Programme 9, which is due to start on 1 January 2021;
Continued access to EU student mobility programmes, most notably Erasmus+;
Provisions for the ongoing recognition of professional qualifications between the UK and EU member states.
For additional background, please see: